It is almost 2 o'clock in the afternoon in the city of Santa Ana, El Salvador. Mario walks across the church parking lot and heads toward the back of the main building.
Mario is satisfied with his day. He attended school from 7 a.m. to 11:45 a.m., then he ran home and helped his mother deliver tortillas to hungry customers. After changing his clothes, Mario walked toward the Elim Church in Santa Ana under a warm summer sun, surrounded by the sounds of horns and of diesel engines of public buses.
Thirteen-year-old Mario attends the Little Friends of the King Child Development Center in Santa Ana, one of the country's two main cities after the capital city of San Salvador.
As Mario arrives at the development center, he hugs and kisses Mercedes, center director, and Glenda, his tutor.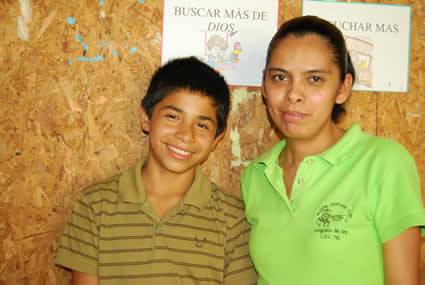 Glenda is a tutor for children ages 12 to 14. She knows Mario better than anyone else at the development center.
"Mario is a very sweet boy."
Mercedes adds,
"He is very smart as well. He does very well at school."
Today is a special day for Mario and the rest of the children at the center. Today they will write letters to their sponsors. Mario has a special relationship with his sponsor.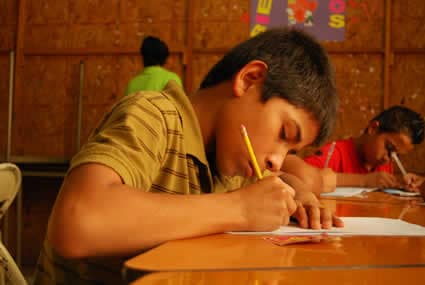 What It Takes to Put a Letter in the Mailbox
Children are required to write three letters a year, and for that, Compassion El Salvador's Sponsor and Donor Services team has separated the country's 178 child development centers into four groups, each with a designated schedule for turning in letters. Mario's development center is in group four, with letters due in September, January and May.
Silvia is a tutor for little ones between ages 6 and 8. She has been working at the development center for four years.
"A letter is communication between the children and sponsor. They can get to know each other. They share their feelings and the interests they have in common."
Silvia shares that the process for writing a letter takes time and love.
"It is somewhat difficult, especially with the little ones. First the children make a drawing, and then we have to organize their ideas and [ask] questions to know what they want to tell the sponsor and how can they put it on paper.

"It is important, especially, because this is the first impression that the sponsor will have about the child, through writing. I have to write personally with each of them to correct errors in writing and to see that the letter will look nice."
Silvia receives help from the sponsorship coordinator, Ana, who does a final check of the letters before delivering them to the country office, where contract workers translate the letters into English.
Ana says that letters are a way for children to have a friend who will pray for them and care for them.
"I have seen many things, from funny situations like one child who told the sponsor that she lost her tooth and did not realize the tooth was gone until she saw the hole, to a girl who shared with the sponsor how sad she was because her parents were divorcing."
A Special Friendship
Glenda sits with Mario as he starts to outline his letter on a blank page. Once he finishes and arranges the stories he wants to tell, he starts to draw on the back of the stationery used for children's letters. Then he rewrites the letter on the front side of the paper. While Mario works, Glenda answers questions asked by other children.
Glenda shares,
"If I had to tell a story about why letters are important, I would tell Mario´s story. He and his sponsor have developed a very strong and close relationship.

"Through letters, the sponsor told Mario that her daughter passed away, and Mario has been a support for her through the letters.

"Both Mario and his sponsor have developed an interest for each other. She also follows up on his ability of drawing and painting.

"If I could send a message to sponsors, [I would tell them] please write letters, ask about pets, about family, about anything, just write. Your letters make such a big impact on the children, and you cannot imagine how happy they are to receive a letter."
Mario receives many benefits at the development center. He receives health checkups and support for school, including reinforcement in math. What helps Mario the most in his studies is not just a teacher who helps him on Saturdays, but the fact that his sponsor prays for him and his math class.
"I want you to pray for me and for math class, because I do not want to be frustrated in math class anymore," reads one of Mario's letters.
Mario continues to draw for the rest of the afternoon. He expresses his love for his sponsor through his letters and drawings. He finishes the letter and heads home.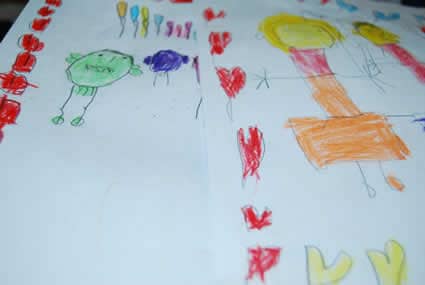 After having beans and tortillas for dinner, Mario goes to sleep, knowing that perhaps at that same moment, hundreds of miles from his home, his sponsor is praying for him and his math class.