We began our ministry in the Dominican Republic in 1970 as a relief program donating food, medicine and money for children selected by the local churches.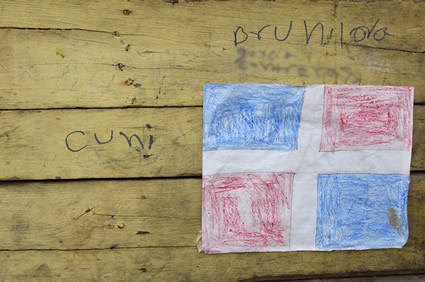 This relief program transitioned into a school program in the 1980s. In this program, children in the Dominican Republic gained access to education through the local church. In 1994, we started our Child Sponsorship Program. The Leadership Development Program started in 2004, followed by the Child Survival Program in 2006.
In the Dominican Republic we have a strategic partnership with the Evangelical National University to offer higher education to our staff, Implementing Church Partner staff and church members in holistic child development and child advocacy in order to train leaders to be child advocates.
Country Director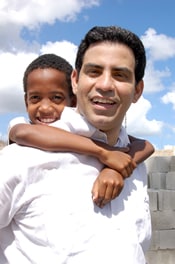 Kleber Isaias Lora Bautista joined us as Country Director in 2005.
Prior to coming to our ministry he held various positions including Child Sponsorship Program Manager at Food for the Hungry and a consultant for the Institutional Strength Project.
Kleber graduated with a degree in computer engineering from INTEC Technological Institute of Santo Domingo in 1990. He also earned a masters of business administration from the University of Quebec, Montreal in 2004.
As a young person, Kleber was the founder of the Christian Church in his community and later became the youth pastor and a staff member of their Bible seminary.
Implementing Church Partners
Implementing Church Partners are local churches in the Dominican Republic with whom we work to deliver child development programs and frontline ministry in the field.
Spiritual Climate
The Dominican Republic is very open to the gospel and the church has a strong voice in the community. Youth delinquency is a major challenge in many communities; because of that the church is widely accepted and welcomed in the hope that the church will encourage and embrace the youth.

As a result, the church in the Dominican Republic is experiencing numerical growth.

Unique Challenges
It can be challenging for churches to find and train professional staff as the quality of education in the Dominican Republic is quite low. Once they are trained, the market often offers better salaries and benefits than Implementing Church Partners can offer. Also, most churches must rent their space because land is expensive and neighborhoods are very crowded.
Contributions
Implementing Church Partners provide construction and labor for the facilities as well as volunteers who offer their time and service in their specific field of expertise, such as medicine or social work.
Partner Development Activities
We develop partners in the Dominican Republic through training in accountability and sponsorship processes as well as leadership meetings with pastors and project directors.
Child Survival Program
Caregiver Literacy
Literacy is taught at the caregiver meetings once a week using an adult literacy method by ALFALIT. ALFALIT is an international Christian non-profit organization that specializes in eliminating literacy and offering education and development opportunities with the purpose of strengthening families in need.
Income-generating Skills
We offer a workshop once a week on various topics such as baking, jewelry making, hair dressing and beautician's skills, and making pajamas and undergarments.

These are skills that the caregivers can use in their homes while also taking care of their children.

Health Care
For vaccinations, medical consultations and follow-ups, mothers and babies go to public or private health centers that are located in their communities or nearby. We reimburse the Implementing Church Partners at various rates depending on whether the beneficiaries received care at a public hospital, semiprivate center or a private center.
Nutritional Support
Each month we assess which families are in need of nutritional support, then we deliver food and micronutrients for those families. Usually we do not deliver to the same families month after month, but occasionally that is needed for families living in very difficult conditions.

We also provide an orientation on nutrition and subsequent follow-ups.

Involvement of Fathers
We encourage fathers to participate in group meetings and home visits. At the group meetings, we will often have a counseling professional come and talk to the couples about parenting and family dynamics.

Implementing Church Partners also organize yearly retreats for Child Survival Program mothers and their husbands where they go away for three days and enjoy being together, meet new people and hear speakers teach on various topics.

Transitioning Out of the Child Survival Program
When children reach the age of 2, the Child Survival Program Implementers organize group activities where the children sit together around tables, draw and paint and have a nutritional meal together to help them get acquainted with the Child Sponsorship Program classroom and activities.
Areas of Expansion for the Child Survival Program
We would like to expand into the southern region of the Dominican Republic because that is the poorest area of the country.
Child Development Through Sponsorship
Your sponsorship of a child in the Dominican Republic provides a variety of benefits.
Based on our curriculum, this has been the most appropriate schedule for the children.
Meeting Times:

3 to 5 year olds: 8 hours a week spread out over 2 to 3 days
6 to 8 year olds: 3 hours a day, 2 days a week
9 to 11 year olds: 3 hours a day, 2 days a week
12 to 14 year olds: 3 hours a day, 2 days a week
15 to 18 year olds: 2 hours a day, 2 days a week
19 +: 2 hours a day, 2 days a week

Nutritional Support
Each child receives a meal every day that they attend the child development center, which is about three times a week. A typical meal consists of rice and milk, wheat flour and milk, rice and chicken, oatmeal with bread, fruit juice and cookies, or cornflakes and milk.

We give a meal or snack each time they attend the center because although the government schools do sometimes offer food, it is not consistent nor is it always safe and clean.

Vaccinations
Development center staff advises all parents to vaccinate their children. A health professional does an annual checkup and checks that these vaccines have been completed.

In some cases, Implementing Church Partners have agreements with other non-governmental organizations or governmental agencies that provide vaccinations when needed.

Extracurricular Activities or Community Service
Children are able to participate regularly in sports, camps, arts, field days, museum visits, book fairs and field trips to historic sites, various companies and recreational places.
Vocational Activities
Vocational training in skills such as computers, handicrafts, driving, beauty, English, cooking, baking, welding, carpentry and sewing are offered depending on the local community. Many of the vocational training courses are certified, allowing the students to grow professionally in a given technical professional field.

We also offer spiritual guidance and support, counseling, and opportunities for long-term development such as "My Plan for the Future" which is completed by each student.

Parent Involvement
We offer quarterly parenting classes on topics such as healthy parenting, family violence prevention, nutrition, literacy, vocational training and health.
Areas of Expansion for the Child Sponsorship Program
We would like to expand into the south and northeast regions of the Dominican Republic. The south is the most impoverished area in the country, and the northeast is a region where we do not currently have any church partners.
Leadership Development Program
Universities Attended
Leadership Development Program students attend governmental, private or Christian universities.
Location of Universities
Most of the universities are located in the capital city or in other large cities. There are several regional campuses spread throughout the country that offer a limited choice of degrees.
Working Students
There are a few Leadership Development Program students who do work, but generally these students are about to graduate.
Service Opportunities
Many students go back to their child development centers and churches to serve, while others serve at orphanages, nursing homes and schools or by doing community evangelism and missions.
Leadership Development Program Meetings
Leadership Development Program students hold an annual Advocacy Conference and an annual Youth Forum. The Advocacy Conference is a large meeting in which the students invite child development centers from various regions to bring their children and adolescents so the Leadership Development Program students can speak to them on specific topics related to child development.

The Youth Forum is a forum where students invite leaders and professionals in various fields of social service to speak to them and other youth. They also meet quarterly in their Leadership Development Program care groups, which are smaller groups divided up by region; this is when they usually meet with the program specialist.

Specialty Curriculum Topics or Resources
When students enter the Leadership Development Program, they are required to complete the "Leadership Development Program Academy." This is a one-month training program with specialized teachers in subjects such as math, writing, speed reading, and Christian worldview.
Mentors
Some of our staff members in the Dominican Republic are mentors for the students. They also assist other students in finding mentors through their connections with leaders from their churches.
Career Placement Assistance
We offer workshops to help the Leadership Development Program students choose their careers based on their interests and the labor market demands. We also give a vocational test administered by a psychologist to every student.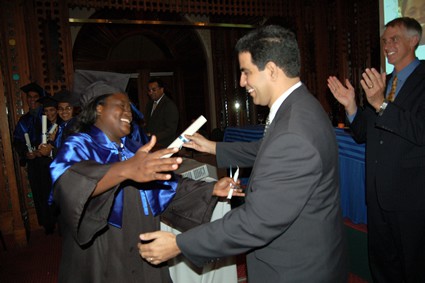 Complementary Interventions
Compassion's core Child Sponsorship Program, while comprehensive, cannot address all obstacles to a child's healthy development. Compassion's Complementary Interventions program works in harmony with the holistic child development model to provide additional services as needed, such as the AIDS Initiative, Bibles for All Children, disaster relief and water projects.
Typical Complementary Interventions in the Dominican Republic include vocational training, reliable water using water purification systems, dental care, promotion of sports practices and major medical interventions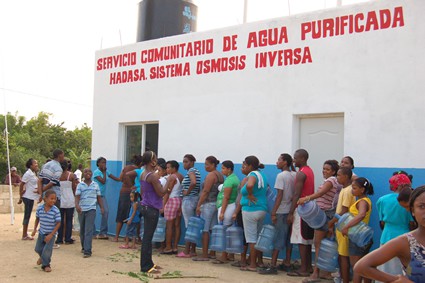 Highly Vulnerable Children
The primary needs in our Highly Vulnerable Children population are nutrition, hygiene and reliable water. It has been shown that focusing on prevention is the most efficient way to address the needs of Highly Vulnerable Children.
As a result, we concentrate our efforts within the Child Survival Program to improve and promote care and hygiene in newborns, infants and mothers. Child Survival and Child Sponsorship Program beneficiaries are eligible for medical support through Complementary Interventions.
In some cases of severe malnutrition, help and food is provided regularly. Funds are also used for adult literacy and nutrition/health education. In the event of a disaster, food, water and other resources are available for Highly Vulnerable Children.