Fancy is a beautiful Ugandan girl. Looking at her, you might think that her life has been as beautiful. But behind that beautiful face is a childhood she would rather forget. Fancy was born in a home of more than 14 children. And the number kept increasing as the father brought new siblings home.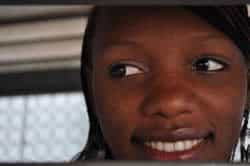 Beautiful Fancy grew up with no mother because her parents had separated. It was tough growing up with just her father because he did not understand what it meant to love and care for a child.
At a very early age, Fancy and her stepsister were sent to boarding school. As a preschooler, she had to wash her own clothes and did not have someone to lean on.
Then for a time, her father took them to a day school and they lived with their Aunt Jane (not her real name). Both children dreaded Jane because she had a bad temper.
One day Fancy was sick and vomiting. Jane was furious. She pinched Fancy hard. Fancy also did not like porridge mixed with milk and every time she ate it, she vomited. But every time she vomited, she received a beating. These beatings occurred on a daily basis because they ate that kind of porridge every day.
Fancy says that she did not understand why her aunt treated her badly and this mistreatment planted pain and anger in her heart.
The girls used to hire a motorcycle to go to their school. One day, Fancy's sister accidentally put her leg in the pedals of the motorcycle and was injured. Jane was furious. Aunt Jane took Fancy's sister to the hospital and later gave her a beating.
That night, Jane decided that the children would start walking the 8 kilometers [about 5 miles] to school instead of using a motorcycle.
After one term at the day school, Fancy and her stepsister were taken to a boarding school where their other five siblings studied. Life at the boarding school was better than life at Jane's home, but the children hardly had enough to eat at school.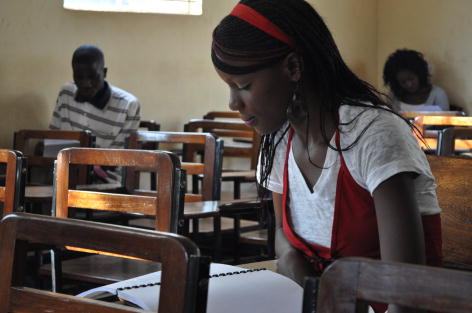 For a term lasting four months, all seven children would share one box of biscuits (150 small packets), and 2kgs of sugar. Holidays were not any better.
One day while the children were home from boarding school, some snacks went missing in the house and one of Fancy's brothers was accused of eating them. Fancy's father was very angry. Instead of buying food for the children, her father bought a packet of candles. He then tied Fancy's brother under the bed leaving only his hands exposed. He then lit the candles one by one and burned Fancy's brother with the dripping wax.
Fancy says that that is the day she started hating her father.
Fancy developed so much anger within herself. All she saw in her father was a man who was harsh and treated his children like they were not his own. She felt unloved and useless, and she hated all men. She believed that they were all cruel like her father.
As a result of the beatings she had received and seen her siblings receive, she decided to always protect herself whenever she could. Fancy was lonely and desperate.
One day Fancy even slapped her own mother when she to visit her children. When Fancy's brother disturbed her during the visit, Fancy beat him up. When he ran to their mother, Fancy's mother rebuked her and slapped her. In uncontrollable anger, Fancy slapped her back and ran out of the house to be alone.
"I did not feel guilt for what I had done. All I knew was that I had to protect myself from such people who wanted to hurt me. I felt like it was my right to protect myself."
The Lord rescued Fancy just in time to remind her how precious and beautiful she was. When Fancy was 9 years old, she was registered at the Compassion child development center at their church.
During holidays she would go to the center, where she made her very first friends. There she also learned about Jesus Christ and His love. One year later, Fancy received Jesus as her personal Savior.
After meeting Jesus, Fancy started working on her anger and lack of forgiveness. Even though Fancy says she has not yet completely overcome these attitudes, she has made tremendous improvement. The Child Sponsorship Program gave her hope and helped her appreciate herself the way God appreciates her. It also gave her sponsors who really cared for her.
Fancy eventually joined the Leadership Development Program where she received sponsorship for a university education. When she joined the program she was very excited and grateful to God because not everybody qualifies. She also remained with the same sponsors.
Fancy says that she is grateful to her sponsors who love her so much.
"If I had a choice to choose the one person I want to meet, it would be my sponsors. They love me so much. Every time they write they tell me that they love me and that they are praying for me. I love them too. Whenever I receive a letter from them, I get so excited. It is not easy to love someone you do not know but they love me so much.
Among the things that changed Fancy's life in the Leadership Development Program are the students who were so loving and the program specialists who showed her a different side of adults. Fancy says the specialists loved and respected her and the other students and it humbled her.
"Even if they were late for a meeting, they would apologize for being late. When you did something small for them, they would say 'thank you'. This was not something I was used to while growing up.
As Fancy spent more time with the program students and specialists, her life changed. She began to dream and work on herself. She experienced so much love and acceptance from them that her attitude towards her family changed. She learned to love her family as it was and became the light in that dark home. She has since forgiven her father.
Fancy is currently pursuing her degree in social sciences at Kampala's Makerere University. She also has a part time job at Top Television where she hosts a program for university students called "Campus Flavor." The money she earns helps to support the education of one of her brothers. On Saturdays she volunteers at one of the child development centers near her university.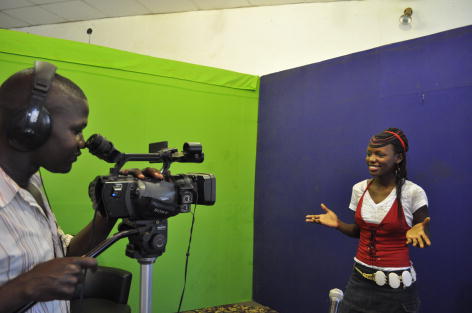 In the future Fancy hopes to pursue a masters degree in mass communication, with a specialty in radio. One of the things she would like to do is to have a talk show where she teaches people how to survive. Her passion is to help those that are vulnerable.
Fancy also hopes to open up a school for music and drama. She hopes that children who are not able to manage formal education can go to her school and gain life skills to survive.
Twenty-two year-old Fancy, a beautiful girl who once felt lonely, desperate and hated all men, is now in love with a young man at her church. Despite what she went through she has learned to love and live her life as Christ wants her to.