From Compassion Magazine.
Darcy Creech has redefined what it means to live the dream.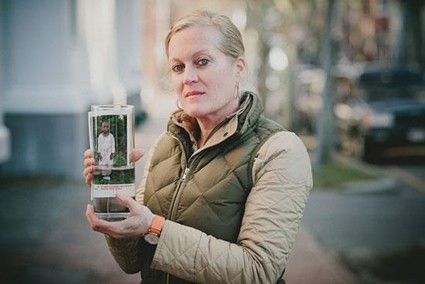 "I'd rather be driving a 16-year-old Ford truck and building water wells around the world than driving a car with monthly payments that could be sponsoring 10 kids."
Darcy got involved with Compassion in 2010, part of a full-life transformation that followed years as an A-list party girl in her well-heeled community. She was adored by friends for her pizzazz, flamboyant life, and dazzling business success — the very things she now says left her with a bankrupt soul.
"Everyone thought I was living the dream, but I was so empty inside. My life was a great big party. Everyone envied me."
She had been sure the excitement of success, the esteem of others, and the thrill of high living would heal the deep wounds of a damaged childhood and two failed marriages.
"I had celebrity clients, a beautiful house, beautiful children, party invitations, and the attention of men. And I had no joy."
Though born to affluence, Darcy suffered sexual abuse throughout her childhood. She harbored intense anger at God for not answering her prayers for rescue. The suicide of her 17-year-old brother intensified her hopelessness.
She taps into her own experiences to connect deep-down to the three children she sponsors.
As is often the case with abuse victims, Darcy repeated the pattern by marrying a physically abusive man. When that marriage ended, she and her 2-year-old son were left penniless. Her extended family refused to help.
"Anxiety reverberated through my body. We lived hand to mouth."
Then someone admired a hat she'd made.
She sold her engagement ring, bought inventory to make more hats, and in a success story nothing short of amazing, soon had celebrity clients and high-end department stores calling with orders.
Notable customers like Hillary Rodham Clinton, Barbara Bush and Teresa Heinz Kerry added to her prestige.
Her hat business was bought out by a large corporation, and Darcy found herself walking through newly opened doors to what looked like the good life.
She bought a house in Nantucket's downtown historic district and began the Peter Beaton Hat Studio, an upscale accessory company named for her son. While the new business flourished, her soul withered.
Excessive alcohol and over-the-top partying took a toll. She got remarried and had another son, divorcing when he was an infant. She entered a series of promiscuous relationships that expanded her emptiness.
"I tried to anesthetize myself with another season of parties. However, one summer night, after coming home from a fundraiser, I sat on the staircase in my floor-length dress and I wept.

"I thought, I'm either going to kill myself, or I'm going to surrender my life to God.

Surrender she did, with a baptism experience she calls "the most euphoric thing in my life."
Serious about her new commitment, Darcy got busy "getting off the pew and into the world."
When she heard about Compassion at a youth rally, she got excited. Her love of children, interest in Africa, and goal of philanthropy came together in the opportunity of sponsorship.
"I'd always been interested in philanthropy, but I thought I had to make a bazillion dollars before I could do it.

"But 38* dollars a month? I thought, I can do this. I can catapult someone out of poverty in Jesus' name."
She became sponsor to two children, Patrick in Kenya and Witness in Tanzania.
"I get more back by giving than my sponsored kids could ever imagine. Giving is not a one-time thing, it's a lifestyle. Sponsorship isn't some black hole, where you don't really know the people you're affecting. It's changing lives."
*This was published prior to our rate change to $43
---
Read the entire article by Martha Anne Tudor on compassion.com.