One Wednesday morning, the quiet, small community of Ghana's Ekwamkrom came alive with joy and hope. Parents hurried to Ebenezer Methodist Church where each household received two large plastic buckets and a water filtration system.
There was finally hope for release from the waterborne diseases their children had been exposed to all these years.
Ekwamkrom is a farming community west of the capital, Accra. It is a community blessed with a natural water body, the Akora River, which serves as the major source of water for all household needs.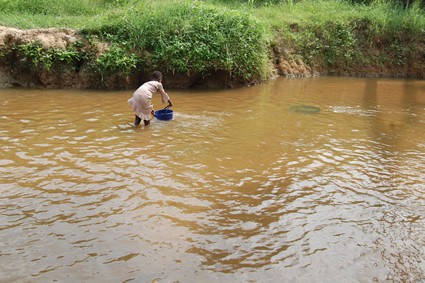 But the river is a mixed blessing. Although there is a water pipeline in town, the people of Ekwamkrom rely largely on the contaminated river because the water taps do not work well.
Samuel, coordinator at the Ebenezer Methodist Child Development Center, shares,
"We have pipeborne water here in Ekwamkrom, but it is never adequate. Sometimes it is cut off for many days. So we have to turn to the Akora River. We drink it, wash clothes with it, bathe with it and even cook our food with it."
Compassion's Complementary Interventions program was established four years ago in Ekwamkrom and has been a life saver. A few months later, all children at the child development center received health screenings.
Of the 200 children registered in the program, 96 were found to be suffering from bilharzia — a disease caused by parasitic worms and spread through water contaminated with infected snails.
The sick children were treated, but over time they became re-infected. Research showed that the Akora was the source of the disease.
We provided training to parents and caregivers on the health hazards of using water from the river and what to do if they have to use it anyway. This helped a bit, but cases of bilharzia were still prevalent among children.
We decided something more was needed to protect the children and their caregivers from this serious threat.
The people of Ekwamkrom had never associated disease with consumption of water from the river. It is true that, without River Akora, Ekwamkrom would have suffered a great deal, but the river also posed serious danger. Its water had to be made safe.
So on this Wednesday morning, more than 250 families were equipped with our Water of Life safe water systems. The system transforms contaminated water to pure, safe water within seconds.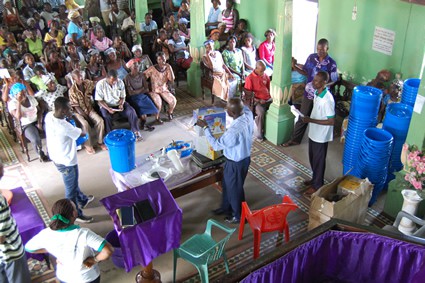 The beneficiaries are grateful and testify how helpful the safe water systems are.
Eugenia is 11 years old and was among the children diagnosed with bilharzia at the first health screening.
"Before, I was urinating blood because I used to drink water direct from the river. Compassion took me to the hospital and I was treated and they gave us the water filters. We put our water into it and it becomes good water so I am not urinating blood again.

"I thank Compassion and the donors who gave money for the water filters. God richly bless them."
One parent also tells us,
"The water filters have benefited the community as a whole. We were advised, during the distribution of the [systems] by the Compassion workers, not to be selfish but that we can filter water for our neighbors who are not privileged to be part of Compassion.

"I have been doing that and some other Compassion families have also been filtering water for their friends. We have realized the bilharzias disease is fast dying down.

"Because of Compassion, people travel from the neighboring towns to Ekwamkrom just to see things for themselves.

"They come to ask questions about the [safe water systems] because they have heard that Ekwamkrom is getting rid of bilharzia by using some powerful water filters. So I plead that the Almighty God continues to bless the donors who provided money for this intervention so that in the future some more communities would also get opportunity to benefit from what Ekwamkrom is enjoying."
Ransford, father of two of the children at the child development center, knew the Akora River water was not safe to drink. He made a conscious effort to prevent his family from using the river water.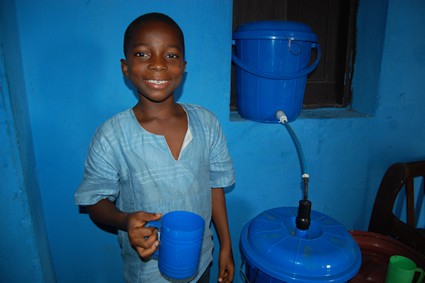 Ransford tells us that when the pipe water stopped flowing for a considerable period of time, he bought water for his family. This took a toll on the little money he had for other basic needs. Immediately after other child development center parents were trained to use the safe water system in their homes, he started using the one given to him.
"I was the first person to start using my filter because I know what I have to go through to get clean water for my family. There was no time for me to waste at all. It has helped me a lot. Now that money I used to spend on buying sachet water can be used for something else."
The most-recent health screening at Ebenezer Methodist Child Development Center recorded only two cases of bilharzia — down from the 96 cases found at the initial screening. All thanks to the generous donors who gave funds to provide our safe water systems for the families of registered children in the area. 
Many in Ekwamkrom now enjoy safe water!