In the book The Lord of the Rings, the character Frodo reached a point of despair and confided to his friend, "I can't do this, Sam."
Sam gave a rousing speech: "It's like in the great stories. . . . Full of darkness and danger. . . . Folk in those stories had lots of chances of turning back, only they didn't. They kept going because they were holding onto something." Then Frodo asked: "What are we holding onto?"
We are holding onto God. He is behind all that we do. But as we work in the ministry, have you ever asked yourself what inspires you? Those are the things we can hold onto, too.
I remember a time when I visited two sisters, 6 and 8 years old, at a child development center in northeast Thailand. They lived in a house with no door and trash everywhere. Their parents abandoned them. They had no schooling and no one to care for them. They looked scared.
The only thing they said during dinner was to ask if they could take some leftover food back home. I met them at the development center the next day, and they were different. They enjoyed eating, having a great time with friends, and receiving love. They were smiling!
That's the answer to my question. The smile of the children in our program and knowing they will have a better future is what inspires me and keeps me going.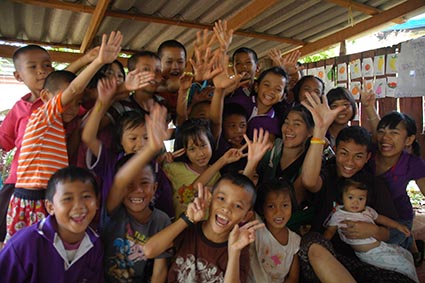 I am a part of giving them hope, of letting them know that someone cares. That's what I hold onto.
So if anyone is facing a problem or feeling tired and thinks that it's hard to keep going, ask yourself, "What am I holding onto?" Remember those smiling faces, and know that you are a part of bringing hope and love to God's children. Isn't it great to be in this ministry!
Let us not become weary in doing good, for at the proper time we will reap a harvest if we do not give up. —Galatians 6:9, NIV
Prayer: Thank you, God, for giving us the privilege to be in this great ministry. Help us to see beyond our difficulties. Help us to know that we are part of a bigger picture. Give us strength in each day so that we will glorify you and expand your kingdom.
---

ABOUT THE AUTHOR: Piyaporn Sirita works as a Tours and Visits Team Lead for Compassion Thailand.
Read all the One in Spirit devotionals.