During the 40 years of our ministry in Haiti, thousands of young people have committed themselves to Christ. Many of those young men and women have won their parents and many other people from their communities to Christ by their commitments and Christian attitudes.
"Compassion Haiti is a reference and a light house for the Haitian population." — Guilbaud Saint-Cyr, country director for Compassion Haiti
Compassion started its ministry in Haiti in 1968. At that time, we worked directly through the missionaries established in the country while maintaining no country office or local staff. But through the years, our structure has changed as more and more children have been registered in our programs.
Compassion Haiti has grown through the years in all levels.
From 25 employees in the 1990s, it has now reached 69 staff.
God has blessed the ministry with a new building adjacent to the old one. That new rented building accommodates program implementation. The office has rooms for more years of fast growth.
In order to better serve the projects and partners, Compassion Haiti has hired 12 field-based partnership facilitators from fiscal year 2007 up to now. The presence of the partnership facilitators in the field contributes a great deal to child development center growth and empowerment improvement.
Compassion trains and equips local evangelical church partners to administer a broad range of child development activities from child survival to child sponsorship and leadership development.
Our Leadership Development Program (LDP), launched during the past 12 years, is having incredible effects on the Haitian society.
72 percent of our graduates are employed in key administrative positions both in the public and private sectors, in comparison to the country-level employment statistics of 20 percent
Among those is Abel, a former LDP student, who grew up in a slum but doesn't live in one anymore. Abel is 27 years old and a university graduate in business management. Among the five children in his family, Abel is the only who has a university degree. The encounter of Abel with Compassion has changed his and his family life for ever.
"Like many other young men, I would probably be a gang member if it were not for the Compassion program in the community. People treat me with much respect, and they are also proud of me. I want to take advantage of that opportunity to make an impact in the community."
The level of education provided by Compassion has made a great difference in the academic performance in the whole country:
The table below shows a comparison between national and sponsored children success rate in state exams.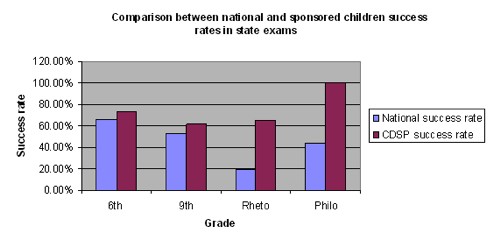 Many of those who have emerged from the darkness of poverty and ignorance are now serving their communities as strong and committed Christian leaders.
The children whose lives are being transformed through this ministry will become the future leaders of Haiti to, in turn, transform our country.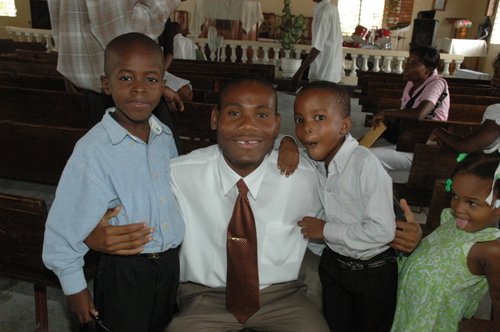 The 40 years of Compassion in Haiti have been a success — but not without challenges.
"My greatest satisfaction is the fact that Compassion has given me the opportunity to see some of my dreams accomplished. I can see the outcomes of my initiatives in the lives of children, communities and churches as I am surrounded by qualified and committed staff to bring about the changes." – Guilbaud Saint-Cyr, country director for Compassion Haiti
Perspectives for the 10 years to come
Guilbaud intends to celebrate the 50th anniversary of Compassion in 2018 with some major accomplishments:
increasing our development programs from 227 to 300
facilitating the growth of our Leadership Development Program from 80 students to 200
bringing total staff to 100
100 percent of our children will be vaccinated
50 percent of our child development programs will have access to potable water