Can I tell you my favorite thing about being part of this ministry? My six years with Compassion have been a time to grow professionally and economically, but more so spiritually.
People join organizations with different motives. However, as they start working, they sometimes realize that their motives for joining do not drive them to their desired goals.
As much as I joined Compassion because of its mission of releasing children from poverty in Jesus' name, there is one thing that has touched me even more. It's the phrase, "It is all about Jesus."
This phrase has been a motivating factor for me to stay with Compassion. I always ask myself why I do what I do for Compassion, and the answer has always been this: It is all about Jesus.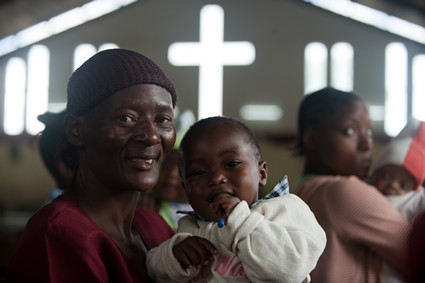 Why are we laboring to help children? Why are we striving for integrity, excellence, stewardship and dignity? Why sometimes do we have sleepless nights thinking about our ministry? Why, as Compassion staff, do we strive to be one in Spirit?
It is all about Jesus!
I see Compassion not just as any organization, but as a ministry with substance. We are sustained by the centrality of Jesus Christ and His Church, and by the resolve of our corporate leadership to ensure that we do not deviate from these roots.
I am proud to be part of this ministry, and I boldly say to anyone that I am Compassion. That is my calling. That is my anointing. That is my divine appointment. Compassion is about Jesus, and will always be about Jesus! In that way we shall always be one in Spirit. It is all about Jesus! Amen.
"And whatever you do, whether in word or deed, do it all in the name of the Lord Jesus, giving thanks to God the Father through him." — Colossians 3:17 (NIV)
Prayer: We pray that we may remain one in Spirit as the Compassion family in whatever we do and that we always remember that everything we do is for the glory of Jesus. Amen.
---

ABOUT THE AUTHOR: Cuthbert Mono serves with Compassion International Tanzania in the capacity of senior HR specialist.
Read all the One in Spirit devotionals.