As part of the Ministry Services department in Bolivia, we know that our role is to support the core functions of Program Communications and Program Implementation. We also know that one of the pillars supporting the bridge we represent is service.
But our question was whether we could serve our church partners in some other way than what we normally do every day.
We decided to do something different, something that made us feel not only good but satisfied. One day our whole team went to a church partner located in a city a considerable distance away. When we got there, the people of the church received us very kindly. Of course, they imagined that we were there to supervise their work.
Great was their surprise when we told them that we had come to give them whatever help they needed.
We had a plan to help them, and we each had a role. Some of us made supper while others cleaned up the kitchen. Another group cleaned bathrooms. Others visited some children's homes and some supported tutors in the classrooms.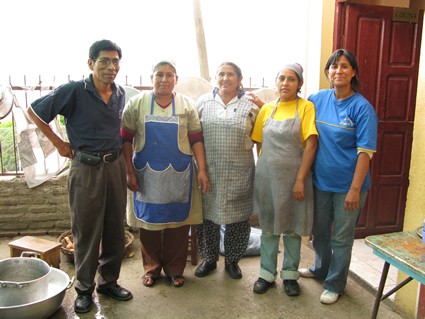 It was an unforgettable experience: wearing aprons and gloves, washing huge pots and striving to make everything in the kitchen shine.
And then to see children's smiles when they received a little help in their tasks or when one of us simply listened!
We really saw the innocence, humility and purity of God's love in every one of them.
It may be that many of us had sore backs the next day, but our spirits were overflowing with happiness. It was an experience that helped us appreciate the work that our church partners do day to day and realize that the work we all do as part of the ministry of Compassion is a service dedicated to God.
"Whatever you do, work at it with all your heart, as working for the Lord, not for human masters. …"  — Colossians 3:23, NIV
Prayer: Lord Jesus, thank You for the opportunity we have to serve others as You served us.
---

Read all the One in Spirit devotionals.