Yesterday, I spent four hours with the boy I sponsor. It was our second time together, and I enjoyed seeing him again, seeing how he has grown and hearing him speak a few words of English. Three years ago he didn't know any English.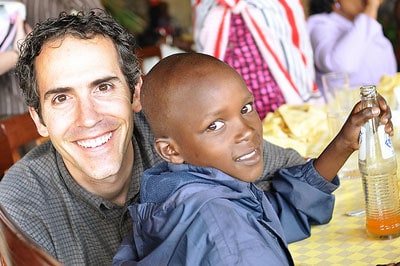 I was delighted to meet the director of his child development center and to finally see photos of his mother, father and younger sister. I also saw pictures of the house they built with one of the family gifts I sent.
I enjoyed telling Lerionga that I'm going to be a father soon and recounting in greater detail the things I've shared in my letters. But all of our conversation lasted about 10 minutes, and then there was silence.
I am extremely uncomfortable with silence when I think it's not supposed to be there.
In advance of my time with Lerionga, I imagined this meeting would be different from our first one. I imagined that conversation would be easier, that there wouldn't be silence. I imagined it would be an "unbelievable encounter." But it wasn't.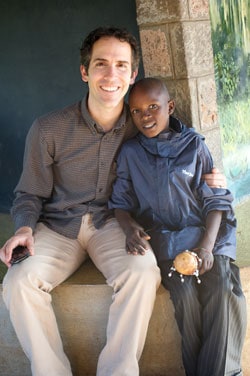 My day with Lerionga was a great day. It was a special day, and in many ways for me it was a selfish day.
It was a selfish day because I wanted us to be "best buds," but two days together, lots of letters and some financial gifts do not best buds make, even after four and a half years of sponsorship.
I first sponsored Lerionga because I wanted to change the world for the better, make a difference for Christ. I wanted to hear, "Well done, good and faithful servant."
And in all honesty, I'd like to hear some of that before I get to Heaven. (But now that I've said this, it doesn't count if you tell me.) ☺
Being drawn to something and arriving at the destination are not the same thing. They're separated by the size of the dream, and dreams aren't realized with the snap of the fingers.
Dreams are made with sweat and discomfort, effort and uncertainty and moments of success and failure. They're kneaded together with sacrifice and generosity and held together with drive, perseverance and surrender.
Relationships are like that too. And so is sponsorship.
Is your sponsorship about your child or is it about you? How about other relationships in your life? Do you look outward, for others to change, or do you turn inward, where you can change?
My sponsorship is about me. And it's about Lerionga. I need to do better about remembering that.
My sponsorship is about me. And it's about Jesus. I need to do better about remembering that too.
Being a sponsor is hard. But so is living in abject poverty.
Being a sponsor is hard. But only because I'm fallen and I over-think things.
Don't over-think this. Sponsor a child or sponsor another child if you're already a sponsor. And then don't even think about canceling the sponsorship; Jesus didn't cancel His.