The clock in front of me shows that it is time to go home. It is time to stop my work and start my other duties: Take care of my son, my husband and my home.
The darkness of night is moving in, but the sun is still shining. Sunset is my favorite moment of day.
While I drive in the car with my son, chatting about our day, I can't avoid seeing the sky. The clouds look like cotton, shining in the last rays of sun. Behind the clouds I can see the blue sky —  huge, splendid, the expression of God's creation.
I love sunset; I think it is a really special moment. It seems that Jesus himself is talking to me: "My dear, the night is coming. The darkness is very close, but don't forget that I am here. I am with you, strengthening you, taking your hand. Don't be afraid; I love you."
Sometimes at work or in our day-to-day living, we face a lot of troubles and worries. We feel afraid. I can imagine families and children from our child development centers facing a lack of food, lack of money, lack of confidence.
How can I talk to them about God? How can I make them feel God's love? I can't go to their homes and give them everything they need. I can't go pray with each of them.
As we are in our offices, away from the development centers, away from children, it seems that we can't do anything for them. But that is not true. There is a way!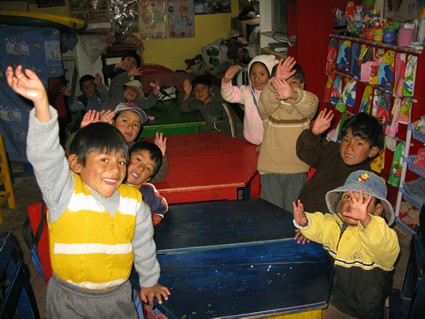 We have the answer: Let's work the hardest, my friend. Go the extra mile! Give your cloak as well! Certainly there is one way to help the children feel that God will uphold them with the right hand of His righteousness: giving our hearts, our time, our lives!
Darkness is real, but God's love shines high above the darkness! Let's change the darkness into a brilliant light with our dedication and devotion.
I will strengthen you and help you; I will uphold you with my righteous right hand. —Isaiah 41:10, NIV
Prayer: Heavenly Father, please show Your love and Your strength to each child in our child development centers; help us to do it, too, every day. In Your precious name, amen.
---

ABOUT THE AUTHOR: Jenny Iraola de Escalera is the administrative assistant to the director in our Bolivian office.
Read all the One in Spirit devotionals.