I usually start the day in heels, not combat boots. I'm not a trained soldier. Not many of us are.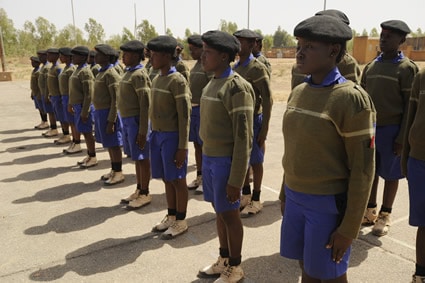 Yet, often I feel that I'm up against "this vast army": scary situations, confrontations and circumstances I feel totally unprepared to deal with at work, at home, with family or friends. So often I feel afraid, and discouragement feels real.
But the battle is not mine. It's not yours. God is clear: "You will not have to fight this battle."
But He doesn't tell us that we can just ignore it, walk away, or hide. No, we still have to show up to the very scene of the battle. We still have to prepare and "march down against them." We're ordered to take up our positions and stand firm, though we have no idea what's going to happen.
The battle is not ours to win or lose. We are not called to success. We are called to trust. And we trust in a God who loves us more fiercely than we can imagine.
"Do not be afraid or discouraged because of this vast army. For the battle is not yours, but God's. Tomorrow march down against them. . . . You will not have to fight this battle.
Take up your positions; stand firm and see the deliverance the LORD will give you, Judah and Jerusalem. Do not be afraid; do not be discouraged. Go out to face them tomorrow, and the LORD will be with you." — 2 Chronicles 20:15–17, NIV
Prayer: Father, through Your Holy Spirit, give us the courage and faith in You to see us through the battles. Please give us the discernment to know how and when to take up our swords and when to lay them down.
---

Read all the One in Spirit devotionals.