The 11-year-old child I sponsor did not know that child slavery is happening in his own country — to children just like him.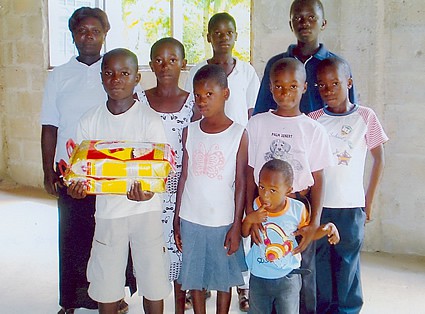 As his sponsor, I did not know I was helping prevent this from happening to him.
Ghana's history has long been tainted by slavery. It's still being tainted today as children throughout the poorest regions of Ghana are sold into slavery by parents or relatives in an unimaginable attempt for sheer survival. It's the choice of feeding a few at the expense of one.
Except these children aren't like my 11-year-old friend Sam. He is a Compassion child. Sponsored children receive the vital resources that not only help them to overcome poverty, but to avoid such desperate situations that would leave a parent with little choice but to sacrifice one of their own children.
It wasn't until Sam urged me to come to Ghana that I understood the close relationship between extreme poverty and modern-day slavery.
Through research, I repeatedly saw how poverty is at the root of slavery, and in turn perpetuates the cycle of poverty. A child slave not receiving sufficient nutrition, health care, education, protection or even love will not develop into his or her full potential.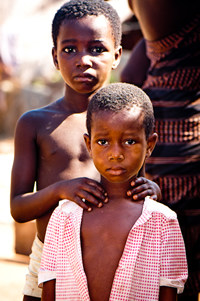 If he or she survives slavery at all, the future often looks grim, with the cycle of poverty keeping him or her trapped as a slave or eventually as a slave master.
Worse, this isn't simply a situation of financial poverty, but of spiritual poverty. Without the gospel's teaching about the value of children, without the hope of a Savior, these child slaves are engulfed in a suffocating darkness.
An innocent child is sold into slavery by his or her family in a desperate attempt to be able to afford the resources that Sam now receives through the Compassion program:
Clean water. Food. Education. Medical care.
The provision of hope itself.
The mere thought of my beloved Sam suffering the same fate as those children is unimaginable.
I know now that his sponsorship helps protect him from slavery, but what about the children who aren't protected?
In addition to sponsoring children in Ghana and elsewhere, I felt the call to do something for the children currently outside of the Compassion program in Ghana.
Through fundraising efforts, God provided $30,000 for resources in the form of classroom space, housing/shelter and care for children rescued from slavery in the Lake Volta region of Ghana.
Even though I was unable to prevent them from having been enslaved in the first place, I was able to take part in the rescue of two child slaves. These former child slaves, along with the other rescued children, will have all they need to reach their full potential.
Just like my Sam.
It's interesting looking back now how natural the progression was from sponsor to abolitionist … I now see that I was a preventative abolitionist all along.
As a sponsor, you are too.
Compassion Ghana currently has over 25,000 children enrolled in the sponsorship program, with plans on growing that number. That means many more children and families protected from slavery. Let's help them meet that goal.
---
If you're interested in writing a guest blog post, we are happy to consider publishing it. Read our guest blog post guidelines.