Hello. My name is Ally Patton. I'm a Las Vegas native currently attending the University of Nevada, Reno.
This past summer, I interned at Compassion in the Global Ministry Center. There, I worked to establish the Delivery Community* as well as to formulate a detailed road map for upcoming project management training intended to further equip and empower Compassion staff.
When I started my internship, President and CEO Wess Stafford offered a revolutionary idea during my first day of staff orientation. He held up his hands and used his thumbs and index fingers to form a triangle. This top-down pyramid is the traditional model of leadership.
Yes, I'd heard this before. This is how the working world functions — the base supports the top, and the top, due to its position, makes the final call on all projects, decisions, etc.
But then Wess moved his hands, flipping that triangle upside down and said this is how leadership is supposed to look.
I gawked as Wess explained he may be in a position of leadership, but that didn't mean he was at the top of the triangle.
Instead, he calmly clarified that because of his position in leadership, he was the bottom point of the triangle. As a leader, it is his responsibility to serve and support the rest of the organization — the staff, the global partners and, most important, the sponsored children.
That day I squirmed in my chair, confused by this role reversal. This is not how business functions. This is not how projects are executed. This is not how the world works.
But while this is not how the world works, this is how the kingdom of God is meant to be.
Philippians 2:3-8 adds value to this worldview and the concept of servant leadership. In the New International Version (yes, I prefer this version over ESV) this reads:
"Do nothing out of selfish ambition or vain conceit, but in humility consider others better than yourselves. Each of you should look not only to your own interests, but also to the interests of others.

"Your attitude should be the same as that of Christ Jesus: Who, being in very nature God, did not consider equality with God something to be grasped, but made himself nothing, taking the very nature of a servant, being made in human likeness. And being found in appearance as a man, he humbled himself and became obedient to death — even death on a cross!"
When I arrived at Compassion, I came as a culturally aware college student from a secular university. I saw these verses in Philippians as vital to following Christ. Yes, implement them at home, with friends, at church and in the streets. But in my occupation?
Surely, this didn't have a place in the power plays of the business world.
Due to previous work environments at my past jobs, I was baffled by the integration of Compassion's core values into the attitudes and work of all staff, from the bottom to the top.
Why was everyone so nice? Why is everyone poured into their work 100 percent with no complaints? Why aren't people fighting their way to the top of the ladder, of the triangle? Why do they want to help me? Why does my role matter to them? Why do I matter?
I didn't understand the idea of the upside-down triangle. Perhaps more striking, I didn't see its place in a grand-scale organization.
But after a mere month my heart changed as a result of working in such a Christ-centered environment.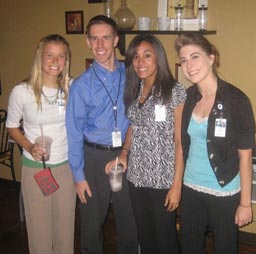 Through what I (far right) saw in others, I saw a need to change within myself. I was blessed every day by the servant attitude my co-workers and supervisors exhibited.
I learned that to lead I must serve, that to give is better than to receive, and that to help others is better than to solely help myself.
As you carry out your work, regardless of your position, you are in a position of power. You have the opportunity to lead, to execute and to finish projects that matter to the people involved.
I encourage you to not buy the lie, the worldly and culturally acceptable belief that traditional leadership denotes power. We don't need all-knowing decision-makers. We need responsible leaders who lead by example — by Christ's example.
Compassion has a long history of good stewardship. Partake in that legacy. Do nothing out of selfish ambition, be consistently humble and look to the interest of others. Actively seek to invert the triangle, and then watch God's kingdom impact our world.
---
*The Delivery Community is targeted to Compassion staff interested and engaged in Project Management. Through regular group meetings and the Intranet, employees come together to learn how to more effectively manage projects and deliver them on schedule, on budget, and within scope.