This was written earlier in the week by Ken Laura, a member of our Haiti Relief Team. He has been in Port-au-Prince working with our Haitian staff since shortly after the earthquake.
---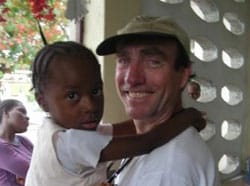 Five-thirty comes early most days, but especially on a Sunday morning when you hope to get some extra sleep before church. Not this week, however. I was wide awake at 5. I forced myself to stay in the sack for another 30 minutes despite the rooster's consistent crowing.
The high-pitched chirp of some baby doves asking for food and the soft cooing of their parents as they brought another tasty morsel to them brought back memories of 30 years ago when I was living in Limbe' at the hospital where I worked. One of the other missionaries at that time was raising a pair of turtle doves for the eggs.
Calling my tent a sack is an exaggeration of for what I've been sleeping in the last three months. My tent living is nothing like what the vast majority of Port-au-Prince residents are living in at the moment.
As you've no doubt seen on the news, tent cities are all over town. More than 300 camps are registered in the city and more than 19 of them have 5,000-plus people living in them. The families are crammed together in muddy lots with only a sheet between them and the next family. Privacy is not a word in their vocabulary right now.
We are in the rainy season now, which means we get about an inch of rain on a light night and 3 inches on a heavy night. It rained during the day today for the first time; usually it waits until after dark to dump on us.
I'm located in the parking lot behind the office building Compassion owns and remodeled a few years back. It withstood the earthquake with only superficial damage. The building now stands over the "Haiti Hilton" as my location was christened by Bob Thorp, my earthquake buddy. He and I arrived in Haiti four days after the quake, but he returned to Colorado Springs several weeks ago.
Our parking lot is paved so we don't have any mud or other problems, and it is close to my office which is just inside the back door. I'm calling this my "hoffice," because "offome" doesn't have much of a ring to it. I can't really call this my home/office because it isn't much of a home. We've discussed other options but until now haven't found an acceptable solution.
There are a couple of restaurants around the area. One is like a food court in a mall, which is where most people go for fast food. It is a busy place and must make a killing, because fast is not usually used to describe restaurant service here.
The place is great because it has a crepe station, drinks, pizza counter, sub station, hamburger side and ice cream, all in one building. I go sometimes to meet Americans, but there are way more Haitians who go there.
I digress. I started out to describe the beautiful sunrise I got to see as a result of getting up so early. With all the buildings around there is not much sky to actually enjoy, but I decided to go for a run and found a gorgeous pink and yellow sunrise.
Here in Port-au-Prince, the mountains are in the east so they block a lot of the sunrise, but this morning with the clouds from the rain still hanging in the sky there was a great canvas for God to paint in many different hues. It was a great way to start my day, but I was a late starter compared to the local population.
I passed hundreds of people at that hour dressed up, on the way to church. The amazing thing is that everyone is wearing white shirts and ties, nice dresses and heels. You would never guess that they have just walked one or two miles on muddy roads until they get to our main road of Delmas, where the public transportation is constantly coming by to pick them up.
It puts me to shame on so many levels. I'm out of shape and under-dressed, but I'm here and doing my best to help out.
Please keep Haiti in your prayers because it will need lots of help for a long time. We are praying that all the mistakes of previous years are now exposed and that people will be able to learn from them.
Nou va oue' ou pita (See you later).