I never imagined that I would be like a missionary as a facilitator in Compassion eastern Indonesia, living far from relatives, friends, and everything that satisfies my eye.
West Kutai is one of the regions in East Kalimantan. Here, there is no public transportation; sometimes we need a boat to cross the river, and we never know how deep the river is. We have many challenges here, such as how to fight the paganism that we find everywhere even though Christianity is already here.
I realize that equipping, facilitating and helping 14 Compassion partner churches is not easy. Sometimes it is even exhausting. But along the journey, I find many miracles of God.
Rhyfalis, a registered child in one of our child development centers, has strengthened my faith, increased my devotion with God, and encouraged me. This little boy has opened my heart to the truth that miracles of God are still here. Rhyfalis was hit by a motorcycle and his skull was fractured. Doctors said there was no hope for his life.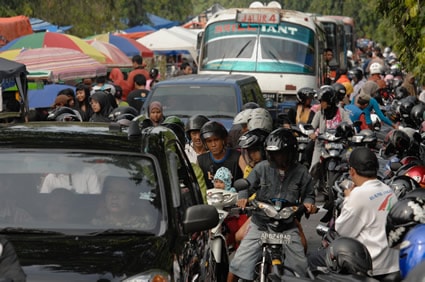 Crying, I felt like his family as I stood beside his cold and unconscious body. Then I remembered that Jesus said, "With man this is impossible, but not with God; all things are possible with God."
Through my tears, I prayed to God to spare this life, because I believe God has a purpose for this little boy's future. Now, after two surgeries, Rhyfalis is recovered and able to attend his child development center, write to his sponsor, play, study and pray. God loves him so much.
People may have the same purposes and goals, but it is the journey that determines the strength of a vision. God's miracles are still here, and that's why I'm still here to serve Him.
Jesus looked at them and said, "With man this is impossible, but not with God; all things are possible with God." — Mark 10:27, NIV
Prayer: Give us strength and courage through Your miracles, Lord.
---

ABOUT THE AUTHOR: Grignard Tanari is a field-based partnership facilitator in eastern Indonesia. Grignard also volunteers in youth ministry in West Kutai, Borneo.
Read all the One in Spirit devotionals.