The Bible teaches us that of all the spiritual virtues, obedience is the most important one to help us achieve our God-given goals. Abraham's complete obedience pleased God and built a strong trusting relationship with Him.
True obedience governs our thoughts, our relationships, and all our actions. True obedience is tested and proved through hard times.
Both obedience and disobedience to the Lord greatly affect our destiny and even that of our dependents and those we serve. God wants to use our obedience to change the lives of others (2 Corinthians 10:6).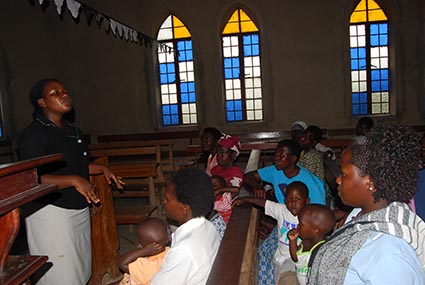 Once we reach the level of complete obedience, our will and God's will match up. This is what we read about in the life of Abraham (Hebrews 11:8) and even in the life of Jesus Himself (Hebrews 5:7).
When our obedience is complete, God widens our territory, we start to practice new things, and we receive what we ask for, because our will is aligned with His. Complete obedience is a gravity-free life!
My short time with Compassion has shown me this truth. I can't find any better word to describe Compassion than "obedient." I have witnessed Compassion's success, popularity, and continuous blessings even at times of global crisis, and I believe it is due to the obedience the Lord has seen in the lives of Compassion's leadership.
May we all be so.
If you fully obey the LORD your God and carefully follow all his commands I give you today, the LORD your God will set you high above all the nations on earth. All these blessings will come on you and accompany you if you obey the LORD your God. —Deuteronomy 28:1–2, NIV
Prayer: We earnestly pray that obedience shall be our identification as a Compassion family, so that we will continue to make a big difference in the lives of millions of the world's neediest children.
---

ABOUT THE AUTHOR: Sisay Woldeyohannes works as a Highly Vulnerable Children Specialist for Compassion Ethiopia.
Read all the One in Spirit devotionals.