Alejandro and Nixon are cousins who have also been friends most of their lives growing up in El Salvador. They are "first cousins," a term that, in their culture and language, means a close relationship and is literally translated "cousin-brothers."
Their mothers are sisters, and the sisters' close relationship may have influenced Nixon and Alejandro, but it takes more than that to build a friendship.
Alejandro tell us,
"Saying that we are close because we are family is not always true. All of us have many relatives who do not have much contact with us."
These two have a nice story to tell about friendship. They have understood what friendship means in different ways and at different times, as the words of Proverbs express.
"A friend loves at all times, and a brother is born for adversity." Proverbs 17:17 (NKJV)
Nixon is two years older than Alejandro. It is a summer afternoon, and they both sit down to talk about their friendship.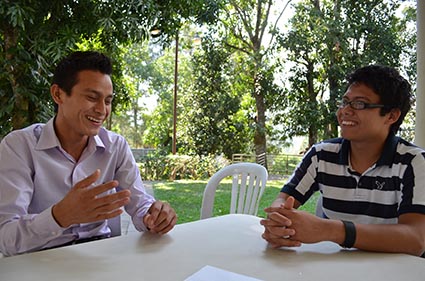 Alejandro talks more. He has spent more than half of his life in our sponsorship program. He remembers being very little when he started attending the child development center in the small town of Izalco. He is now on his third year of working on a major in business administration.
Adept at outdoor activities, he usually wears sneakers and T-shirts. Today, he wears a formal shirt that gives him an executive look.
Nixon is the quiet one, with an intellectual look accentuated by his glasses. He enjoys reading and doing things on his computer, which he usually carries with him.
He is in his third year of studying computer engineering, though he states that was not his first choice. A math major was not available at the university, so he chose a career close to his love for math.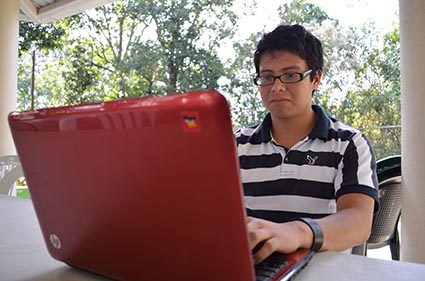 These two have many things in common, from being in the Leadership Development Program to being cousins, neighbors and even roommates during the week. Because they have to travel about two hours from Izalco to school in San Salvador, they rent a room close to the university and travel home on weekends.
Nice memories
Alejandro shares first,
"The earliest memory I have with Nixon is visiting him so we could play with his bike. I used to play with my sister, but I did not like it much."
At that time, the boys were about 5 and 8 years old. Alejandro has an older sister and Nixon has a younger sister. Their friendship started because their mothers thought it was a good idea to get them together so they could play boys' games.
Nixon tells us,
"I remember that his mom would bring him home and we would spend all afternoon playing with the bike, or kicking a ball in front of the house."
The two laugh without finishing their sentences, remembering the dozens of adventures and naughty things they did when they were younger — like the typical running after ringing a bell or knocking on the door of a stranger's home.
These two friends remember how they would share everything, such as feeding each other when one had a snack and the other didn't. As leaders at church, they also shared ideas and supported each other in their youth ministries.
The best way to demonstrate their strong friendship is, as Alejandro says, when they get together to work hard for something they wanted.
"We'd get together in soul and mind to fight for what we want."
The biggest testimony they have to demonstrate this is when they both wanted to enter the Leadership Development Program.
Pray for me and I'll pray for you
Alejandro and Nixon were in the first generation of Leadership Development Program students, when the program started in El Salvador in 2008.
They interviewed and took exams to enter the program. They shared the long travels to San Salvador city, and they also shared their insecurities after an interview, when they thought they did not do well.
But they also shared prayers for each other.
"I told Nixon, 'Pray for this, because I know God has big plans for both of us.'"
Alejandro says that when he prayed to be accepted to the Leadership Development Program, he prayed that, if God would give him the blessing, He would bless Nixon as well.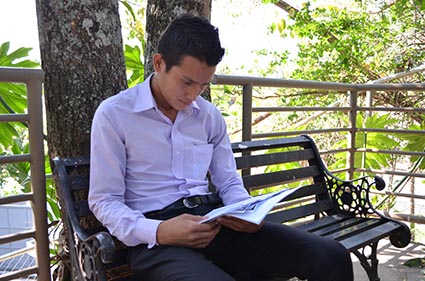 They waited for three days after the final interview, and they both received notification they were granted the Leadership Development Program scholarship.
They have understood that, as friends, together they are stronger. It is also important to see how these two admire each other.
"I seek advice from Alejandro for my ministry, as I see he has a great vision for the youth ministry at church."
"I have never said this to Nixon, but maybe, because he is the older, I always look up to him, and I admire him as he is a big example of Christianity."
Today, they both have plans and both are developing skills and knowledge to become leaders for their church and their nation. Even in their future, they see being together.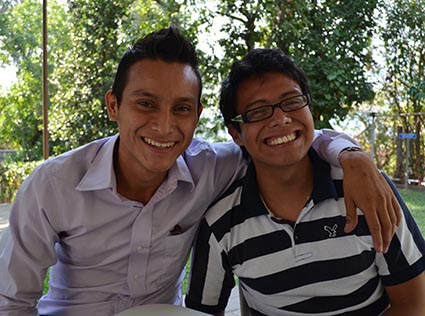 Alejandro dreams of having his own brand of fresh fruit juice, and that Nixon will help him run the factory with his computer skills.
The "cousin-brothers" agree that this initiative will benefit the country, providing income to employed families. They know this is through God first of all, but it also helps that they are both friends, praying for each other's dreams to come true.
---
Students like Alejandro and Nixon need our support. Will you prayerfully consider helping a student finish well?