I keep a short journal on my laptop, one or two sentences each day about an idea I've come across that might be significant to my life if I were to meditate on it enough. I read somewhere that returning to your first love, namely God, is the key to coping and healing from all sorts of emotional pain.
As I've thought about it over and over, I'm beginning to think that daily returning to God really is the key to everything in life, from the joys to the mundane routines of life.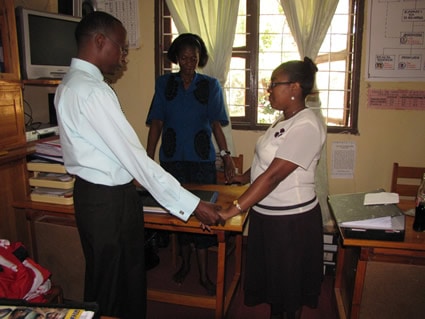 At Compassion, we do a lot of things to fulfill God's purpose of helping the poor. In fact, most of us love to do them and are passionate about the cause.
Sometimes, though, it's easy to fall more in love with doing the ministry than with the One who called us. And it's easy to get tired or burned out doing the routine or difficult tasks. Sometimes it seems like progress can be painfully slow.
So how do we make sense of what we're doing in our service to God?
By returning constantly to our first love, I think. When that happens, monotonous busywork turns into purposeful, joyful effort.
Difficult decisions become better informed by the character of God. Relationships with coworkers and those we serve become more loving. There's a clearer direction and path as we walk through the maze of too many good things that need to get done.
And the burden of service and living out the Lord's calling on our lives becomes tempered with the knowledge that it is most important to rest in the presence of God.
John 15:4 summarizes with a beautiful metaphor what God wants for those who serve Him. He says that nothing can be done truly for His glory, purpose, or pleasure unless we remain attached to Him.
"Remain in me, as I also remain in you. No branch can bear fruit by itself; it must remain in the vine. Neither can you bear fruit unless you remain in me." — John 15:4 (NIV)
Prayer: Dear Father God, help us always to return to You and remain attached to You. May all our efforts flow from Your strength and be fruitful.
---

ABOUT THE AUTHOR: Carla Hoit is a support specialist for U.S. Constituent Development. The U.S. Constituent Development team works with foundations to obtain ministry grants.
Read all the One in Spirit devotionals.