Children are the most ignored and vulnerable group in Bangladesh, and the children we serve there are some of the poorest in the world.
But these children, who live in circumstances we can't imagine, are learning to see hope in their lives and how to help others.
When they heard about the Jan. 12 earthquake in Haiti and that Compassion-assisted children were affected, it broke their hearts. Every day they were at the development center, they prayed. But they went beyond that as well.
Continue Reading ›
They are the most heartbreaking reports I've seen during my 12 months in this job. (Not that you can really quantify or categorize something like this, but last week was the first time I cried reading a crisis report.)
Cyclone Aila. If you haven't heard about it, don't feel bad. It really hasn't been in the news much at all.
None of the major world news sites say anything about it. When I checked yesterday, they all had headlines about singing sensation Susan Boyle, but nothing about Cyclone Aila. However, just because there are no headlines doesn't mean there is no news.
Over the past week, David Adhikary, our communications specialist in Bangladesh, has been sending photos and reports from the midst of the cyclone's aftermath. They are devastating. Here are a few excerpts from his reports …
"During the disaster night, the children and their families suffered a lot. The cyclone took down their houses, and after that the dams were destroyed. Some of children had to stand in water for the whole night. The center staff found many of the children in a wet condition."
"The Compassion center staff and the parents of the children are very anxious about the aftereffects of the flood. The dead animals could cause dangerous diseases, and the probability of malaria is very high."
"There is not a single house in the village that hasn't been affected by floodwater. The village is near the sea and the river water is very salty. The floodwater mixed with their water sources and made it impossible to drink.

"The water crisis is the major problem for the people. People were seen drinking the polluted floodwater to put off their thirst. The floodwater is very dirty and stinky. The dead animals and fish are floating all over the water. Children of that area are also drinking the same water."
Worse …
"The affected families have taken shelter at the nearest market. The families are staying with the animals in the market. The marketplace is badly polluted as the people are using the place for all kinds of uses.

"There is no toilet and the people are using free spaces for a toilet.

"The adult girls are staying with their families in the marketplace. Their parents are very anxious about their daughters because at nighttime they have to stay with lots of unknown people together in the marketplace."
And perhaps saddest of all …
"This morning we received very sad news about one of the children we assist. Her mother committed suicide just after the cyclone disaster. Their house was broken down and she committed suicide out of her frustrations. She lost her husband last year during Cyclone Sidr. She faced many challenges last year and finally gave up. [The children] are now orphans and vulnerable. They lost their father and mother in two consecutive cyclones. Please join us in pray for these children."
Oh, God.
It feels like it's too much, doesn't it? When I read stuff like this, I find myself begging Jesus to hurry up and return and make all things right. It's difficult not to get overwhelmed with despair.
The crazy thing is, though, God has placed Compassion right in the midst of this mess. Because of our unique church-based structure, our child development centers are distributing food and water where even relief agencies haven't been able to access!
Families who lost their homes and have nowhere to cook are receiving hot meals at the child development centers. During the next few weeks, the centers will provide them with dry food, oral rehydration therapy and water purification tablets.
Here are a few of David's photos. As you look at them, pray for the people in the photos and the thousands more you don't see who are in similar desperate situations.
---
If you sponsor a child in Bangladesh and your child has been affected by Cyclone Aila, we will contact you as soon as we receive information about your child.
Continue Reading ›
Thanks for asking your questions of David, the Compassion field communication specialist in Bangladesh. Here is the wisdom he has to share with us! 
1. First of all, thank you so much for all you do for the precious children of Bangladesh! My question is, as you go through each day seeing a multitude of needs in these children's lives, what do you find yourself praying for most often? (Lindy)
You are always welcome. Actually, I feel a deep pain when I find myself in a position where I can't afford to help each of my children to solve their problems.

Every night I pray that at least they could have their dinner and have a sound and peaceful family environment. 
2. I would like to know the specifics of how the global food crisis is affecting the people in Bangladesh and how it has affected Compassion's program there. Have you cut back days that the children meet? Has it made a difference in the type of food that you can afford to serve the children? (Cheryl J)
The price of rice and other food products including lentils, flour, oil, and sugar are increasing continuously from last year.

According to different sources, the cost of the cheapest rice has increased by over 90 percent, and for the better grade rice, it is over 64 percent.

According to the statistics provided by the World Bank and United Nations, the daily income of a lower-level person in Bangladesh is between $1 and $2.

Each family requires at least four pounds of rice each day, which means if they only buy four pounds of the cheapest rice, they have to spend $1.18, which means they have little or no money left to buy vegetables, oil, and other food products.

Compassion Bangladesh hasn't cut back the number of days that the children meet. Instead, we started an extra day of Compassion program.

Most of the child development centers provided a meal five days a week, but now they are providing a meal six days a week.

Some centers had to reduce their expense for food revenue; they decreased the quantity of food.

After receiving the support of the Global Food Crisis fund, this lack has been filled and children are getting food according to the new, revised menu.

Your support and prayer made it possible.    
3. How far do the students travel, on average, to get to the centers, and how do they do so? (walk, bus, etc.) (Beth Ingersoll)  (more…)
Continue Reading ›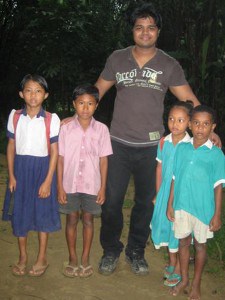 Remember Kamrul, the cycle van driver from Bangladesh you helped buy a cycle van for? Well, David Adhikary is the fine field communication specialist in Bangladesh who reported that story for us. That was one of his first assignments — he just started at Compassion Bangladesh in January. What a nice welcome you gave him!
Now it's your turn to ask David about his experiences as a Compassion employee, visiting precious sponsored children, and anything else you're wondering about Bangladesh.
I'll tell you a bit about him first. He just finished his electrical engineering degree in December of 2007 when he decided that he wanted to serve the Lord by working with Compassion's ministry. (An engineer and a writer — talented guy!) He loves English and Bengali literature and is a big sports fan too.
Remember when Chris went to Mexico? He got to meet Cesiah Magaña, who has been working with Compassion Mexico for seven years. She says the seven years have been wonderful — filled with blessings and challenges.
She currently works as the communication specialist, is married and has a precious 2 1/2-year-old son, Jair. She loves driving with her family to the towns around Mexico City, seeing their handicrafts and hearing their stories.
So it's time to ask your questions of Cesiah and David. I'll choose ten questions for each of them to answer.
Continue Reading ›