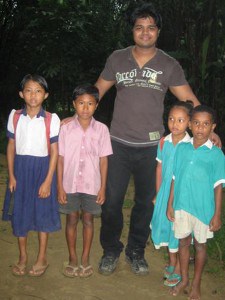 Remember Kamrul, the cycle van driver from Bangladesh you helped buy a cycle van for? Well, David Adhikary is the fine field communication specialist in Bangladesh who reported that story for us. That was one of his first assignments — he just started at Compassion Bangladesh in January. What a nice welcome you gave him!
Now it's your turn to ask David about his experiences as a Compassion employee, visiting precious sponsored children, and anything else you're wondering about Bangladesh.
I'll tell you a bit about him first. He just finished his electrical engineering degree in December of 2007 when he decided that he wanted to serve the Lord by working with Compassion's ministry. (An engineer and a writer — talented guy!) He loves English and Bengali literature and is a big sports fan too.
Remember when Chris went to Mexico? He got to meet Cesiah Magaña, who has been working with Compassion Mexico for seven years. She says the seven years have been wonderful — filled with blessings and challenges.
She currently works as the communication specialist, is married and has a precious 2 1/2-year-old son, Jair. She loves driving with her family to the towns around Mexico City, seeing their handicrafts and hearing their stories.
So it's time to ask your questions of Cesiah and David. I'll choose ten questions for each of them to answer.