Change the Story: The Compassion Experience is a traveling, interactive exhibit that allows you to journey through the lives of three real-life children who are affected not only by extreme poverty, but also by the Compassion ministry.
Continue Reading ›
What are the hopes and dreams mothers in the developing world have for their children?
Continue Reading ›
The youths in our student centers face many challenges. Because of cultural paradigms, poor academic preparation by the national school system (especially in rural areas), and financial barriers, one of the greatest challenges for youths is learning how to dream.
Continue Reading ›
Every time Rosario enters a class she is received with an explosion of hugs and kisses from her little ones.
"Since I was young I dreamed to be surrounded by children, because I am the youngest in my family and I used to tell God that I wanted to work with children."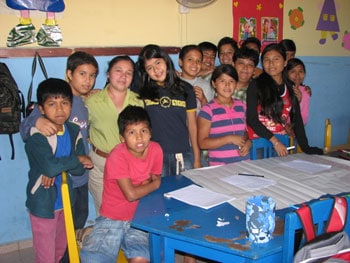 One day the pastor told her about the child development center and the children, and her curiosity took her there.
"God's mission is being accomplished, and He put us here so we could accomplish His mission and take care of the children. I wanted to have many children, I dreamed all of that and God listens to us, so when the pastor told me to come and help here, I loved the idea."
Rosario is already three years in this ministry. She started as a tutor, and since last year she is the director of the student center. To work in the center is very special for her; it is a blessing.
Continue Reading ›