"I know there is a God because in Rwanda I shook hands with the devil." – Major General Romeo Dallaire, Force Commander, United Nations Mission Assistance in Rwanda.
But where evil is strong, hope is stronger.
I'm an employee at Compassion. I work as an assistant for our International Program Communications Director. I love my job and I love working for Compassion.
However, for years my heart has ached to travel to East Africa. I wanted to see firsthand the children that haunted my dreams and now consume my days as I work to help release children from poverty.
Last year, my boss agreed to let me take a two-month leave of absence to work at a Rwandan orphanage. I just got back a couple weeks ago.
While in Kigali, I experienced more hope and more devastation than I thought possible. But it's because of Compassion that I am able to bring you this story about love, hope and sorrow in Rwanda. About some orphans, some widows and some abandoned children who when they have nothing left, cling to Jesus. In the midst of extreme poverty, they choose hope.
Rwanda. It seeped into every part of me. The only phrase that seems appropriate for this country is "Devastating Beauty."
In Kigali, I saw more beauty than words can express. However, in some of the same moments, the realities of poverty and sickness overwhelmed and haunted me. All I know is that it profoundly changed me.
Like many 25-year-old girls in America, before I left for Rwanda, I attempted to define some characteristics of young men of integrity. In Kigali, I found examples of those men.
Continue Reading ›
He is the most remarkable storyteller there is. More than that, the brilliant author. He speaks and there is light. From His voice comes life.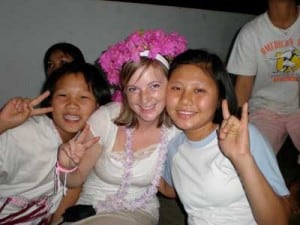 His workmanship becomes ingrained within our being. He weaves stories into our lives. Stories of triumph, of sorrow, of sheer joy. Stories of hope.
Reading your stories of hope captivated me as well as resurrected a story of hope I have seen in my life, in a place before Compassion.
When He gave me this story, my life became enriched. My heart now scarred with such sacred radiance:
Continue Reading ›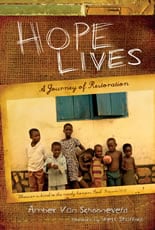 The stories all of you shared during our first blog contest were encouraging, inspiring and, well . . . everything that Christ is, to all of us.
Thank you for giving us a glimpse into how "hope lives" in your lives — how He lives.
And thank you for participating.
Would you please take some time to read what these three ladies wrote about hope in their lives?
Help us make the hard choice of who gets our non-eternal prize — autographed copies of Party Divas and Hope Lives.
Thank you for voting.
Continue Reading ›
We've been wanting to do this for a looong time now, and it's finally here — our first blog contest!
It took some time to hoodwink someone into donating a prize, but we finally found Amber.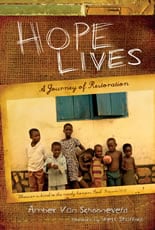 Well, we knew where Amber was the whole time, so the truth is that we finally thought to ask her to donate autographed copies of her two books, Party Divas and Hope Lives.
What's the gist of the contest?
Write a blog post describing how "hope lives" in your life.
Link back to this post in your post.
Leave us a comment, including a link to your blog, so we know you're participating.
If you don't have a blog, you can still participate. Just tell us how "hope lives" in your life by commenting on this post.
We'll choose three finalists.
You'll pick a winner from the three finalists.
Simple. Right?
Oh, one other thing. Write your "hope lives" post by Tuesday, November 11. Voting will be between November 12 and 15, with the winner announced on Monday, November 17.
Hmmm. Guess that was really three things. 🙂
Continue Reading ›
How can I help fight poverty? What in the world can I do? The problems are just so big, and I'm just so small. I want to be used by you, God, but I just don't know what to do.
I've thought and prayed these things many times. When viewing this world with its huge statistics of dread that loom over us (one BILLION people living in poverty), have you ever just felt stuck? Paralyzed? Anaesthetized? Confused? Helpless? Hopeless?
I've felt all those things. Usually when I'm looking at two things:
The enormous earth, jam-packed with dreadful statistics, and
Me
They both seem like depressing prospects.
Thank God this is not about me or you. Thank God for His grace. When the Lord called out looking for someone to be his messenger, "Whom shall I send? And who will go for us?" (Isaiah 6:8, NIV), He didn't say "Whom shall I send who has a doctorate degree? Who will go for us who's a super-swell, smart, sophisticated, experienced guy?"
No, God doesn't put the same prerequisites on his servants that we put on ourselves. He seems quite eager to use each one of us as his servants, just the way he made us.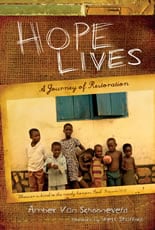 I recently wrote a book about responding to poverty, Hope Lives, and between you and me, this is a bit crazy. Don't tell anyone (especially my marketers), but I'm just a goofball from Colorado who loves donuts and reality television. But I'm a goofball who (quite audaciously) called out to God, "Here am I, send me!"
And you know what? God (quite audaciously, in my opinion), said "OK." I'm tempted to think He might need a stricter HR department, but those are just the lies of the enemy. God wants to use each one of us (I mean you) to reach out and help His hurting world, no matter how insufficient we think we are.
We might not all be missionaries or nurses or have doctorate degrees in poverty, but God did plant a little seed, a little talent, in each of us that He wants to use and grow. There's a guy who works here at Compassion whom God gave the talent of rapping. Yes, rapping. And he's using it to speak out against poverty. There's a woman who loves to write letters, and she's using this gift to write letters of encouragement and hope to dozens of children in poverty.
Maybe you can't write or rap, but what can you do to serve others? Bake? Fix cars? Persuade? Sew? Tap Dance?
No matter how small (or random) our talent seems, God can use it. He can multiply our offering that seems so measly and make it into something incredible, just like the little boy with the two bitty fish that God used to feed 5,000 (John 6). God gave me the gift of writing.
The small step of faith I took in this has now been multiplied by God, through Hope Lives church kits which guide churches through a five-week journey of exploring how God wants us to respond to poverty. Now how crazy is that?
I believe God is waiting for each one of us to look past the looming, seemingly impossible statistics, forget ourselves and our own insufficiencies, and simply say: "Here I am God, send me." And I bet we'll be flat-out flabbergasted by what he does.
Continue Reading ›