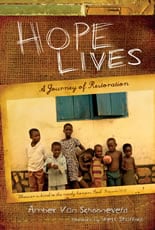 The stories all of you shared during our first blog contest were encouraging, inspiring and, well . . . everything that Christ is, to all of us.
Thank you for giving us a glimpse into how "hope lives" in your lives — how He lives.
And thank you for participating.
Would you please take some time to read what these three ladies wrote about hope in their lives?
Help us make the hard choice of who gets our non-eternal prize — autographed copies of Party Divas and Hope Lives.
Thank you for voting.