Children in México's most impoverished places do not normally get the joy of celebrating a birthday. In Centro de Desarrollo Integral Cordoba Child Development Center, as in many other student centers supported by Compassion, children are recognized and celebrated with singing and cake, making a difference in their self-esteem and value.
At the development centers, children receive the gift of being children, away from their lack of money and food, inside a small refuge where sadness and abuse are not present.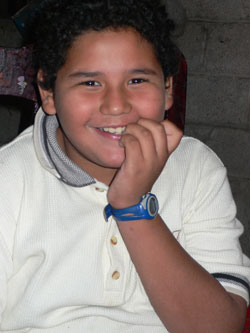 Pepe comes from a good family. His mother, Hilda, knows the Lord, but she came to the church when she and her husband were under much stress and struggles. Although the couple tried hard to stick together and to create a safe environment for their children, they used to fight over their lack of money.
Hilda says she and her husband fought because they did not have enough money to eat. She recalls one day when they were yelling at each other and did not realize Pepe was hiding under the bed. They saw Pepe crawl up into the corner of the bed and pray, "God please give me much money so my daddy and mommy will not fight."
Hilda was heartbroken, and that was the moment she decided not to fight over money anymore. On that day, Pepe brought light into a family that lived caught up in the darkness of their economic situation.
Our church partners often see families changed by their own children in this way; the children support their families in their struggles, pray for them, and in many cases minister to them until they are reached by the hand of God.
Help Families Affected BY COVID-19
Families in poverty have no safety net in times of crisis. Help provide food, medical care and support during this pandemic.
Last year, the center received additional help from Compassion. They received a special gift of Bibles to give to the children so the little ones could bring the Word of God into their homes.
A Bible in the hands of children becomes a tool that provides them with countless opportunities to start learning about God, to trust Him, to love Him and get to know Him on a personal basis. Compassion México has given a new Bible to more than 8,500 children in 65 child development centers.
The Bibles have a short information sheet to collect responses from children, including a question to make sure children have heard God's plan for salvation. This sheet has helped as a follow-up tool to track their commitment to the Lord and to help tutors and center staff understand where the children are spiritually.
For Pepe, the Bible came at a very special moment. Some time before his birthday Pepe started to ask his mother for a Bible. As his birthday present, he wanted this special gift.
"I longed so much for a Bible, I wanted to have a Bible for my own, and I wanted it to be a children's Bible."
A week before his birthday, his mother went to look for a Bible for him, but they were very expensive. She was saddened at not being able to provide this gift for her son. She didn't know God was already planning to take care of this.
On Pepe's birthday, after the regular activities, the children at the development center were called up front and their teachers gave them a Bible. For Pepe, this Bible was not only just what he wanted, it was a very special birthday gift that meant God is always listening to his cry.
"I wanted to scream with joy to the four ends of the earth, that same day I read two chapters and a half."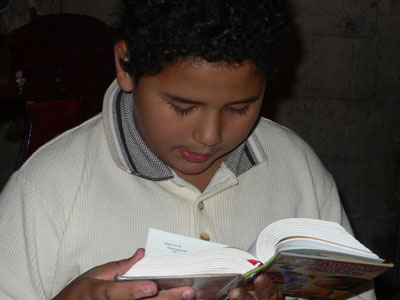 With such a demonstration of the love of God, Hilda says they cannot turn their back on the Lord now.
"As a family we made a commitment to read the Bible. So every Saturday and Sunday when we wake up, we each read a psalm and kneel down to pray."
Hilda and her two children now attend a church near their home. They are still praying for Pepe's father to commit his life to the Lord, but they know Who they trust now.
Pepe and his sister like to pick out their favorite Bible verses. They sit together to write them on paper sheets, then they decorate the verses with colors or cutouts and put them up on the walls of their home.
"My favorite Bible character is David because he said many very beautiful prayers to God."
Pepe knows how to pray to God and his prayers have been heard. The evidence is his own family and the Bible he cherishes and carries back and forth from the center. God's faithfulness is also evident in the memory of receiving such a special birthday gift.
Hilda now considers her family rich. They still have limited resources, wear secondhand clothes and don't own a proper place to live, but she says firmly,
"Although we lack many things, we know we are rich because we live without fighting and we have not seen a day when we are unable to eat at least something."
There are times when that "something" is quite meager. Hilda describes how when money is scarce she prepares one egg with tomato for the entire family and serves it with old, dried tortillas.
But the family's riches are not counted in money. Rather, they are counted in love for one another, in their love and trust of God, and in occasional surprises from the Lord that they are able to enjoy together — surprises like Pepe's treasured Bible.
---
What's the greatest birthday present you ever received? What's your greatest childhood birthday memory? Does it involve God?