Elizabeth lives with her two granddaughters, Amakor and Mana, in a house very close to the Lord's Pentecostal Church in Kwashieman, Ghana. The compound of houses where they live is known in the community as the idol worshippers' house or, for short, idol house.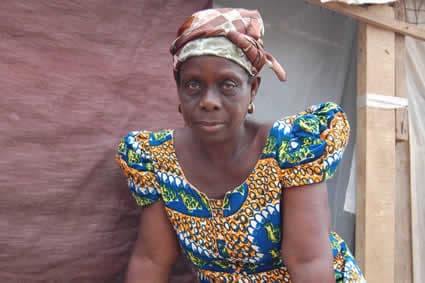 The most conspicuous thing one sees upon entering this compound is an idol in the middle of the compound. Everyone living there worships the idol — everyone but Elizabeth. Without any reason, she never took part in the idol rituals.
"I do not know why, but I have never been interested in what they do. Sometimes they offer sacrifices. They slaughter animals and cook meals and share with everybody in the house, but I never wanted any and never ate any food they prepared.

"I don't know why, but it never agreed with my spirit."
One evening Elizabeth attended a church service where she encountered Jesus Christ. Since then, life has not been the same for her and her grandchildren. Jesus is making the difference in her family.
Elizabeth's daughter, Adzoa, has five children. Amakor and Mana are the youngest. Their father was Adzoa's second husband, but he died mysteriously as did Adzoa's first husband.
Things became difficult for Adzoa and she could no longer care for her five children. So Elizabeth decided to bring granddaughters Amakor and Mana from their village in the Volta region to live with her in Accra.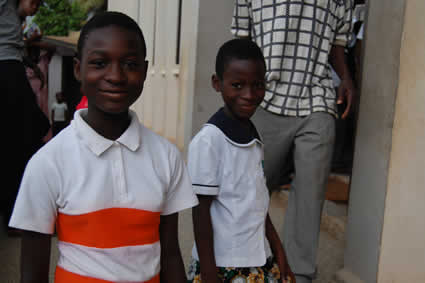 She hoped to help ease the burden from her daughter's shoulders and give the girls a better life. But things did not turn out as Elizabeth had hoped.
Elizabeth is a petty trader. She has a stall in a market where she sells her wares. The market is about 15 kilometers from her house. Sometimes Elizabeth spends nearly two weeks at the market without coming home.
During these days Amakor and Mana were left on their own with no parental control or guidance. Their grandmother did not have the financial means to put them in school.
For the most of each day the girls loitered about in the community, getting involved in fights and other unwanted behaviors. To make matters worse, Amakor and Mana were exposed to idols every day.
Since their grandmother did not practice any form of worship and was rarely around to direct them, the idol worship where they lived was the only type of worship they knew.
The Lord's Pentecostal Church in Kwashieman runs a child development center located in the community where Elizabeth and her grandchildren live. The center's workers observed Amakor and Mana and decided to find out more about these children who were always rambling about while other children were in school.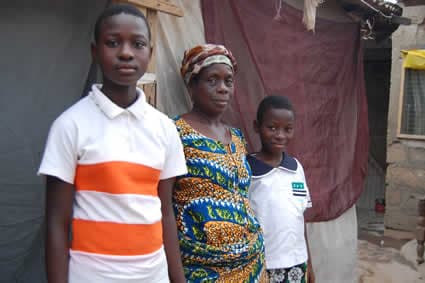 Once the staff got all the facts, they decided to watch for the grandmother and have a chat with her. When they finally got the opportunity to meet with Elizabeth, the workers sought her permission to allow the girls to attend the center with other children on Saturdays, even though the girls were not registered in the program.
Our staff also offered to care for the girls during the day on other days of the week.
Elizabeth was overwhelmed. She jumped at the offer and disclosed that she had planned to send her granddaughters back to their mother. She had felt that the girls would be better off with their mother since Elizabeth could not be with them much of the time.
Soon after Amakor and Mana began attending the child development center on Saturdays, the workers realized that they had bitten off more than they could chew. The girls did not understand any other language apart from Ewe — the language spoken in their home region — which made communication with them difficult.
The girls were also hard to control and would fight with other children at the slightest provocation. But our staff were not deterred. They continued to pray for Amakor, Mana and their grandmother. Our staff showed the girls love and care.
Within a short time, the staff began to see encouraging changes in Amakor and Mana. The sisters were better behaved and were friendlier with the other children. Amakor and Mana started speaking the local languages and were even learning to understand and speak English.
Alfred, the development center account clerk, shares,
"We knew that trying to help Amakor and Mana to transform was not going to be easy; but we also knew that we could not do it on our own — we needed Jesus. We relied on Him and He did not disappoint us."
After a number of interactions with the center workers, Elizabeth began to return home from the market more often to give her grandchildren more attention and care. She also started attending church services.
When the Lord's Pentecostal Child Development Center in Kwashieman received the go-ahead to take on more children, Amakor and Mana were registered. Soon they were both sponsored, and the sisters are now enrolled in school.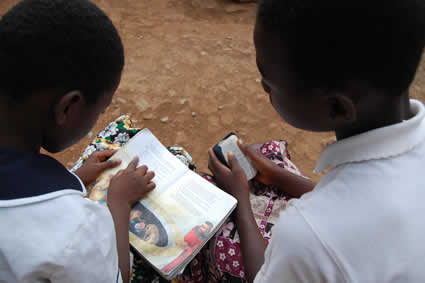 Their school fees are paid. They receive everything they need for school. They receive regular medical checkups and any medical bills are taken care of. They are provided with life's everyday essentials.
There was more to come for Elizabeth and her grandchildren. One Friday night the church held a watch-night (all-night) church service. Elizabeth remembers returning home from the market that evening, exhausted from her long day:
"I was so tired that day that all I wanted to do was to bathe and go to bed. But I could not sleep, so I dressed up and walked to the church where they were having an all-night prayer service. That night I responded to an altar call and received Jesus into my life."
Not long after this, Mana also confessed Jesus Christ as her Lord and Savior. Amakor soon followed.
The programs conducted by our child development centers are meant to develop children holistically in four areas, one of which is spiritual development.
Development centers take spiritual development seriously because we believe that if children are aware of their status with God and know the place they hold in the eyes of Jesus, this marks the beginning of the solution to the many negative things the children face.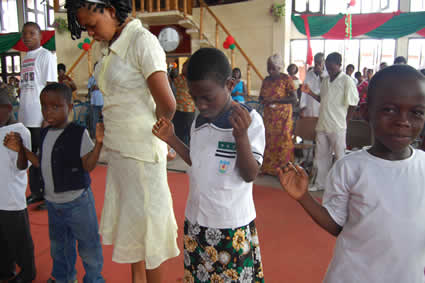 We have found that children who trust in Jesus become more receptive and cooperative in the other areas of their development. This is why the once-misbehaving Amakor and Mana have become so obedient: Jesus has made the difference in their lives.
Amakor and Mana have learned to live in harmony with other people. Saying "I'm sorry" or "Thank you" comes more easily for them. They no longer take part in eating foods involved in idol worship. Reading their Bible stories is what they do now in place of loitering about and fighting other children.
Mana tells us,
"I do not fight and insult people anymore because I know that it is bad and Jesus does not like that."
Amakor also shares,
"I like the child development center because all the children are kind. They do not fight with me and they share their things with me. The teachers at the center tell me every day we go there that Jesus loves me and it makes me happy."