Greetings, good wishes, and the expression of love and hope to a special person are contained in the letters you write to your sponsored child. Letters are a great opportunity to enter the world of your child and family, a wonderful experience and adventure that ties the ties your lives together.
The Honduras Compassion office receives an average of 15,000 to 18,000 letters per month. The handling of so many letters and packages requires a well-trained correspondence team. This group of people takes their job seriously and knows well how to manage the pressure of receiving so many letters. Every one of them is an expert in every process and committed to keeping up the good work.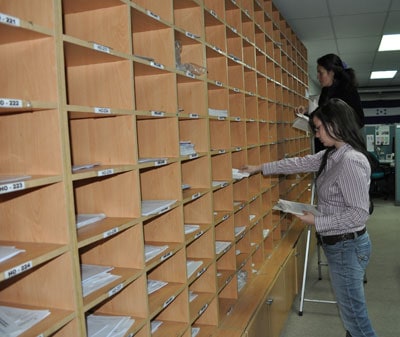 Jackie Rivera has been in charge of the translation process for nearly two years. Jackie's responsibilities are testing and evaluating the translators, training them, distributing and receiving the letters, and coordinating payment for the work performed.
"Each letter has a great value and represents a child with dreams and hopes, and behind the child, a family willing to welcome a new person in their lives."
The Honduras office has a group of 25 translators who translate every document from Spanish to English. Most of the translators are professionals who have a steady job and do this activity to generate extra income. Full-time students also help translate and depend on the income to finance their education.
Jackie looks for people who are fluent in English, experienced translators and active church members. Every potential translator takes a test on English grammar, structure and idiomatic expressions. They must receive above 90 percent to become a translator.
Once the translator is selected, he or she goes through training before beginning. The translators are informed about their responsibilities, what is expected from them, their deadlines, and essential information about our ministry.
Most translators get 100 to 150 letters per week. Translators who have had good performance and whose weekly grade is 98 percent or above are rewarded with more letters. A seven-day period of time is given to the translators to complete the translations.
Translators are also asked to look for potential stories as they read and translate the letters.
"We ask them to detect potential stories through the letters as we want to share with others what this ministry is doing in Honduras," says Jackie.
Ruth has been translating for Compassion for three years now and is currently employed by USAID in Honduras. She translates approximately 200 letters per week.
"I do really enjoy translating as this activity keeps my mind busy. It is great to hear from the children in the development centers, their interests, goals, hobbies and about their communities.

"I know that this ministry works with children and churches and that it is a Christ-centered organization. What I like the most about my participation in this process is that my work is important to facilitate the communication between the sponsor and the child, and that is why I feel committed to do my best in what I'm doing right now."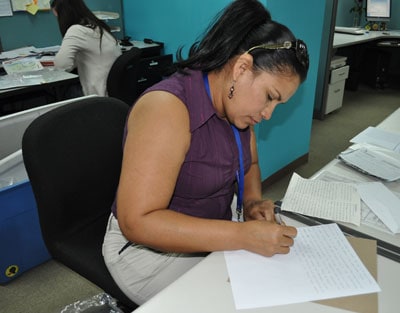 The correspondence team is aware of the power and importance of each letter. The work never stops as the children continue writing to their sponsors and the letters from abroad keep coming down to the Honduras office.
The simple act of writing is easy, but many sponsors get caught up with the busyness in their lives and neglect this area that gives so much hope to every boy and girl in our program.
Children simply become overjoyed as they get letters and photos; these let them feel that they are special and loved, and that is why the Honduras office applies themselves with excellence to connecting lives through letters.