I'm running back and forth between gazing at an empty suitcase and writing this post. You see, I'm breaking camp. Or at least I am attempting to do so.
Getting out the suitcase is the first step, I hear. For some reason, staring at an empty suitcase usually leads to staring at an empty suitcase with a handful of chocolates. It's not a nervous habit at all.
When you read this I will be, God-willing, in Africa. With a packed suitcase. That arrived the same time I did. (A moment of prayer, please!)
But it won't be just me. I am traveling with four amazing bloggers.
As well as the one and only Shaun Groves. Our amazing photographer, Mike Varel. And to wrap up this gang in a pretty bow, Compassion's President Emeritus Wess Stafford.
It sounds like a big deal. And it is. It's our five-year anniversary of Compassion Blog Trips. It all started in Uganda.
Our first trip — did you follow us? When we were trying to create what a "blogging trip" was? Back then there had been no such thing.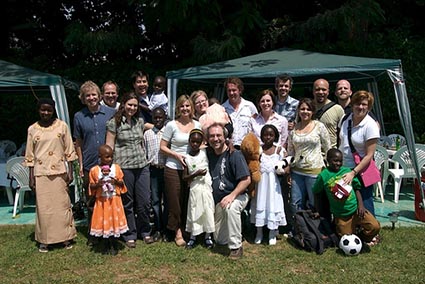 Did you know that you're the reason we get to celebrate five years? You've followed us. You've shared the blog posts, retweeted us, talked about it in Facebook, and even stayed up for Twitter parties with us.
Most important, you helped get children sponsored.
So we did another trip. And another. And here we are. Here we all are. At five years. We are going back to Uganda.
We're changing it up a bit. Because five years later, blog trips can be a dime a dozen. But we'll keep doing them as long as you keep following us.
So what will this trip look like? This time we'll visit only two child development centers instead of a new one each day.
We hope this extended time forms deeper relationships with the families we visit and gives us a better understanding of poverty and the release Compassion brings.
The first two days we'll be in very rural northern Uganda with families affected by Joseph Kony's violence. Then we'll head to the capital city of Kampala to visit families who live in a slum at the city's dump.
Also, for the first time ever, we are promoting a sponsorship goal.
We're in this together. Always have been.
The goal? 400 sponsored children.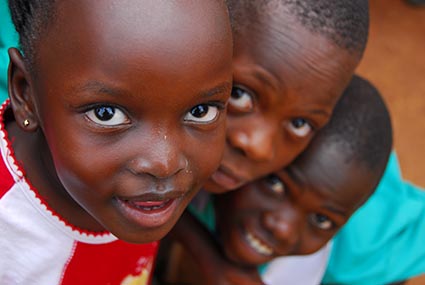 So we need you. Still. In fact, we've grown quite attached to you 🙂 Will you follow this trip too? Will you celebrate five years with us? Will you help us make this goal?
Visit this post to learn all the ways you can help us get more children sponsored.
And … please pray for our bloggers. We are breaking camp. Have been for months now. Mentally and emotionally preparing. Praying. Thinking. And then the packing. The goodbyes. The long travel.
We break from our homes and loved ones in hopes of entering into something beautiful. To break bread with the gorgeous people of Africa. To help release more children from poverty in Jesus' name.
Are you with us?!
Oh and, are you a Compassion Blogger? This week, blog alongside us and promote the Uganda Blog Trip. Then come link-up with us here by sharing your post! (Not a Compassion Blogger? You can sign up and join the network today!)
---