Today feels like a normal day.
It isn't. But it's the one thing that feels right in this moment, the one thing I can grab at right now. So I am grabbing it.
I carry it with me. When we land in Lira after flying in an 11-passenger plane that feels more like a ping pong ball against the strong wind, I just whisper, "Normal. Normal. Normal." As if recreating reality. This is so normal.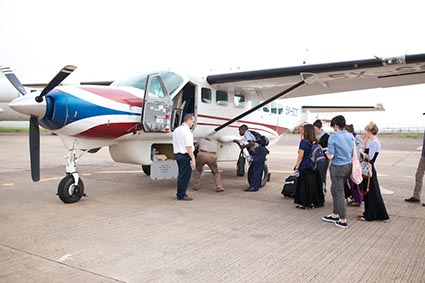 I don't know. I just can't grab onto much right now.
I carry it with me at the center we visit in Lira. Children and families who have been affected by the Lord's Resistance Army (LRA) attend this center.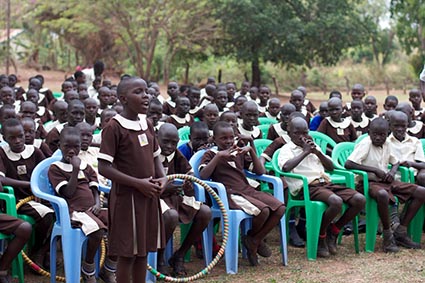 The LRA is responsible for more than 100,000 deaths.
But I can't grab onto that right now.
So we meet Grace. She's purely one big, bright smile. But when we hear her story, we learn her smile is a gift. One she was not always able to create.
When Grace was 4 months old, her family was captured by the LRA. Her mother was forced to carry heavy supplies and walk long miles. Grace and her mother were present at the murder of her uncle, as his head was repeatedly hit by a hammer.
Freedom came when soldiers from the government raided the LRA camp where Grace and her mother were being held.
After this, for seven years, Grace and her mother moved frequently, looking for a place to live.
They eventually found a home, and with it a safe haven, in the Compassion child development center that was also in the community.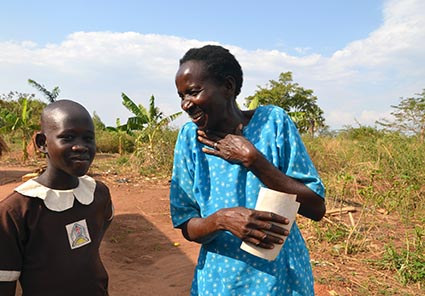 When Grace came to the center, she was still, in so many ways, captured. She didn't smile. She woke up in the middle of the night emerging from violent dreams, screaming.
But that's what war does to a child. Even a child too young to recall the events that grabbed her up and shook her like a rag doll and threw her down.
We listen as her mother recounts the details. She cradles her head in her hands from time to time. And I can't. I just cannot grab onto what is being said.
When Grace came to the center about one year ago, the staff learned of her dreams, and they began to faithfully pray over her. They worked with her and got her involved in the programs at the child development center. And she was sponsored.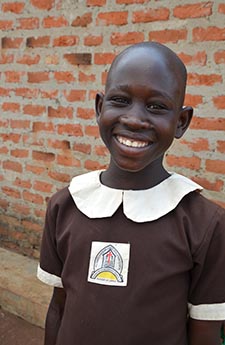 Today she smiles.
She also loves Jesus. And so does her mother. And her dreams are not violent.
I pray they are filled with little girl things like pink dresses, ponies, and what to be when she grows up.
We walk away, my arms filled with stats and names of places, and all the details of Grace's stories. Each of them bending my arms and spilling out. I can't grab onto it all.
But I hold onto this.
Grace was one child to one sponsor. One picture. One girl who is not one of the 100,000 people killed by the LRA.
That's what Compassion is all about. One-to-one sponsorship. Your child connected to you.
In a world filled with big numbers, tear rendering statistics, and countless, heart-wrenching stories, I can hold onto this.
One child connected to one sponsor through one church.
I can hold onto beautiful, bright-smiling Grace.
If you are a Compassion Blogger, don't forget that we are doing Link-up posts all week. Not a Compassion Blogger? Please sign up here and join in on the excitement of getting 400 children in Uganda sponsored this week!
---