Tell me if you can relate to this: When I first started sponsoring my Compassion child, I clung so tightly to that one picture I had of him — my one lifeline into his world.
OK, so I knew from his bio that he helps his mom wash dishes and loves art, but I would hold that little picture in my hands and examine every detail, trying to glean whatever information I could.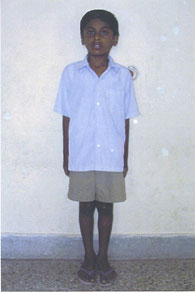 What type of shoes is he wearing? Is that a scrape on his knee? What's that expression on his face — fear? Indifference?! The thought even crosses my mind…is he even happy I'm sponsoring him?
I know there are other sponsors who feel the same way. We cling to those pictures, so excited to be a part of a child's life, so when we see that these little ones look scared or stiff or even aloof, we can't help but think "what's going on here?!"
Photo day is a big day for children being registered at Compassion-assisted child development centers. In the morning, they put on their bestest outfit, hold their mom's hand as they walk the dusty road to the child development center, and get ready to face the camera.
This is probably the first picture that's ever been taken of them. Many are shy and scared of the stranger taking their picture. Many aren't used to so much individual attention being given to them. Many don't quite know what this sponsorship thing is all about yet.
I recently saw this photo by Edwin Estioko, Communication Specialist in the Philippines. How refreshing!
After the fear of that first picture, the child begins to loosen up. He interacts a bit with the smiling, accepting faces at the project; he makes a couple of new friends from his neighborhood. Look how relaxed and child-like this cutie is when he lets his guard down a bit!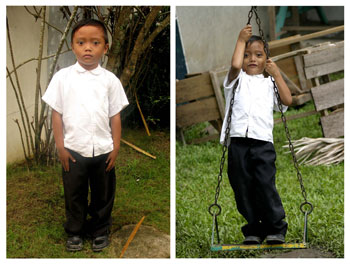 Phew…So it's not just me. It's a new situation for these children, and their little cheeks will soon relax into chubby smiles.
Imagine my delight when, after cherishing the first picture of my sponsored child who looked so tentative and unsure, I received this photo of a smiling, confident young man. And maybe, just maybe, he was thinking of me.