On the outskirts of Mexico City, on one of suburban Chimalhuacán's many unpaved streets, it's Saturday morning and the community is still.
No one is out and about out except for some children in a Compassion Child Development Center class. They have played with friends and sung songs, and now it's almost time for class to end.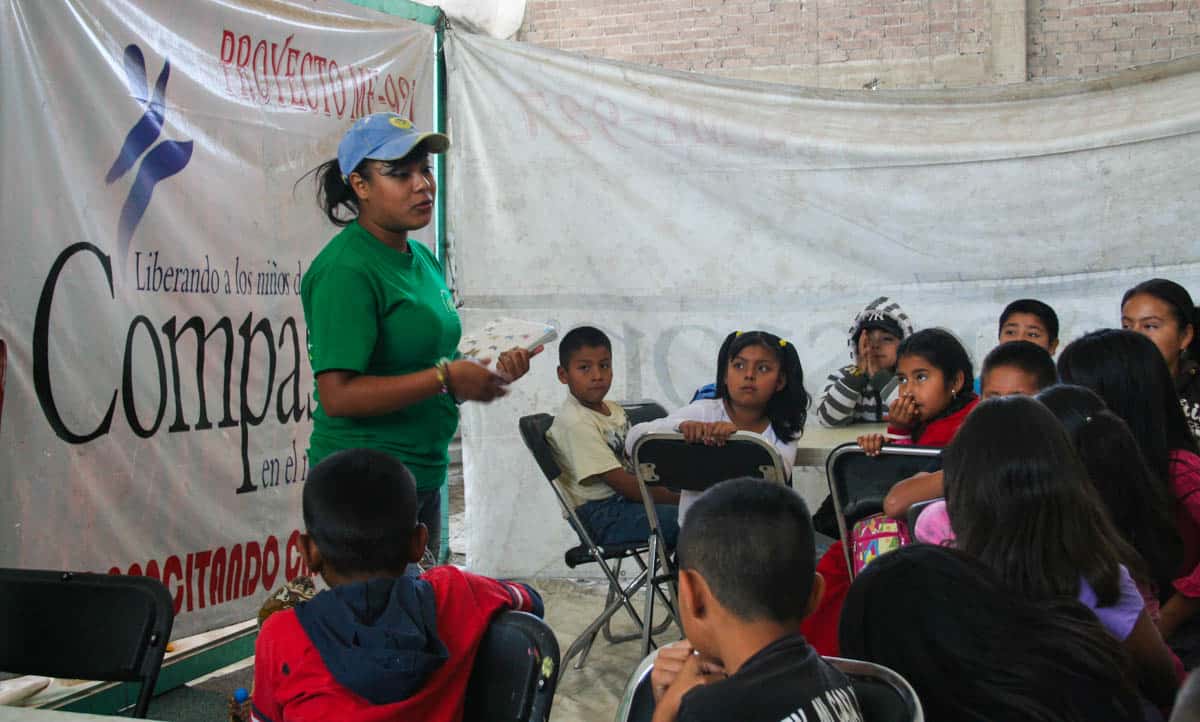 Unlike many groups of children, this bunch sits nicely, waiting patiently and quietly. On the teacher's desk there is a big package. It's time to deliver sponsor letters.
Every week at the end of class, children receive sponsor letters. Besides delighting the kids, they are a way for sponsors to express their love and concern while showing how much the youngsters are valued.
Letters are inspirational and motivational, and as one sponsorship coordinator says,
"They are a reflection of the love we want our children to understand from God."
Every Saturday morning, when children meet for class, the sponsorship coordinator delivers a stack of letters to each classroom. Most of our centers receive their letters on a monthly basis, but the Chimalhuacán program values letters so greatly that it sends someone to pick up letters every week.
"The grace of receiving a letter is such a gift to our children," says Sister Vero, the center director. She says of children who aren't sponsored or do not receive sponsor letters,
"These children are children who are constantly looking for affirmation. They desperately need someone to relate to and to tell them they are special. We normally tell our children how important they are to us and to God, but the additional spark that the sponsored children get through their letters makes a significant impact on them."
Sister Vero has seen children working harder at school in order to tell their sponsors they are doing better. She has also observed children who are trying to behave well and starting to obey their mothers because their sponsors told them to be good.
A sponsor's positive effect wouldn't surprise author John Drescher, who says in his book, Seven Things Children Need, that youth thrive when they feel important and loved, are accepted and recognized and know God. Sponsors encourage these things through their letters.
Eight-year-old Itzel believes the most important thing she received from her sponsors was support when she needed prayer for peace.
Chimalhuacán is one of the most dangerous suburbs of Mexico City, and for young and tenderhearted Itzel, the dangers of the area caused her to lose sleep.
One night, when she was already in bed, she heard a man's voice pleading for help.
He was being robbed outside her front door, and after a difficult fight, the man was alone in the dark, badly beaten and bleeding. He cried out and Itzel's parents called the police and his family.
Itzel was afraid the next morning when she went out and saw the many bloody marks the man had left on the street. She had nightmares and was afraid every time she stepped out her door.
Itzel told her sponsor about the situation. A couple of months after she wrote about the incident, Itzel received a beautiful letter from her sponsor assuring her that God cares for her and is looking after her. The letter also said that her sponsor would be praying for her safety.
Itzel's mother says that after receiving that letter, she and her daughter started praying every night before going to sleep. After a few months, Itzel stopped having nightmares.
"I was scared and I asked my sponsor to pray for me so that I would be OK and so that it would never happen again. She prayed, and it made me feel better."
Eleven-year-old Juan Jesús says that he likes to receive letters because he enjoys hearing stories and details about his sponsor in England.
Jesús lives in a small house with his parents, aunts, uncles, cousins and other relatives. More than 25 people share the home, including other children, and there is one bathroom, table and stove for all.
In the middle of a huge family with lots of children everywhere, Jesús desperately needs to feel special. The greatest thing that his sponsor has taught him through her letters is prayer.
"My father used to fight with my mother very often, and I shared that with my sponsor. She helped me pray for them. Now they do not fight that much."
Almost every night before going to bed, Jesús reads a couple of his sponsor's letters and looks over the photos she sends. He repeats the Bible verses she sends and prays for the needs at home.
He also prays for his parents and younger brother, and for his sponsor too.
"My sponsor is like a mom to me. She gives me advice and tells me to obey my mom and not to complain about what she asks me to do. She tells me not to wander outside in the streets, and I feel like she is always close to me."
Sadly, not every child in class is called up front to receive a letter. Some of them are handed a Bible verse on a small piece of paper that the center staff prepared for them.
Children know the difference, and although they value the encouragement they receive through their teachers, most of them hope they'll receive a letter next week.
They will sit and hope to hear their teacher call their name out loud.
We originally published this post on Jan. 4, 2013.
---