My sponsorship story started almost 20 years ago after hearing a Compassion presentation. The name of my first sponsored child was Danny and he was from Honduras.
I was a churchgoer living in a fog, not surrendered to Christ. I sponsored a child because I thought it would be "fun." Little did I know what God had planned!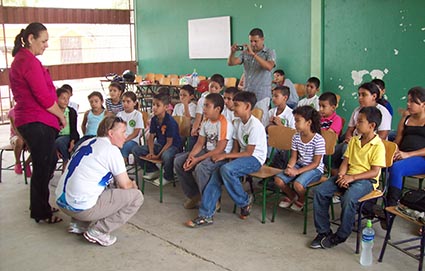 One day out of the blue, Compassion called. My sponsorship of Danny had ended because Compassion had to close down the child development center. I was devastated.
Surprisingly, they asked if I wanted to sponsor another child and I said,
"Not at this time."
I couldn't understand how they could ask me this in a time of such pain.
But then I got the itch to sponsor another child.
I told God,
"You know how much I loved Danny from Honduras and you know how much I want a boy. Yet, I will trust You and love whomever You select for me."
When I opened up the packet and I saw the name and country, I started to cry … Daniel, age 10, from Honduras. I couldn't believe it!
In his first letter Daniel said,
"I prayed a lot so God could give me a sponsor … I love you very much even though I don't know you."
One year later he wrote,
"I always pray that someday we could meet."
A few months later,
"I want to thank you for all the love you have for me. I want you to know that I love you, too, and that my best wish is to be with you and to tell you in person all that you mean to me and my life."
That did it! I had to meet this child!
I looked up trips on the website and saw that the trip to Honduras fit perfectly into my Spring Break vacation. However, the price tag was more than I expected so I decided to wait, figuring it wouldn't fill up.
Well, I was wrong.
I waited so long I couldn't even get on stand-by. When the next trip came up I vowed to sign up as soon as possible regardless of when it was or what it cost.
A few days before the trip the fears started infiltrating. However, I'm a finisher, so although very afraid, I took my first solo trip abroad to meet my boy and God showed me countless times that I was right where He wanted me.
I've never felt the presence of God so strongly every step of the way.
I quickly discovered the sponsors on the tour were different from other people I knew. They were much closer to God than I was and I wanted what they had. To this day I treasure their friendship.
We went to different child development centers, meeting many people and it wasn't long before I decided that I was born for this!
Playing, praying, laughing, crying. I loved it all! And then the moment had come …
When I saw him, I gasped. I watched as he looked into each of the sponsors' faces from a distance. Then, his eyes met mine and as soon as I said, "Daniel," he sprinted to me, just like I had imagined. It couldn't have been better.
We spent the day on water slides, boats, and sitting atop a hippo. At the end of the day his father said,
"I have seen how my son looks at you with such love. You cared for him like a mother today."
One of the hardest things I had to do that day was walk Daniel to the bus that would separate us.
Recently, we again spent a day together … this time for perhaps for the last time.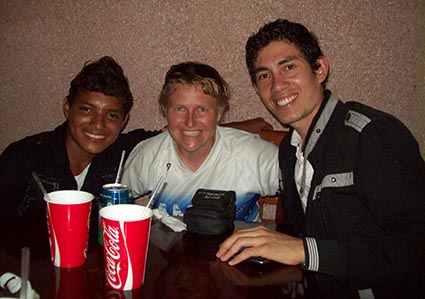 You see, Daniel turns 18, and his participation at the child development center will end.
The hug Daniel and I shared after I first got out of the van was one of those hugs where neither one of us wanted to be the first to let go. His child development center gave us another warm welcome with song and heartfelt words.
After enjoying the day and having pizza together, the dreaded, gut-wrenching goodbye was at hand. How do I say goodbye to the child whose words moved me to visit him, which subsequently turned my world upside down so I could live right-side up?
I went into sponsorship thinking it would be 'fun,' but it was exceedingly, abundantly above all that I could ever ask or imagine. And now I see life through different eyes.
---
ABOUT THE AUTHOR: Carolyn Mielke ("CC") became a sponsor in 1995 and then became a Compassion Advocate in 2009. Currently she sponsors two Leadership Development Program students, seven children, and is a correspondent sponsor with nine more.