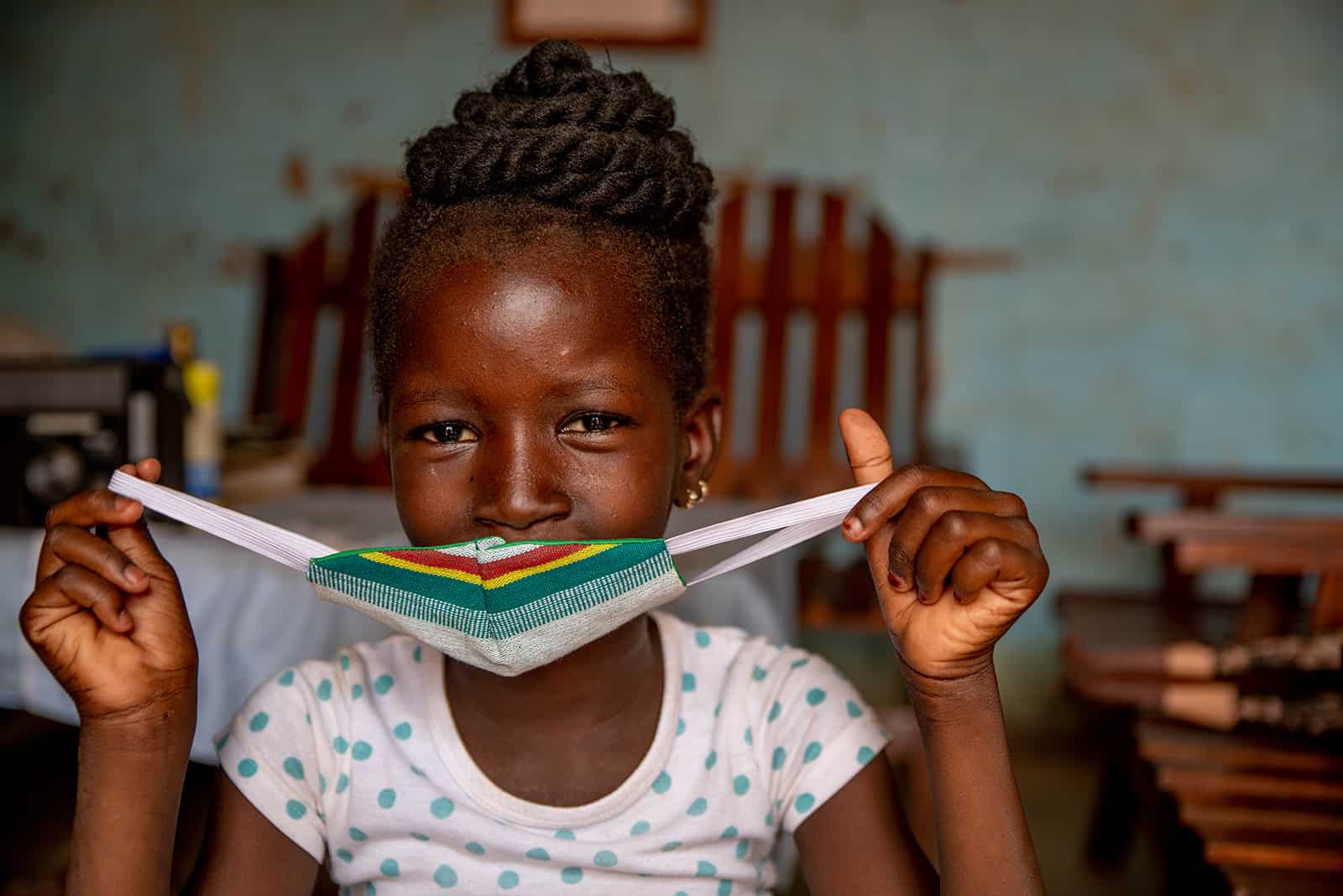 While cases of COVID-19 are slowing down in some countries, they are ramping up in others and deeply impacting the communities where Compassion works. Today, we're going to hear directly from each of Compassion's three regional vice presidents, to learn how the COVID-19 pandemic is affecting Compassion's ministry around the world.
You won't want to miss hearing directly from these leaders, serving on the front lines.
Compassion Latin America and the Caribbean: Edouard Lassegue
Hello, Compassion family. I am so glad to share an update with you on our ministry in Latin America and the Caribbean. But before I do that, I want to put things in context so you may better understand the way we approach our program in this season.
We are in the middle of a pandemic, and we are in disaster response mode. But we remind ourselves that Compassion is not a disaster or relief organization. We recognize that our partners do need our support in times of disaster, and we stand ready to play a relief mode for such a time. But we do this in order to prepare them and to stabilize them for long-term development. We see this time as a way to remove obstacles, to put them on the way back to development.
It's like when you have a broken leg, we want to make sure the leg is stabilized and set in a cast in order to heal well. But our goal is not just to provide treatment and therapy in order to walk again; we want to see you back on the trails running and achieving all the goals that you set out to do before you were injured.
With this context, I'd like to take a few moments to share with you about the impact of COVID-19 in our Latin American and Caribbean countries and how we are responding. Confirmed cases have been rising in our region, and according to the World Health Organization, Latin America is the new epicenter of this global pandemic, surpassing Europe and the U.S. in the daily number of reported COVID-19 cases.
Brazil has more than 929,000 confirmed cases nationwide, one of the highest in the world. Other countries like Mexico and Peru are struggling to contain major outbreaks. Ecuador is experiencing the most deaths per capita in the region. However, thankfully, the number of daily cases seems to be stabilizing in Ecuador.
Much of our population was already one disaster away from falling back into extreme poverty. So this challenge has been especially disheartening, as we see the economic gains of the last decades in many countries potentially wash away by this pandemic. The U.N. World Food Program is warning that at least 14 million people could go hungry in Latin America, with the outbreak continuing to rise as jobs and economies decline.
But let's take a look at our response to this pandemic in our countries. We are providing food, hygiene kits and potable water to those who need it most. We are giving food baskets and offering financial support to church pastors who are finding it difficult to make ends meet at this time. We are providing medical care to beneficiaries and their families who cannot afford it.
We're using technology like Zoom, Whatsapp and Facebook Live to deliver curriculum and to send program content and ensure beneficiaries are receiving ongoing emotional and spiritual support. Some countries like El Salvador actually have mapped the percentage of parents and youths that have access to email and to Whatsapp, so they may deliver lesson content to them electronically more effectively.
We are also partnering with organizations like Biblica and The Movement With Children and Youth in Latin America to develop resources to equip churches, children and families, and help them navigate the COVID-19 crisis.
Finally, I would like to ask you to pray for Latin America and the Caribbean.
Pray for church leaders and for government officials so that they make wise decisions.
Pray for the families who have lost loved ones or are currently battling this virus.
Pray for breakthroughs in creativity for program delivery in our countries.
Pray for breakthroughs for development opportunities as we equip the church for this season and for the future.
In the midst of this time of confinement, Jesus' words in John 14:3 have been on my mind:
"And if I go and prepare a place for you, I will come back and take you to be with me that you also may be where I am."
I am blown away by the thought that God loves me so much that he wants to be with me, he wants me to be where he is for eternity. What a powerful and comforting thought. We are not alone, even in the midst of this confinement.
Compassion Africa: Palamanga Ouali
Bonjour and hello, Compassion family. Today I will share about what has been happening in the Africa region during the COVID-19 pandemic. The World Health Organization estimates that there have been over 118,000 positive cases in the African continent since February. Some of our countries, like Burkina Faso and Rwanda, are showing a steady decline in cases. This means some of our National Offices are starting to be able to open up and allow more staff into the buildings. We praise God for this. But we will also continue to be cautious and keep the safety of our employees as the highest priority.
We are also so thankful that we have relatively low numbers of children, family members and church partner staff that have gotten this virus.
So, what are the challenges Compassion Africa is facing during this pandemic?
First, there is the issue of food security. Many people in poverty already struggled with a lack of readily available food on a daily basis. This year in East Africa, locusts and floods have already weakened agriculture. The pandemic and lockdowns have made these problems much worse.
Also, food prices are raising very high and shortages have increased. The lockdowns and social distancing have suddenly put thousands out of work. The United Nations warns that half of all African jobs could be lost to COVID-19. Many people do not have savings to help get them through a pandemic. They depend on their daily income to buy their daily food.
As a result, families are faced with a terrible decision to either face starvation or risk infection by going to work. Children under 5 years old are especially vulnerable to hunger and malnutrition, as well as pregnant women and lactating mothers.
In response, our National Offices have been working with the frontline church partners to distribute food and nutrition packages to the children, mothers and families we serve. We have also been using cash transfers to assist families more directly. This has been very helpful in places where distributing food in public has been restricted or banned.
Several of our National Offices are taking this opportunity to partner with national governments to raise awareness of the virus and help each other achieve mutual goals, like fighting hunger during the crisis.
A second issue we are seeing is that it is very difficult for many people to follow the health and sanitation recommendations to prevent the spread of the virus. More than a third of Africans do not have access to clean water. Those who do have access to good water often have to leave their homes in order to get it. This is why social distancing is very difficult or sometimes impossible for people who must leave their homes every day to get water, food and have basic supplies.
In addition, we are also facing a problem of bad information being spread on social media. We see false or noncertified cures and dangerous prevention efforts causing desperate people to unintentionally hurt themselves. Once again, our frontline church partners are rising to this challenge, as they visit children and their families. They not only provide supplies for hand-washing and sanitizing, but they also share good scientific information about how the virus spreads, and what to do to stay healthy and prevent getting infected.
During a crisis like this, there is a danger for people with serious health conditions, like malaria and malnutrition, to be forgotten or lose access to their medications. Our National Office staff works with the churches and health care systems to ensure children and their families are still getting their medicine and treatment.
As always, we are making sure that every child is known, loved and protected, especially during a global pandemic, where they can be easily forgotten or overlooked.
Now, I would like to share a couple of ways you can be praying for the Africa region during this time:
Please pray for our staff to find their strength and rest in the Lord.
Pray for the Church of Africa, that they would continue to rise up to be the hands and feet of Christ during this time.
Pray for the pastors and staff of churches that are suffering financially because their congregations have not been able to meet and give financial offerings.
And of course, pray for the children and families of Africa. Pray that God protects them from this virus, but also from the long-term impact of this pandemic.
Some experts believe that this is just the beginning of the crisis for Africa. We expect the economic consequences to last a long time. It has the potential to send thousands or even millions of people further into poverty. But we know that God is with us.
A verse that has been an encouragement to me that I would like to share with you is found in Isaiah 41:1,
"For I am the Lord who takes hold of your right hand. Do not fear; I will help you."
Compassion Asia: Silas Balraj
Greetings, Compassion family. It is a joy to share with you what the Lord is doing in the Asia region during this pandemic. As you can imagine, the whole Asia region has been severely impacted by COVID-19. But while it is true that the physical church building or the gathering has been shut down or prevented, the Church is still alive. The Church is alive in us, and especially the Church is alive and active in our frontline church partners. Each of them are tirelessly working and continue to be committed to holistic child development, offering care to our beneficiaries, our youths and our mothers.
In our program countries Thailand and Sri Lanka, concrete steps have been taken to address the growth of this virus. Our church partners in Thailand and Sri Lanka have been addressing the many needs of our beneficiaries through dry rations, hygiene kits, health care services, as well as the supply of medicines where needed. Today, Thailand and Sri Lanka are seeing a reduction in cases. And we praise the Lord for the hard work of our staff and our partners together who have contributed to this outcome.
On the other hand, the other countries where Compassion works in Asia of Bangladesh, Indonesia and Philippines are witnessing a heavy increase of COVID-19 cases.
This increase has a direct impact on the health system and the economy of these countries. Sadly, most of those impacted are those who are vulnerable, in places where our beneficiaries live. The local church partners are doing an extremely passionate job of actively caring for these vulnerable communities and especially our beneficiaries around the clock. Food supplies and hygiene kits are regularly being delivered.
Because of the shutdown, and combined with the poor living conditions of our beneficiaries, in many cases, we have found that child protection issues are emerging. It's emerging in very dark and painful ways. But by God's grace, the local church has gotten ahead of this problem. They are ensuring that every one of our beneficiaries are known, loved and protected even in these difficult times.
During this pandemic, our National Offices are finding new ways to connect to the partners and they have found innovative ways to use the power of technology to stay connected to our beneficiaries. It is such a joy to hear these stories and to see how God is at work even in these challenging times.
While we have much to be thankful for, we are facing complex issues in some of our field countries. For example, in Bangladesh on May 20, in the midst of a growing COVID-19 impact, a typhoon hit, impacting 23 child development centers and destroying everything for 572 beneficiaries. Our partners have entered into this very tenuous situation of caring for our beneficiaries who were impacted because of COVID-19, and now additionally because of the typhoon.
The country of the Philippines had another typhoon in May, impacting the island of Mindanao. And praise God for the local church that rose up together and provided care even in this difficult situation. Yes, it is so true that God is at work. And in these difficult times, the Church is alive because of Jesus.
Many thanks to all our National Offices, the teams, as well as our church partners, who are the true light of Jesus in these dark times. We thank them for their commitment and heart to care for these precious lives.
In closing, I'd like to invite you to pray.
Pray that God would give us strength, wisdom and endurance for our church partners.
Pray for rest and resilience of our staff.
Pray for the Lord to open new creative ways of caring, serving and supporting our partners in the new normal state.
Pray that the Lord would bless the witness of his people as they live out the gospel in these challenging times.
In addition to these prayer points, I have a special prayer request for you. Would you pray specifically for the nation of India? Compassion had the privilege of serving in this nation for 48 years. As I speak to you, COVID-19 is deeply impacting India. Today, India stands as the number four highest cases in the world, and reports tell us that millions of people, along with children, communities and families have gone back into extreme poverty.
Would you pray that God will have mercy on this nation? That God will strengthen the hands of our former church partners as they care with what they have and to offer this care in a God-honoring way?
Thank you, our supporters. Thank you for the opportunity given to us, thank you also for your prayers. Yes, these are difficult times, but we have so much to be thankful for, because we are not alone in this journey. Praise the Lord for he who calls us is faithful. He will see us to the very end. May the Lord bless you and may the Lord keep you.
Thank you for partnering with churches around the world to be the hands and feet of Christ during this pandemic!