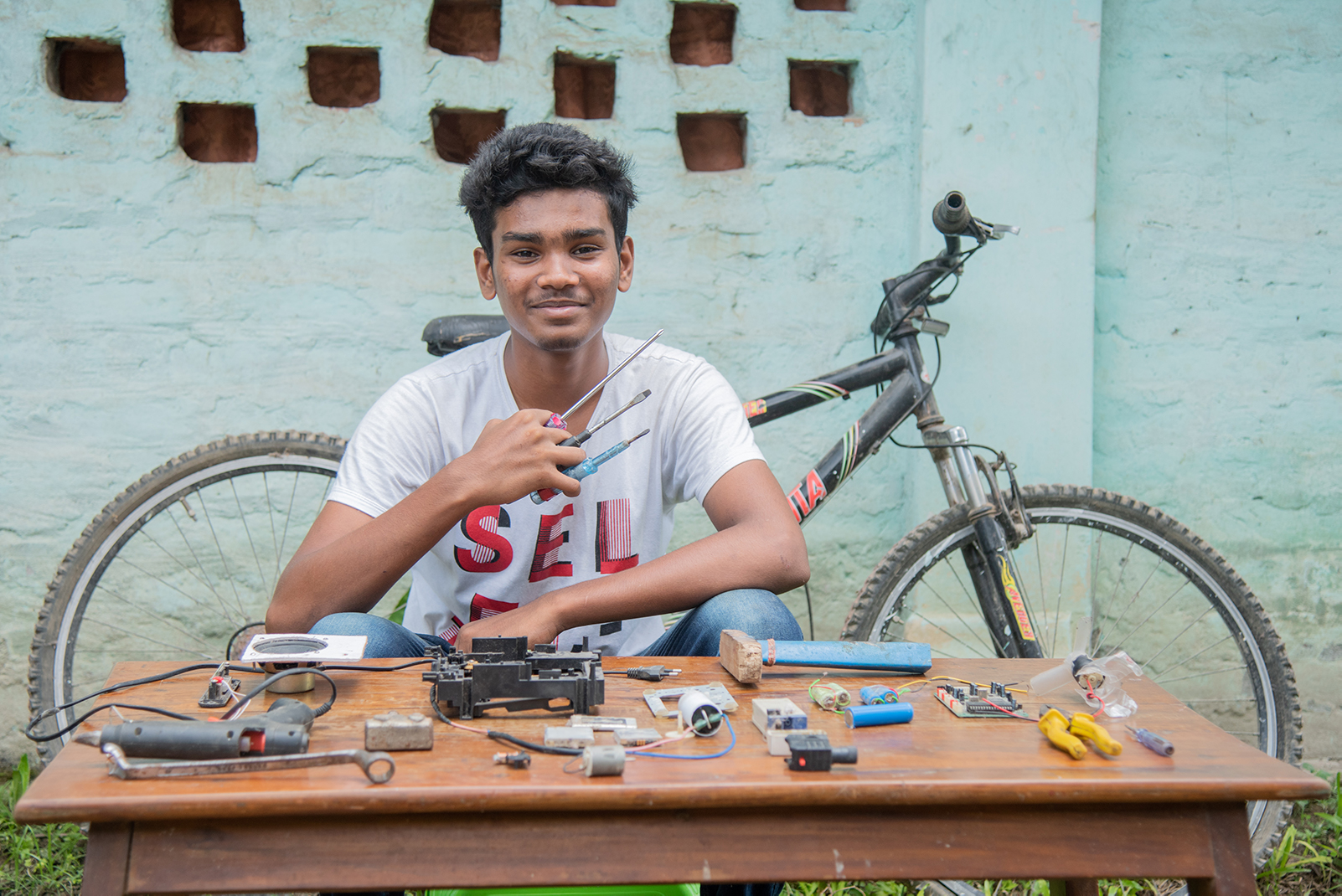 Ever since he was 6 years old, Sanjoy has wandered junkyards in open-mouthed wonder. Eyes narrowed in concentration, he expertly sifts through the trash, seeking out discarded metal and spare parts to use for his inventions.
Today, the 17-year-old still has the same fascination with turning junk into functional creations. He always has a screwdriver in his pocket, ready to pry open his desk at school or fix his friend's wooden pencil box, damaged after a game of cricket. His friends think of him as Bangladesh's version of TV action hero MacGyver, always ready with a creative solution to a problem using the tools at hand.
Sanjoy's parents received the boost they needed to raise him in 2006.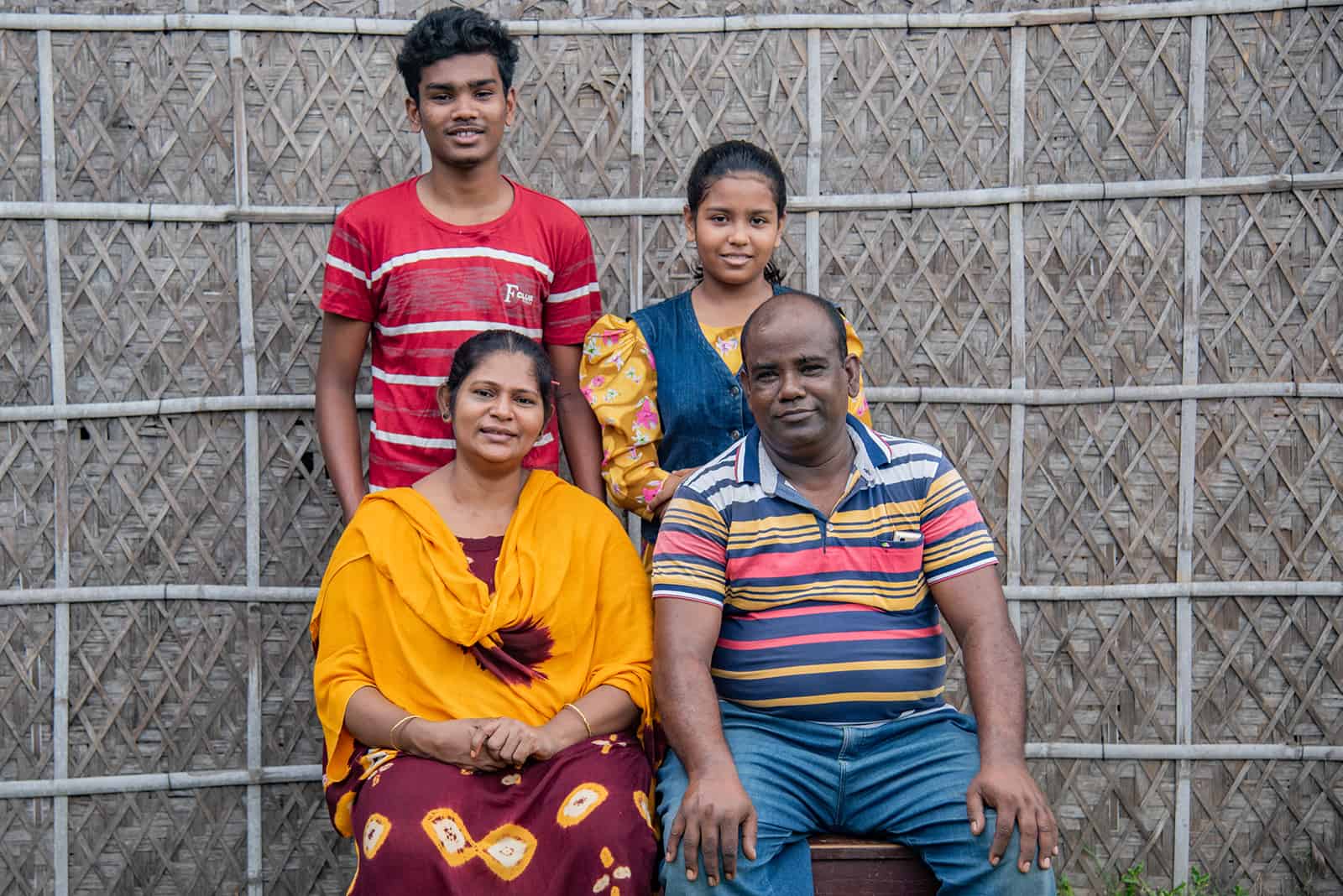 The family was in a desperate situation after Sanjoy's younger sister was born. His dad was a pastor, but he didn't earn enough to feed his family. His parents often ate only one meal a day so they could provide for their children. When Sanjoy was 3, he was registered in Compassion's Child Sponsorship Program, and his parents received much-needed relief.
With the help of sponsorship, Sanjoy's parents were able to keep him in school. And despite his family's struggles, Sanjoy's mind was always focused on one thing: inventing creations from discarded junk.
"I always try to keep myself engaged so that I never have to stay idle," says Sanjoy. "I feel gifted to be able to make use of the useless things thrown away by people."
In 2019, Sanjoy found the perfect opportunity to showcase his talents.
The district government held a science fair for 13 schools in Sanjoy's district. The event would be witnessed by professors from universities, who would award the winner with a scholarship for tertiary education.
To enter, Sanjoy had to design and create an innovative invention. He immediately thought of making a robot out of cardboard. Even his supportive parents couldn't understand his vision.
"It was the most absurd idea that he could have come up with for a competition this big, against competitors from schools from all over the district," says Subhas, Sanjoy's father.
But Sanjoy was determined to succeed.
"I will not fail!" he constantly reminded himself. "I want the world to know me for my inventions."
"He became obsessed with his designs and plans to complete his robot," says his mother, Sabita. Not everyone understood his passion. At school, the seniors mocked Sanjoy, calling him "Virus" — a cruel nod to his fascination with technology.
BONUS: Meet people making a living — and inventions — at the junkyard.
He found a haven in the computer lab at his Compassion-assisted child development center.
Indra, the center's social worker, encouraged him. "We will always be there to support your ideas as long as you stay focused on your studies and work at your center during your free time," she said.
His family didn't have a computer, so Sanjoy spent hours in the center's lab, using the internet to research ideas and learn the physics and chemistry behind making a functional robot.
"I felt encouraged when our computer teacher stayed behind extra hours at the center, just to see the fruit of my hard work," says Sanjoy.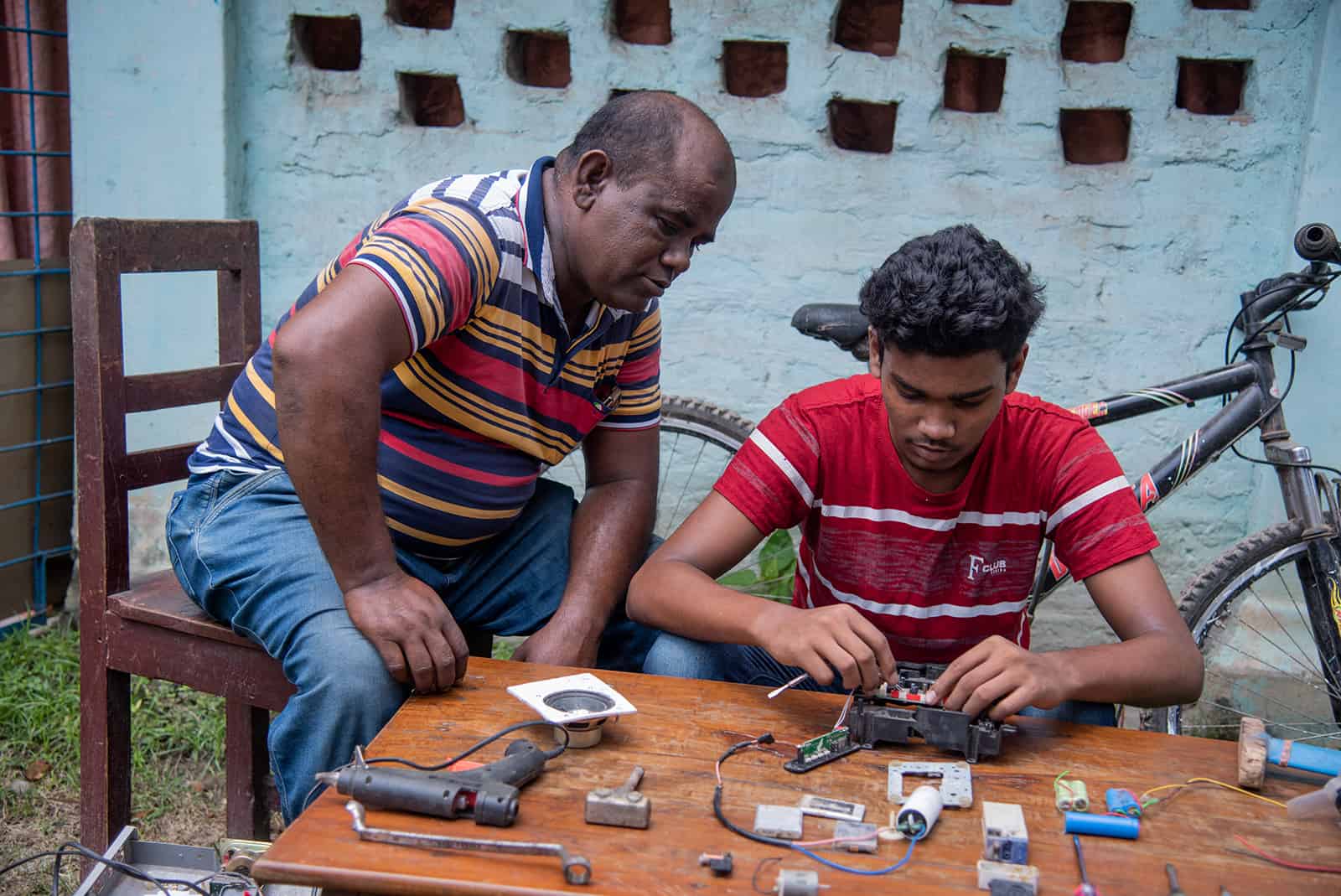 Seeing his son work into the early hours of the morning for weeks, Subhas lent a helping hand. After the design was drafted, he helped Sanjoy cut the cardboard and piece it together. Sanjoy cleverly engineered the hands of the robot using a syringe from the hospital to act as a hydraulic mechanism so the robot's limbs could move. He then installed a chip from a discarded smartphone and programmed it using Google Assistant software so the robot could answer questions, much to his friends' admiration.
On the day of the competition, Sanjoy was filled with nerves. Despite this, he put his shoulders back and explained his creation and how it worked to the judges. As they deliberated, he felt his heart pounding in his chest. Finally, they announced their decision: Sanjoy took second place, missing out on first place by just three points.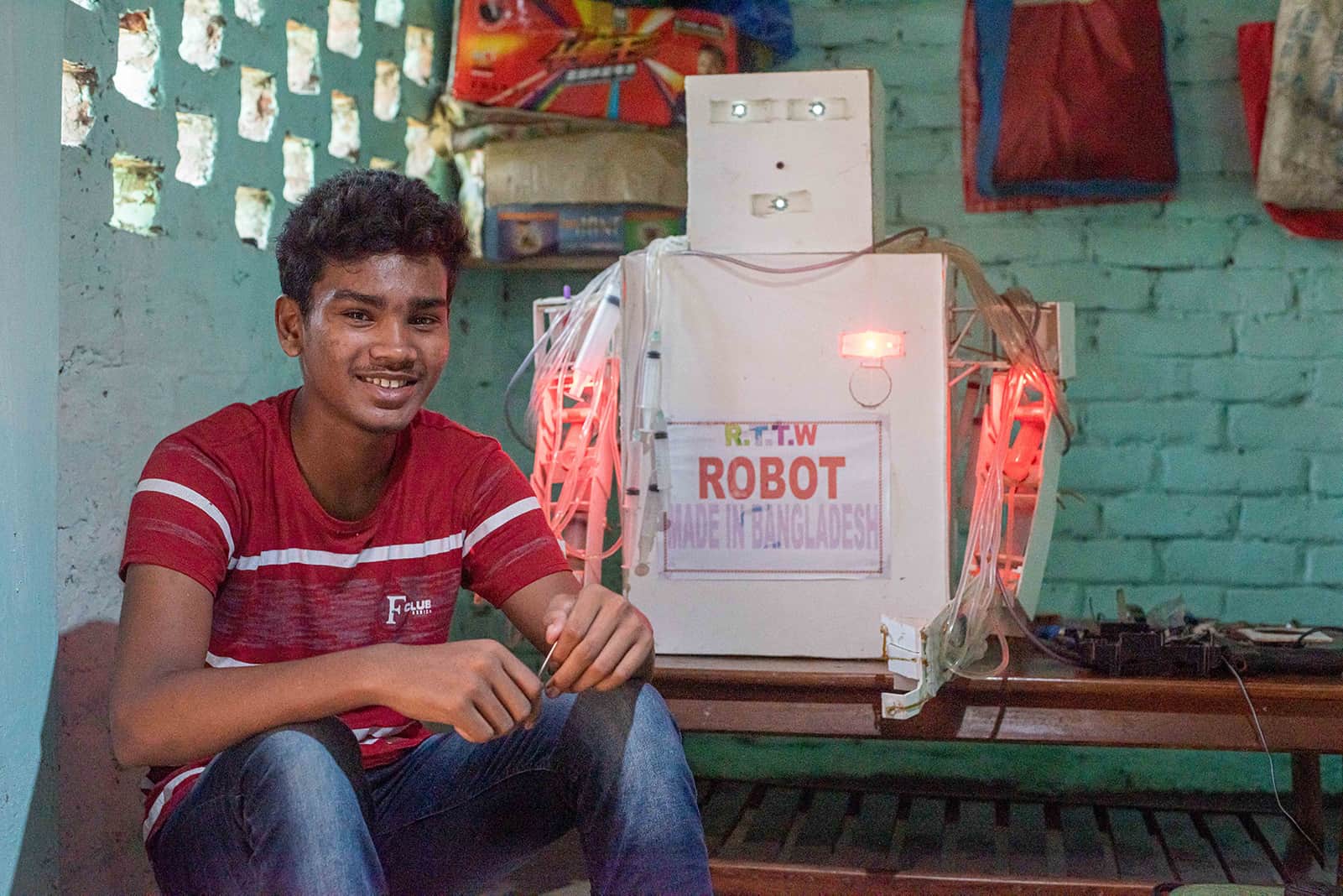 The news was hard to hear, but Sanjoy took it well. He knew the journey of making the robot had won over the hearts of his schoolmates and he had always had the support of the Compassion staff. He knew he could count on the same support in the future.
Today, Sanjoy is motivated to achieve even greater things in his lifelong goal to serve humanity with his inventions. The seniors at school no longer call him "Virus" — they've seen the heights of his talent. He may not have won first place, but he is looking forward to creating again: an inexpensive 3D printer and an automatic stove for his mother are at the top of his list.
Thank you for helping youths like Sanjoy achieve their dreams!
---