In 2007, Carrie McGinty was Executive Director of Donor Development at Proverbs 31 Ministries. She traveled with Compassion to South America. Through a mother's eyes, Carrie gives us beautiful insight into a mother's deep love for her son.
---
In August 2007, Proverbs 31 had joined on as a Compassion representative to speak on behalf of poor children all over the world. And so, Compassion had invited me and other Proverbs 31 ministry staff and speakers to experience firsthand the work Compassion is doing in Ecuador.
To say that this trip was a life-changing experience is an understatement. The people I met deeply touched my heart and I will never be the same.
In the Otavalo mountains of Ecuador I was surrounded by beautiful little girls, dressed in their finest handmade dresses, but out of the corner of my eye I couldn't help but notice a young man on crutches.
He was all alone. I felt God telling me to go over to him. I left the brightly dressed little girls and walked over.
We had an immediate connection. I discovered through my broken Spanish that his name was Hydro. He grabbed my hand and led me into his mountaintop church.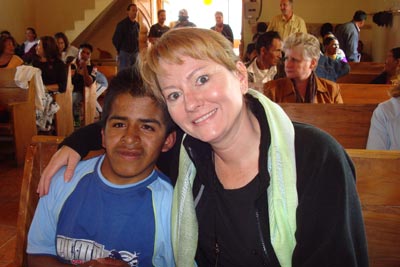 We laughed and smiled a lot. He gently nudged when it was time to stand and when it was time to sit. He knew the ropes and he was my guide in his church, and I was thankful for it.
He asked to use my camera; I watched as he carefully and joyfully took pictures of those he knew in his church.
I later had lunch with Mercedes, Hydro's mother (Mercedes means mercy in Spanish). Through a translator and many tears, I discovered this very small woman frequently carried her son for miles into town on her back year after year, only to have doctors turn them away because they were unable to afford the doctors' fees.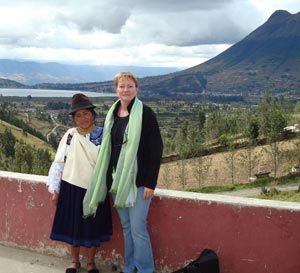 Mercedes told me that some people in her village didn't understand why she bothered taking Hydro so far to the doctor so many times, only to be turned away. They didn't think it would help.
But I knew why. As a mother I would have done the same.
I would have walked as far, and I would have lovingly endured the weight on my back. I have two boys, and they mean the world to me – a child's weight is never too heavy for a mother to carry if she thinks there is the tiniest bit of hope for her child.
Compassion heard of Hydro's medical difficulties and paid for his operation and bought him his first set of crutches. Now he can get around on his own.
Mercedes was so thankful to Compassion that she would go and clean the local child development center. This was her small way of saying thank you for all that Compassion had done.
Because of her hard work and her understanding of how Compassion works in her area, Mercedes was made the director of the center.
I love Mercedes' story of persistence, and I love what Compassion showed me that day – there is hope, and help and love in the most out-of-reach places. If you keep trying, and keep believing, and you keep praying, your weight will be lifted, and help will come in the form of Compassion.
"She opens her arms to the poor and extends her hands to the needy." Proverbs 31:20 (NIV)