On a warm morning in Thailand, Somporn slings a wide woven scarf over his shoulders with the chubby arms and feet of 9-month-old Pidsinee wiggling through. As she fusses and cries, he tightens the shoulder sling and walks alone with his daughter.
Despite this beautiful morning, the grief in Somporn's heart is inexpressible, beyond what words could describe. The sudden loss of his wife is weighing upon him.
From the Karen tribe, Somporn and his wife Sopak dreamed of having a big family. They planned to spend many sweet long years together, until they grew old. They did not imagine that "'till death do us part" would come so quickly.
When Pidsinee was only 2 months old, Sopak was diagnosed with Japanese Encephalitis, a serious mosquito-borne disease.
Because traveling from their village to the hospital was almost impossible during the rainy season, Somporn decided to wait it out to see if his wife would get better. He did not want to risk the rough terrain and was not sure if she would be able to handle it.
Unfortunately, her high fever persisted and Sopak went into shock. Somporn decided to borrow a car and drove her to see the doctor at the district hospital. She was admitted for three nights before the doctor sent her home.
But after just one day, her condition worsened. Not willing to take any chances this time, Somporn drove his wife to a hospital in Chiang Mai. But it was too late. Sopak passed away within the first few hours there.
"The doctor said that there was nothing he could do to save her. How I prayed every day for my wife. But God did not come to her rescue.

I could think of nothing, just wondering how it all happened. It was like a dream. How could one die so easily?"
Beneath the mask of masculinity, Somporn felt lost and did not know how to continue on, living by himself with his firstborn child.
Being the youngest son of his own family, he never had any experiences of babysitting younger siblings. Now with his wife gone, no stable income and little knowledge in child rearing, Pidsinee's future seemed to be hanging by a thread.
Phongphet, Project Director of Bethania Church Child Survival Program shares,
"When I saw Somporn's situation, I thought of the Child Survival Program. With no stable income and little knowledge of childcare, our program could be the answer for him."
A few months after the loss of Sopak, Somporn and Pidsinee were registered with Bethania Church Child Survival Program. Attending not only helps Somporn to learn and grow as a parent, but it helps Pidsinee as she also needs our support.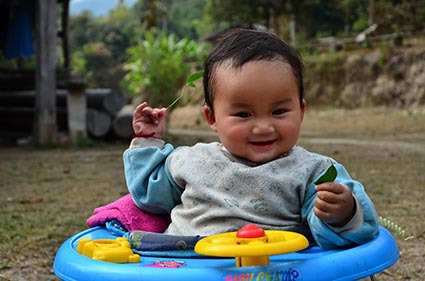 In our program, Somporn has not only learned about personal hygiene and household safety but he has also received necessities that he and Pidsinee need to live, including formula and complementary food such as eggs and meat.
Because the activity in our Child Survival Program is directed toward female caregivers, Phongphet had to come up with new ways to reach out to Somporn, the only male caregiver in the program.
"Initially, we taught him about practical skills and provided for his immediate needs to better care for his child. Since he has been with us for a few months, we are trying to assess his capability and interest.

In the future, we may provide agricultural resources and teach him about organic farming if it lies in his interest to give him an income-generating skill."
With his daughter's best interest in mind, Somporn decided to teach all the lessons he had learned in the Child Survival Program to his parents so they would be able to properly care for Pidsinee.
"I taught them how to prepare a bottle, as well as how to clean it. In our house, there is one corner used only to wash the bottles. No one is allowed to cook or boil anything in this area."
With the loving hands of the community and our staff, Somporn's life is gradually turning around. He used to be angry at God for not coming through for his family when they needed Him the most. But with love manifested in deeds, Somporn is a changed man.
Phongphet adds,
"Somporn saw how we had helped him; how we did not just pray for him and left doing nothing. He saw that we lived out our faith through action. When he witnessed this, it brought encouragement and peace to him. Now he smiles more and has the strength to keep raising Pidsinee as best as he can."
In spite of his loneliness, Somporn is not alone. His beautiful baby daughter is not just the face of his wife, but a gift from God, to help him walk this earth with hope and strength.
---