Without a doubt, our current society lacks role models. Many children in Honduras are raised only by a mother and sometimes by grandparents and, as a result, boys and girls grow up in an environment with poor discipline and direction.
In most cases, character is formed on the streets through the practice of bad habits and contact with negative influences that unfortunately take the lives of these boys and girls through the path of delinquency, gangs and crime.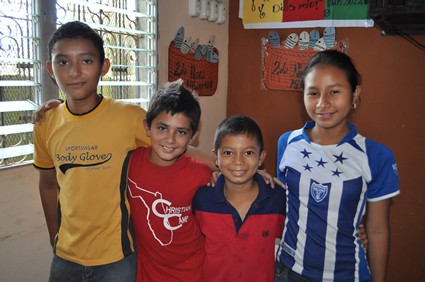 This is precisely the issue that concerns the church in Honduras and that is why our ministry and the church are working together to shape the character and discipline of many boys and girls in the city of El Progreso.
Located in the north coast of Honduras, El Progreso is an emerging town founded in 1927 as a banana trade center. El Progreso grew in the 1970s into a commercial and transshipment center for Caribbean ports.
El Progreso is also the home of five child development centers and a Taekwondo training center that is benefiting more than 250 children through a Complementary Intervention. This extraordinary activity is getting the attention of boys and girls and is a valuable tool that is helping to improve each child's character.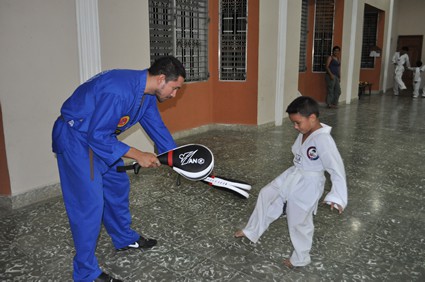 Every boy and girl is told from the beginning that Taekwondo is a discipline that shows ways of enhancing their life through training of the body and mind; in other words, the right way to use all parts of the body to stop fights and help to build a better and more peaceful world.
According to the instructor Duman, everything started in this city with the visit of a generous Korean man who resides in the United States and comes to Honduras every year to share his Taekwondo knowledge with the young people. Duman was involved from the very beginning and was trained by Master Young along with other young people who are now serving as instructors.
Duman started as a tutor and has conducted the Taekwondo training for kids at the Niño Nuevo en Cristo Student Center for one year.
"This has been a wonderful experience for boys and girls, certainly a great opportunity for the kids to stay in good shape and also keep their minds busy in the sport."
Children who participate in Taekwondo training have responsibilities and duties to fulfill in order to continue with the course: be punctual with schoolwork, respect everybody, and attend church and the child development center, among others.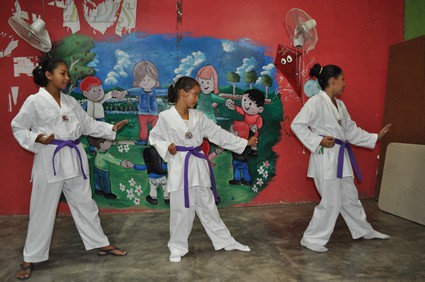 Boys and girls are told that it is an honor to be part of the training, a wonderful experience that will not only prepare them to face a hostile situation but also to help them to set rules and goals in life. Parents strongly support these classes because they are keeping their children away from bad things.
Johnny started practicing Taekwondo two months ago with the rest of the boys and girls from his child development center. Like everything new in their lives, children enjoy wearing the Taekwondo clothing and attending the training sessions. Even though there is so much exercise to do, kids are always willing to go through these sessions.
"This is just the beginning, and I know that with the time it will require us to work and practice hard, but I look forward to it because I'm enjoying it very much."
Johnny is 12 years old and lives with his parents. Currently in 6th grade, he attends the center twice a week where he learns about the sacrifice of Jesus for the sins of mankind. This is also where Johnny opened his heart to the Lord.
Johnny is a white belt just like his friends, but is determined to work hard in order to earn a yellow belt.
For Denilson and his mother, life has been difficult. Denilson lost his father two months ago because of the dangerous living conditions in the city, but the child development center has been with them all the way. Denilson is also 12 years old and is participating in this training where he has found the space to release the tension and anger of losing his father.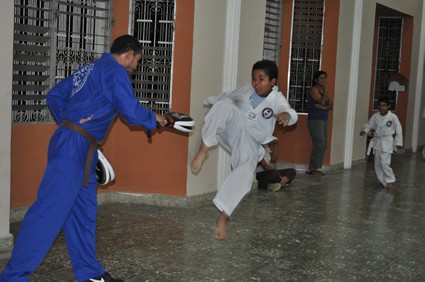 Jaison is a bright 10 year old boy who has been training for one year. He is now a green belt and is excited about what is coming up in his life. Jaison comes to the center every Friday and Saturday morning.
"I have learned about the life of Jesus, songs and Bible verses, also to keep a good testimony and to do well to everybody."
Purple belt Sonia has been practicing Taekwondo for a year now and improves each day through hard work. Sonia, like the rest of the children, also opened her heart to the Lord and learned many things at the child development center.
"I have learned that the Bible is inspired by God and that we have to respect everybody; also we are all God's children, He loves us and He has a special plan for everybody."
Kensy and her friends practice almost every day at home but also come to church at least twice during the week for approximately two hours to practice, which is also the case for Luis. Luis tells us,
"This discipline has kept me away from other things, which is good. Instead of spending so much time in front of the television set, I'd rather improve my movements."
Every Wednesday and Saturday, several groups of children from different child development centers meet in their respective churches for weekly training. Kids ages 5 to 16 attend regularly to improve their skills and to get in good physical condition.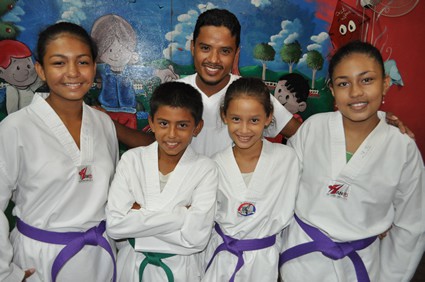 The change has been overwhelming in the children's attitude and behavior; it has been simply a great strategy to bring out the best of every child and to fulfill the Word of God:
"Train up a child in the way he should go: and when he is old, he will not depart from it." — Proverbs 22:6, KJV