Awa is a housewife living in Burkina Faso. She lives with her husband, Irissa, and their five children in a typical Muslim compound of approximately 50 people. They have lived a difficult life.
Awa's husband does small jobs and earns meager wages. He once left the family in search of gold; he worked five years without finding even an ounce. Awa cooks and sells cakes made of millet flour. What she and her husband earn every month is not enough to take good care of their family.
The only positive thing Awa could see about their hardship was that she was her husband's only wife. All of the other women living in the compound are married to men with multiple wives. Every cloud has a silver lining, Awa would say, as her husband could not afford to take a second wife.
"I could spend three weeks without any food supply in the house. My salvation was in wandering from place to place asking for help."
Awa tried in vain to find help from the Muslim community surrounding her. Although they were living in front of the community mosque, she and her family felt abandoned. Her sorrow was compounded when her younger brother and his wife both passed away, leaving a 6-day-old baby boy in Awa's care.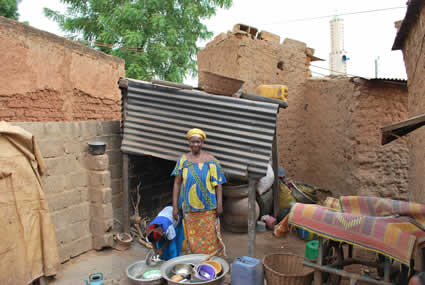 Awa needed to find milk for the baby but could not afford it. She was so depressed by her helplessness that she considered putting an end to her life.
One day she wandered into the local Assemblies of God Central Church to ask for help.
"The day I entered the office doors to the child development center and told them my story, workers were with me."
Unfortunately, Awa's baby nephew could not be registered because we have not yet established a Child Survival Program in Burkina Faso. But the center workers showed Awa where she could find milk for the baby, and the pastor provided Awa with money to buy milk and other food supplies for her family.
After her visit to the center, one of Awa's aunts advised her to give her life to Jesus if she wanted to get out of the mess she was going through.
"From that day on, I started going to church on Sundays. Three months later I gave my life to Jesus."
A significant change has occurred in Awa's life since she met Christ. She can now count on God to solve her problems.
Just a month after she received Jesus, Awa's little girl Fatimata was registered at the Assemblies of God Central Church Child Development Center. Soon, someone sponsored Fatimata and Awa considered it a miracle.
The turnaround even brought dreams into little Fatimata's heart. She was able to go from worrying about daily food to dreaming about tomorrow. Fatimata would like to be a primary school teacher.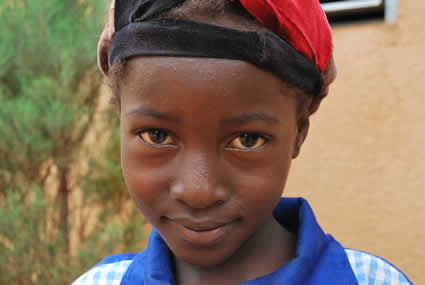 Fatimata is in 1st grade and has a gentle spirit. Her mother encourages her to work hard at school to fulfill her dreams.
Within two months of her registration, Fatimata's sponsor sent a family gift. It was like manna for the family. Awa used the money to purchase food supplies and a bicycle, and she was also able to restart her business of selling cakes.
Some weeks ago the family again received some extra money from Fatimata's sponsor, and Awa used the money to buy provisions. The storm is over for Awa and her family. The time when they were living from hand to mouth is over.
Awa is now confident in life and has started praying that her husband would come to know Jesus and give his life to Him.
While the family's livelihood improved dramatically after Fatimata joined the child development center, Awa was not out of the woods yet.
Being from a Muslim family, and living in front of the community mosque, her decision to become a Christian was not acceptable among the Muslim community.
Recently Awa was summoned to the mosque by religious leaders, who questioned her about her Christian faith. They pressured her husband to give her an ultimatum: give up Christianity or leave the house.
But Awa refused to reject her new faith. She told the Muslim leaders,
"When I was suffering with my kids under your eyes, no one dared to lend me a hand. Now that the church has saved my life, would I give it up? Never ever."
Awa was ready to leave if her husband asked her to. The mosque leaders told her to take a week to think and make up her mind. When Awa met with them a week later, she told them again,
"I have decided to follow Jesus and you will not make me change my mind. It is because of Jesus that I am still alive."
The Muslim leaders were speechless. They had all witnessed the hardship Awa had gone through with her family and they had never lent her a hand or paid her a visit.
They could not stand against her arguments. That was how she obtained freedom to go to church with her kids. Her husband has given up trying to convince her to give up her faith.
As for Awa's daughter Fatimata, she has also changed. She used to be extremely rude, insulting people around her.
Since Fatima joined the child development center, a radical change has taken place in her life. Fatimata has become polite and disciplined; she no longer insults others. She is now the one advising other children not to be rude or insulting.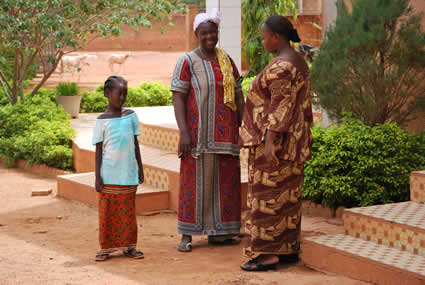 Though Fatimata is a bit shy, she has a gentle spirit. Her mother considers Fatimata her "lucky star." The whole family is benefiting from the spiritual, educational, social and physical help Fatimata receives through the Child Sponsorship Program.
Awa and her family are experiencing the difference it makes when someone dares to give his or her life to Jesus. And it takes a lot of courage for a former Muslim woman living in front of her community mosque to give her life to Jesus openly and to take a stand for her faith.