Letters equal love.
It is a message I have heard many, many times during my journey as a sponsor and volunteer.
When I've met young adults who were once sponsored children, they always convey the importance of our letters. One young man from Kenya told me his sponsor was the first person to ever tell him he was loved.
This theme also plays out when I hear about sponsors' experiences in visiting their sponsored children. My friend Jill Foley shares some insight from a recent trip.
"Last year in Peru — my one and only trip — we asked the kids we met if they could ask their sponsor anything, what would they ask. More than one child wanted to know why their sponsor didn't love them.

"We probed a little deeper to see what they meant and it turns out their sponsors don't write to them. They have translated this lack of communication into a lack of love. Just heartbreaking!"
I was thrilled to find out that Compassion is rolling out a new and improved way to send some love to our sponsored children!
This all-new online letter-writing tool, which is accessible through the Write My Child link within My Account, allows you to create bright and beautiful messages with 33 different background templates to choose from.
You can choose from a variety of colorful prints including whimsical animals, flowers, bold sports themes and even special templates for birthday and Christmas letters. There are choices available for boys and for girls, and for the youngest child to the teenager or young adult in the final years of sponsorship.

When writing to our 17-year-old Kazihizina in Rwanda, I chose a pale blue-green template featuring flowers and a dragonfly. I planned to share some information about a recent home-school project about raising Monarch caterpillars and thought the background would go nicely with the topic.
Once you choose a background template, you can type in the text of your letter, even saving a draft if you have to leave the computer while you are typing.
Unlike the older version of the online letter-writing system, the new system regularly saves your work, which will prevent you from "timing out" and accidentally losing your message.
You can choose up to three photos to upload and attach to your letter. This feature allows you to easily send pictures and will help your sponsored child feel even more connected with you and your family.
With how easy it is to attach a photo, it's still important to avoid sending pictures in which people may be immodestly dressed or that accentuate our economic differences.
For my letter to Kazihizina, I chose photos taken during our caterpillar project. One by one, I clicked the "Upload" button and picked the pictures I wanted to share from my computer.
Each image uploaded quickly, and I was able to crop them to fit within the frame on the stationery.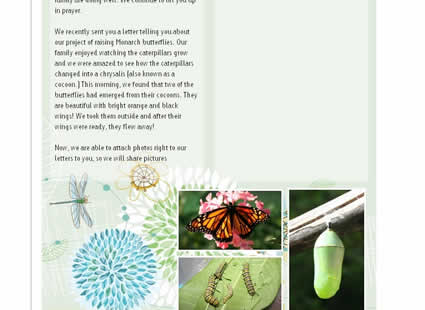 Once you have added your photos you can preview your letter. If you're pleased with how it turned out, just click "Send This Letter" and your message will be on its way!
The new online letter-writing tool makes it easy for you to create a one-of-a-kind personalized message. I hope it inspires you to take a few minutes each month to connect with your sponsored children.
Remember, your letters equal love. Send a little love to your Compassion child today.