Christmas in El Salvador is a magical time. Right after the last September rains and the windy days of October and November, a cool breeze and fresh spring-like days fill the atmosphere, announcing that the dry season (usually called "summer") is here. Suddenly everything is green, red and full of lights. It is Christmastime.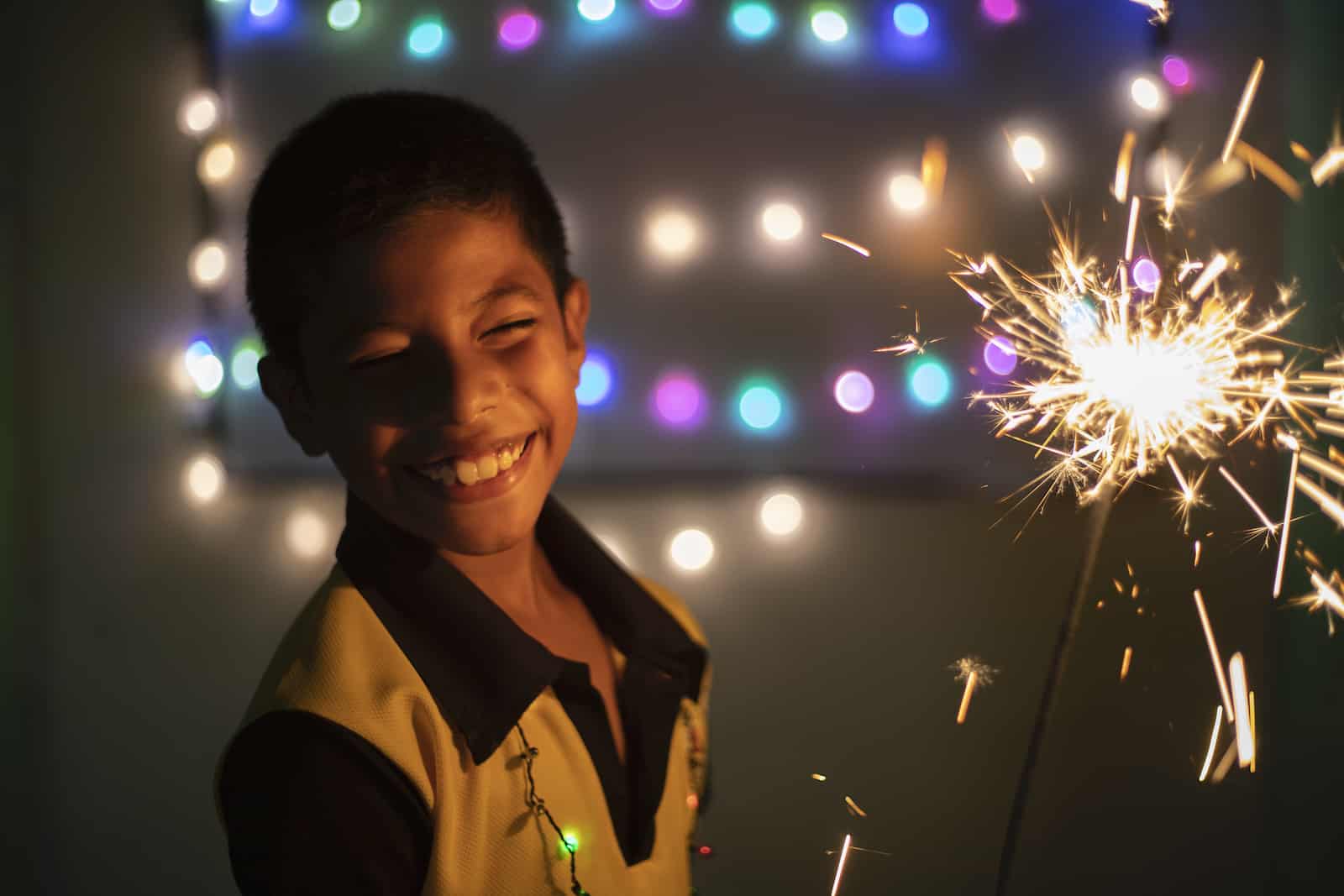 Christmas Traditions in El Salvador
In San Salvador and towns around the country, bright, conspicuous winter sale banners contrast with the green and red outdoor Christmas decorations and the white paint that imitates snow on the showcase at the local mall. (It does not snow in El Salvador, but since the culture is so Americanized, there cannot be Christmas without snow.)
The aisles of the supermarkets and department stores are filled with pine scent and artificial Christmas trees on sale. If you ever come and visit El Salvador in December, it does not matter where you are from. You will know … it is Christmastime.
Along with the Christmas lights, reindeer and Frosty the Snowman, Christmas brings hope and happiness to the spirits of the Salvadoran people. It also brings nostalgia, just like any other country that celebrates the birth of Jesus. On the radio, on television, in the newspaper and along the street, colors, songs and smiles fill the air, shouting, "It is Christmastime."
Families come together for the holidays. They go to church, and have dinner. Cousins, aunts and uncles, grandpas and grandmas, brothers and sisters — the whole family comes together to celebrate and share. The traditional dishes are turkey or the less-expensive chicken, pork and all kinds of salads. Chirimol is as traditional in El Salvador as gravy or sweet potatoes. It is a dish with chopped tomatoes, onions and spices with lemon juice.
The only big difference with how Salvadorans celebrate Christmas is that, while it might be a holy night, for Salvadorans it is not a silent night. Christmas for a Salvadoran means lots of noise with fireworks and music. The streets are full of children setting off firecrackers. The neighborhoods are filled with music and laughter coming out of the houses.
For Salvadorans, lots of explosions, the smell of gunpowder from the fireworks and firecrackers, and music means that it truly is Christmastime. A Salvadoran Christmas might not be a silent night, but it definitely is a celebration for the birth of our Lord.
Church at Christmastime
For Compassion El Salvador and for our partner churches, Christmas is more than just an evening service on Christmas Eve. (That is right, in El Salvador, if you ask anyone about Christmas, they will answer without hesitation "December 24th.")
For our church partners, it is an opportunity to remember the birth of Jesus and why He was born. It is a great opportunity to bring families together, and share the love of God with the children and their families. It is a time for blessing, spiritually and materially.
Christmas Gifts in El Salvador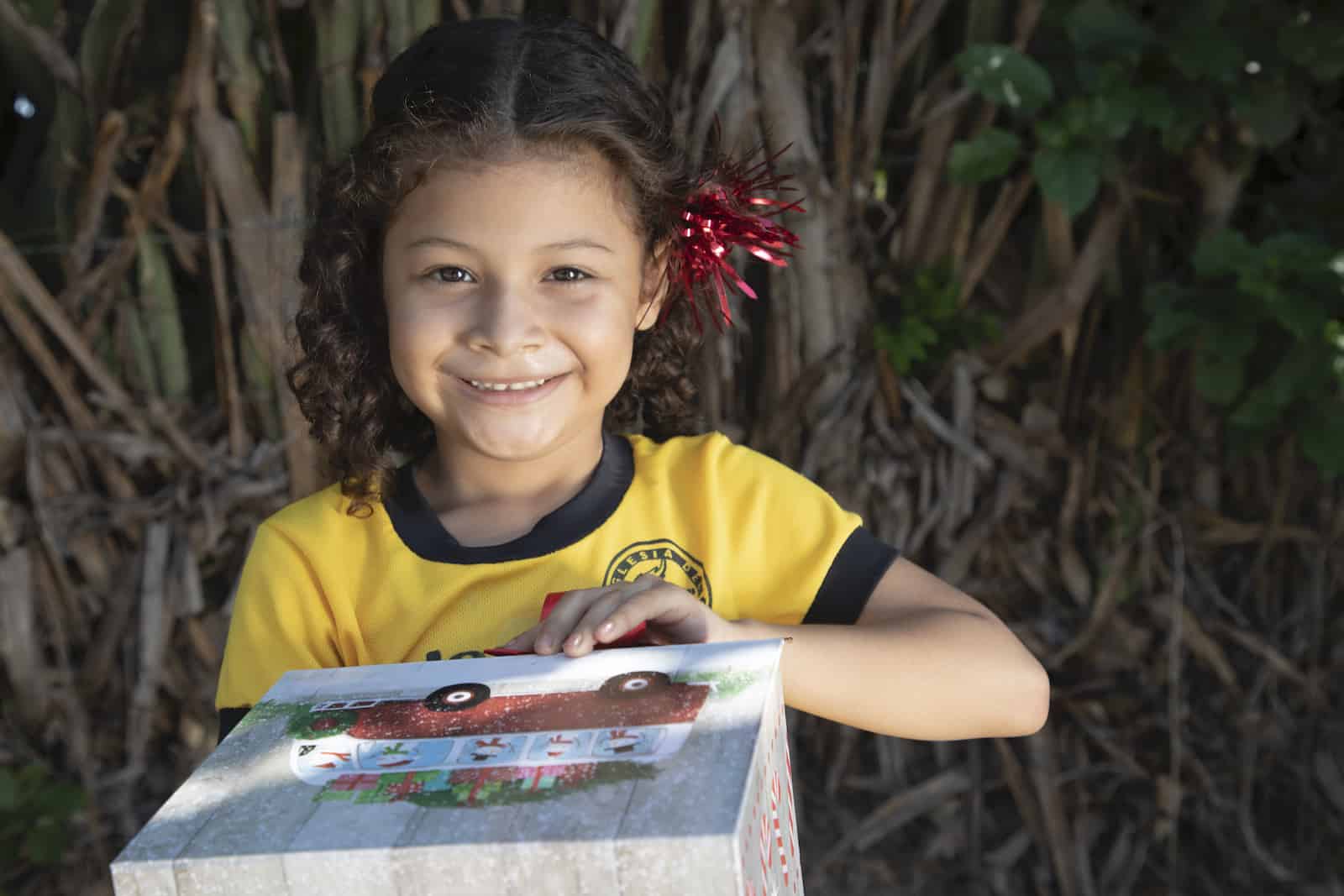 Children in other communities and conditions might dream about the latest action hero or the most beautiful and fashionable doll. The children at our centers think a little bit differently. Not because they do not like toys, but because there are other needs to be fulfilled.
"We had a case one time when two of our children, a girl and his little brother stopped attending school. When we visited him, it was because they did not have any shoes to go to school, and they were embarrassed to go barefoot."

– Sister Wendy, wife of the pastor of Tabernaculo Biblico Bautista Majucla Church.
One of the children at Tabernaculo Biblico Bautista Majucla Church is Mauricio, a cute 7-year-old who loves to talk. Mauricio especially enjoys asking people if they have heard about Jesus and if they want to receive Him in their hearts.
Traditionally, under other conditions, Mauricio would ask for toys, but because of the financial conditions of his family, Christmas gifts mean he can get the shoes, the pair of pants or the school bag that his mother cannot afford.
Compassion El Salvador has strong relationships with retailers, such as clothing and shoe factories,  school gear wholesalers and supermarkets. They obtain good products at good prices. This is how our child development centers receive information about what are the gift choices for the children, and how to make the best investment of the Christmas money that donors send for their children.
As the development center's Christmas party arrives, Mauricio is early, greeting everyone and smiling. The church looks happier than other days, and the decorations have a personal touch, with each of the sponsor's names hung on the decorations.
All the staff members dress in red with Santa hats, ready to celebrate with the children. The children have a nice meal, and one by one they receive their presents. Mauricio is eager to destroy the red paper and open the box. But he waits until he is home to show his present to his mom: a nice, black pair of shoes.
Thank you for learning about Christmas in El Salvador!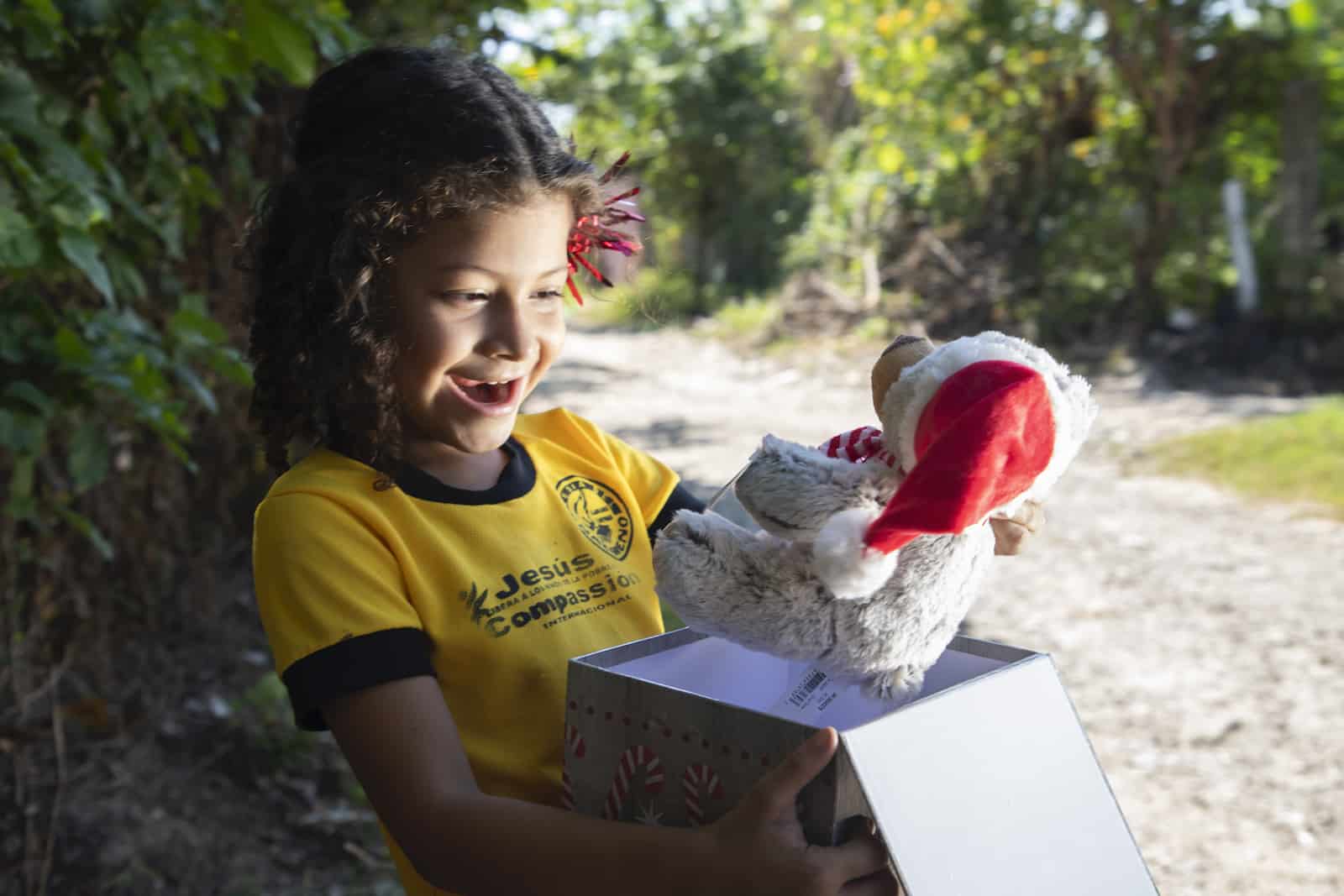 Merry Christmas from Compassion El Salvador! Would you consider celebrating Christmas this year by giving a gift to a child living in poverty? Your gift will mean that a child will have shoes to wear to school, a new set of clothes, or even their first toy!
Give a Gift! ›
---
Originally published December 24, 2009. Photos by Alejandra Zuniga.