After a disaster occurs in one of our countries, we often raise money to help those affected. We do this to help provide things such as food and water, shelter, bedding, trauma counseling or medical treatment, among other needs. Many times we also send disaster relief kits.
Let me tell you what we mean when we say "disaster relief kit."*
A couple of weeks ago there was an earthquake off the northern coast of Honduras. Buildings and homes were damaged, including some homes of Compassion-assisted children. (Don't worry … if your child is affected, we will let you know individually.)
In response to the earthquake, the Compassion Honduras office provided disaster relief kits to the affected families and our communications guy sent me a picture. (Thanks, Yuri!) Anyway, I thought you might like to see it …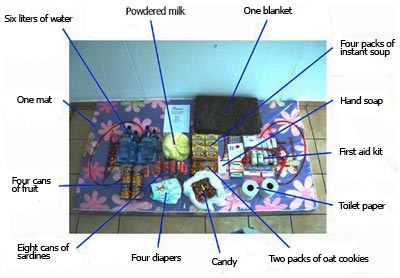 *This is just an example of one disaster relief kit we recently provided. Contents of other kits may vary.
---
UPDATED: Feb. 9, 2010 – Disaster relief kits for our 15,000 beneficiaries and families affected by the Jan. 12, 2010 Haiti earthquake include two weeks worth of supplies for one family:
Help Families Affected BY COVID-19
Families in poverty have no safety net in times of crisis. Help provide food, medical care and support during this pandemic.
14 pounds of rice
14 pounds of beans
one gallon of cooking oil
four packages of pasta
two 16 ounce jars of peanut butter
bottled water
up to four packs of canned meat / tuna (when available)
baby formula (where applicable)