Restavèk is a Creole word for a Haitian child who stays with and works for another family. A restavèk child can be a boy or a girl who is given away by a poor family in order to survive. Frequently, the restavèk's most basic rights to health and education are denied.
Of these children, 65 percent are girls between age 6 and 14. They are forced to work long hours under harsh conditions and are subject to mistreatment, including sexual abuse.
The restavèk child is the first person to wake up in the morning and the last one to go to bed, sometimes after 14 hours of work that consists of, among other chores, carrying water, washing clothes, taking the owner's children to school, doing errands, and cleaning the home.
The restavèk child is often beaten for the simplest mistakes. Laws against child abuse exist in Haiti, but unfortunately, they are seldom enforced as children's rights don't have a high a priority.
The number of restavèk children reported nationally is between 250,000 and 300,000, and this domestic phenomenon is due to several reasons.
The main reason is parents' low income. A lack of economic resources forces parents from remote areas to place their children with families in urban areas with the hope that the child will have a better future.
A restavèk child can also be the product of parents' broken relationships.
Another reason for a child to leave home is mistreatment by parents or relatives.
If the restavèk doesn't find a better future by age 17, the child often takes his or her independence from the owner to join a street gang or to become a prostitute. The owner will then look for a younger child, and the infernal circle continues.
In the past, restavèk children used to be placed in middle-class or upper-class families. But most current reports on restavèk children show the opposite, as the restavèks are largely owned by urban families who cannot even provide for their own children.
The restavèk child has to suffer not just because the owner does not want to meet the child's needs, but because even if the owner wants to, he cannot.
The restavèk owners are usually people who cannot read or write. The ones who can read or write have very little education, and often do not care about children's rights.
The restavèk's owner is always reluctant to let other people talk to the child, so as not to be alerted to the child's situation.
Fighting the Restavèk Curse in Haiti
Jean Klebert Excéus, a former child development center director, is a Haitian leader who stands against restavèk children in Haiti.
Klebert now works as a school administrator serving restavèk children. His job consists of evaluating the school program curriculum, hiring new teachers, evaluating teachers, providing new orientation to the school when needed, and providing reports to the church for assistance money provided by Compassion.
"In a battle there are different roles that a soldier can play. Some soldiers give alert, some give orders, and others launch the attacks; I am in the front line against it."
Klebert originally shared his vision for fighting the trafficking of children into servitude with his church board. The church is located in the heart of the Solino slum, one of the largest slums in the Port-au-Prince area, which used to be a no-go area due to violence, kidnapping and gang activity.
As a member of the church board, Klebert knew about the challenges but was determined to do something. Because, he says, "Where there is will, there is also a way."
Klebert believed that if he helped the restavèk children, he would reduce the number of street gangs since many street children used to be restavèk.
Starting a school for domestic children was not without difficulty. The fact that the restavèk children are often older than 9 makes it hard for them to be part of Compassion's Child Sponsorship Program, which registers younger children.
Klebert initially decided to meet the restavèk children every Sunday afternoon since they had less to do that day and their owners are also more flexible about releasing them for just a few hours.
One year later, in 1996, a school that operated in the afternoon five days a week was opened. Since then, the school has grown to 400 students, and it operates in two sessions.
The difficulties of sustaining the program increased as more children came, and the local church could not meet all the needs.
That's when Compassion began to assist the local church with the special project through tuition fees, books, uniforms and nonformal education.
The church actually has two schools. One is a regular school and the other one is for over-age children — restavèk. The schools are located in the same slum but in different locations.
It is impossible for restavèk children to be accepted in the regular school because they are always over age when they owner decides to send them to school. They start school usually when they are 10 or 12 years old. In Haiti, children normally start school at 3 and complete elementary school at age 12.
Currently, the elementary school for the restavèk children is one of the best schools in the Solino area. Children are receiving classical education plus vocational training such as plumbing, cooking and pastry, cosmetology and floral art.
Klebert hopes to add courses such as computer training, carpentry, help nurse and cabinet maker, as those skills would equip the children for a better future.
He dreams of having more children and more activities for them at the school. His dream is that one day, one of the restavèk children comes to replace him, as he had been replaced by a former Compassion beneficiary as the child development center director.
Stories of Restavèk Children
Michelet, a 15-year-old boy, is a restavèk child like thousands of others in Haiti. Unlike the others, however, he dreams of becoming the best plumber in Port-au-Prince.
Michelet did not know his mother very well and does not know if she is still alive or not. He was born in Cayes, in southern Haiti. His father separated from his mother and took him from her at age  5.
Michelet was brought to Port-au-Prince, to Solino, and placed in a family that his father did not know.
His father could not find a job, so he decided to join a gang in order to help Michelet. Michelet remembers that his father sometimes used to bring food for him. But Michelet learned his father was killed during a police operation. So Michelet grew up as a restavèk.
His main job consists of taking care of his owner, a blind man. Michelet takes his "uncle" to church or any other place he needs to go. He calls his owners "uncle and aunt," even though there is no blood relationship between them.
Unlike many other restavèk, Michelet had the chance to attend school for the first time when he was 10. Currently, he is in grade five, and he will take the official exams next June that will give him access to secondary school next year.
Michelet is also learning plumbing at the center. His passion for plumbing is evident in that he always wants to be the first to start the practice session.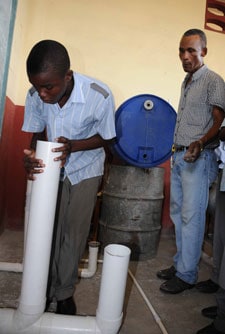 Unlike other restavèk who hate their owners after being freed, Michelet intends to help his "uncle and aunt" because they are getting older and have nobody to rely on.
"When I am making money, I will help my uncle and my aunt, as they were allowing me to go to school."
Michelet was not always treated well, though. Sometimes he went for an entire day without eating. His owners did not buy him good, clean clothes like they do for their own child. He was forced to stay with his "uncle" most of the time, with no time to play as a child. But the values and good manners he learned in the school make him feel that he must treat them well. 
Acnise is an orphan. She lost both her mother and father when she was 8 years old.
After her parents died, Acnise's life was torn apart when a neighbor decided to take charge of her. Acnise was forced to wake up at 5 every morning to wash dishes, clean the home, carry water and cook when she was 9. Sometimes, she was not allowed to eat the food she made.
"I was beaten at least two times a day with an electric cable for any little mistake. Sometimes I don't even know what is good and what is wrong, as I was beaten for almost everything."
Because Acnise lived near the school, she used to see children her age wearing uniforms to school when she was walking home, carrying a bucket full of water on her head. 
One night after being severely beaten, Acnise decided to leave home, even though she did not know where she was going. Acnise wanted to take shelter at the school, but at 9 p.m. the gate was already closed. She decided to go to Klebert's home.
After Acnise explained to Klebert why she was there, Klebert allowed her to spend one week at his home in order to better understand her problems and also to see how he could make her life better.
The fact that Acnise was 9 and had never attended school made it difficult for her to register into Compassion's Child Sponsorship Program. However, she was admitted to the school for restavèks.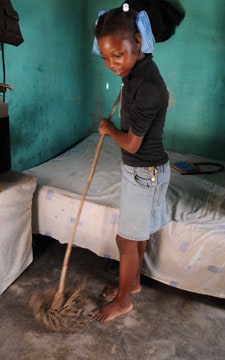 Acnise was placed in a family that belongs to the local church. Currently, she is in grade five and is taking cooking,  pastry-making and floral art at the school. As a result, Acnise accepted Christ as her Savior and she is active at church. She is the only child the church has placed in a home so far.
The young couple who accepted Acnise at their home has only one little boy. Acnise feels comfortable looking after the boy, as she is not forced to do that.
Acnise now can play with other children in school and at home. She cleans the home, washes the dishes and sets the bed after school. After that, she is free to study her lesson or do her homework.
The family where Acnise was placed sometimes cannot provide her everything she needs. But at least she is free in mind and in spirit.