Compassion is more than just a sponsorship program that helps break the cycle of poverty. It is about a relationship between a registered child and his or her sponsor. The lives of a young boy, Vitoon, and his sponsor, Richard, will never be the same since they got to know each other.
Vitoon is a Leadership Development Program student in Thailand. He is in his third year at Rajabhat Chiang Mai University, majoring in English education.
Vitoon was born into a hill tribe called Karen. Vitoon's house is in Chiang Mai, but it's located in the high mountains, a five-hour drive from the city.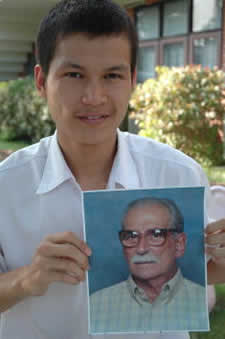 When Vitoon was in 10th grade, his sponsor stopped sponsoring him and Vitoon prayed to God for his new sponsor. That was when Richard came into his life.
"Richard sends me a bunch of letters and that's why we have a great relationship. In his first few letters, Richard told me that he was 82 years old, he had two cats and he did not have a family. I felt so sorry for him. He was quite old and he lived alone. No one would help take care of him. So I began to pray for my sponsor."
Through the letters, Vitoon could feel love and care from Richard.
"Do keep me informed in your studies, your success and even difficulties. I pray to God to help you, protect you and bless you, Vitoon, the most precious in my life."
From the love Vitoon experienced from Richard, he found himself with a new family member whom he soon called Grandpa.
"Grandpa always encourages me to focus on studying so I will have good grades and I will have a better life."
Grandpa Richard inspired this Karen tribal boy to have a dream to enroll in our Leadership Development Program so he could pursue a university education.
"I am so proud of you, Vitoon," Richard wrote to him, "but you will have to study hard and long hours to succeed again, but I know you can succeed."
Vitoon's parents are farmers who work hard just to make ends meet. They do not earn enough to support him through university.
When Vitoon knew that he was accepted as a Leadership Development Program student, he was happy but also sad.
"The child development center director told me when I entered the program, Grandpa might not be my sponsor because the financial support was much higher for university students. But Grandpa informed me that he wanted to continue sponsoring me. I was very happy and grateful to have him as my sponsor. He wanted to help me, even though we have never met."
Not only has Vitoon found new family, but so has Richard.
"I do not have a family any longer so I am happy to be a part of your family. Vitoon, you are like a fine, intelligent, studious grandson to me, making me useful again doing what God teaches us: help one other. You are a big help to me. You give meaning to my life so I want to give you a better life."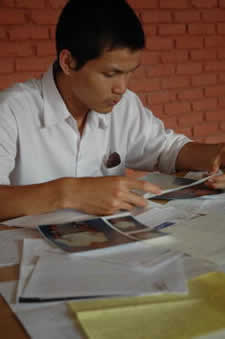 At the age of 84, Richard had to move to a retirement village where there are people who can assist him. He had to leave his cats and his familiar life behind, so the only thing he had left was his sponsored child. Richard longs to receive letters from his "grandson."
"Last Tuesday was a very exciting day for me. In my daily mail was a large white envelop. I hurried back to my small room to see what was in the oversized envelope. I was very excited but as soon as I saw the content, I was even much more exited. Four beautiful colored photos of you spilled out."
Letters for Richard are more than just pieces of paper; they are treasures that are priceless.
"Very dear Grandson, what a blessing you are to me. Today I found a long and interesting letter from you in your clear and beautiful handwriting. I was so excited and happy I kissed your letter many times before even opening it. I had waited for that letter for a long time.

"I have kept all your letters as treasures, so if I do not find one in my mailbox, I go to my three-ring binder and read again an old letter from you. That gives me much pleasure. I feel we are still in touch one with the other.

"Every thought you express to me changes a dull, cloudy day into a beautiful day full of sunshine."
There was one letter that made Vitoon cry and he committed to praying to God consistently. He learned that his beloved grandpa Richard was faced with health problems. Richard cannot walk without a walking aid, and he has lost his hearing as well as the sight in his right eye. Sometimes Richard spends several days writing his long letters because he can use his one good eye only for short periods. 
Every time Vitoon writes a letter to Richard, he feels like he is sharing his life with his own grandpa rather than writing a letter to his sponsor. Vitoon loves telling Richard about his family, updating him on his life, and finding good messages to make his grandpa feel happy. Sometimes Vitoon sends photos along with long letters.
Richard loves Vitoon so much that he supports Vitoon through his spiritual life and academic study.
"I want to buy my grandson a fine, new guitar that must be selected from a good music store with the help of Compassion who will bill me for the full cost of the guitar you want. Choose the best one you see and your proud and loving grandpa will gladly pay for it. My first gift to my grandson."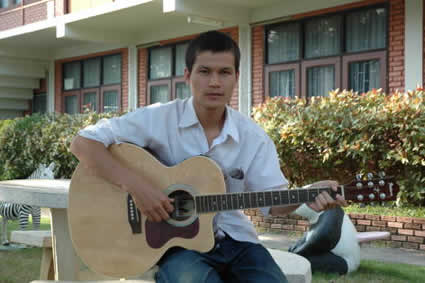 Vitoon uses his musical talent along with his guitar in a worship band that he leads for Sunday service. He is proud and enjoys playing his guitar so much that he writes to his grandpa many times to tell him. Vitoon also has a computer notebook that he received from his beloved sponsor. Richard wants Vitoon to use it to do research and reports for his studies. Vitoon is one of the few leadership students who has such a privileged relationship.
As a leadership student, Vitoon wants to develop himself to be a leader who has an impact on others. The Leadership Development Program has equipped and helped him to change from a shy boy to a confident man who can lead worship or games in front of people. This program also trains Vitoon to have a broader perspective, teaching him to listen, obey and fellow Jesus' commands.
Vitoon has a desire to be a teacher in the mountains. He wants to dedicate himself to teaching young children in the same way he learns from Richard to live for others. He knows that children who live in remote areas have the same abilities as children in the city but they lack the opportunities to gain knowledge.
Vitoon wants to be the person who gives those children that chance, just as Richard gives to him.