Paula took a deep breath and tears rolled down her sweet face as she expressed what her grandma means to her.
"Our grandma is a person that has supported us to move ahead. I love her a lot. She has sacrificed for us, encouraged us to keep going, and she deserves the best of the world because she has been good to us."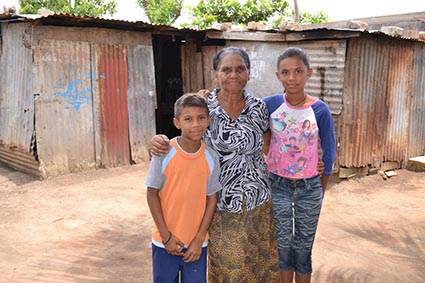 Several years ago, Paula's mother left Paula, her brother and sister with their grandmother. Their father had left them a couple of years before.
When their mom left, the family lost a steady income from her job at a factory. They used to be able to buy food but now their grandma, Carmen is in charge and she doesn't have a job. Her solution is to go out every day to find something to do, such as washing or ironing.
"I do this work because I have my three children and I cannot send them to the street to beg or endanger their lives, and I cannot just sit and wait. I have to look for the everyday bread so, I ask God for His continuous help.

I raised my own children working as a cook, and sent them to school as much as I could. I had nine children, eight boys and one girl. Only two finished sixth grade and two completed their fourth year of high school. I could not do more. My husband abandoned me when they were little, and the place we lived then was difficult for a single mom."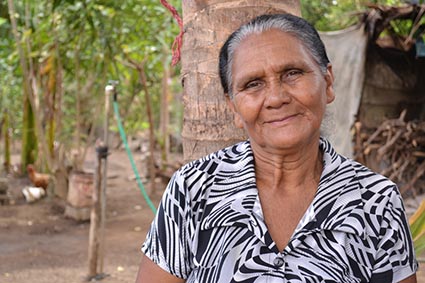 Carmen came to live in Managua 30 years ago. She came with her three youngest children; the older children had already married.
As time passed, Carmen's daughter got married and had three children. After a while, the daughter separated from her husband and both of them eventually left the children with Carmen. Carmen's daughter has only visited once since she left. She sends a little money when she can, and Carmen does not receive help from her other children.
No matter how bad Carmen feels physically, or how bad she's doing economically, she diligently gets up every day to get her grandchildren ready for school, the child development center or the church.
"I think my grandchildren have helped me to be strong. I thank God for the strength He has given me to raise them and take care of them. No matter what, God has always supported us. He watches over us."
Paula and her brother and sister know the efforts their grandma makes for them. One of the ways they respond to her love and care is to help her with the house duties and to do good in school. Even though Carmen's grandson has learning problems, he obeys her and goes to school.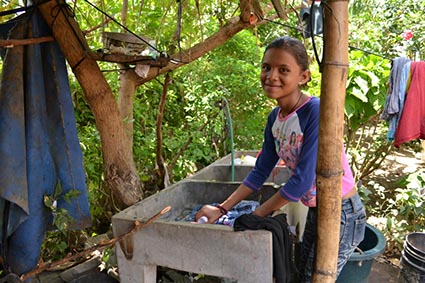 Around the time their mother left, the three children enrolled at the Jesús Mi Fiel Amigo Child Development Center.
"The church has been special to me, they have seen my need. I thank God for that. When I was sick, they brought me food and they are ready to help and, for that reason, in anything they need, I volunteer."
At the center, there are at least 17 grandmothers who are heads of their households and who, for different circumstances, ended up as moms again. They have to find ways to sustain their grandchildren, since they have little or no academic studies and cannot apply for better jobs.
Development Center Director Edelma shares,
"Four of the 17 grandmothers are very active in church. Carmen is one of them. She serves at church in anything she can. She loves God and she knows it is Him who gives her the strength to keep on going with her kids.

The church helps the grandmas who are church members and the child development center helps all of the children with benefits like uniforms, shoes and school supplies. And, in the case of these grandmothers, they receive extra help like medicine and occasionally a complementary meal when needed.

Grandmas are a blessing from God, He left them for something. It is a blessing that these children were left under the care of this type of mom, because they try to give their grandchildren what they can, maybe not what they need or want.

God bless these grandmothers for the work they are doing and, hopefully, others take their example and advices of how to move forward with the children who were abandoned by their parents."
These women are tireless workers who should be resting by now. Instead, they are back to the beginning, raising and providing for their grandchildren, standing in the gap for them. The aches and pains of age have not stopped them from bringing their grandchildren ahead in life.
---