Books about practical life issues are tricky. Some strike a really good balance of addressing a real issue in a reader's life while avoiding being overly prescriptive and/or "guilt-trippy." Others alternate between being too vague to be helpful and too rigid to be useful.
Regardless of this difficulty, it's so necessary to see how our faith intersects with everyday life. And one of the places I've seen people struggle over and over again is the age-old question of knowing God's will.
How do we know God's will for our lives? Are we living outside of it? Is that even possible?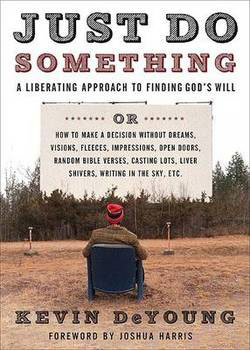 To help guide you through this difficult topic, I'd encourage you to read Just Do Something by Kevin DeYoung.
Why this book?
If you're like me, you've probably been caught in the indecision loop that fear of doing something "outside" the will of God causes. It's pretty natural for those who want to please God to not want to, well, "un-please" Him.
What's so helpful about this book is DeYoung's encouragement for us to remember that God has already fully revealed His will for our lives in Scripture: "For this is the will of God, your sanctification" (1 Thess. 4:3). The sum total of what we need to know about God's will for our lives is that we are to grow in the image and likeness of Christ. To live holy, set-apart lives, being obedient to the Scriptures and thankful to God in all circumstances.
Simply put, God's will is your growth in Christlikeness. God promises to work all things together for our good that we might be conformed to the image of His Son (Romans 8:28-29)…. God never assures us of health, success or ease. But He promises us something even better: He promises to make us loving, pure, and humble like Christ. In short, God's will is that you and I get happy and holy in Jesus.
So go marry someone, provided you're equally yoked and you actually like being with each other. Go get a job, provided it's not wicked. Go live somewhere in something with somebody or nobody. But put aside the passivity and the quest for complete fulfillment and the perfectionism and the preoccupation with the future, and for God's sake start making some decisions in your life. Don't wait for the "liver-shiver." If you are seeking first the kingdom of God and His righteousness, you will be in God's will — so just go out and do something.
This is the kind of practical help that frees us from being stuck in endless cycles of worry and indecision and allows us to better "seek first the kingdom of God." It's so uncomplicated … and maybe even a little liberating. I hope it's an encouragement to you today.
How do you think the approach to understanding God's will described above might help you live out your faith more freely and fully?