Aleja wakes up very early in the morning, as she does every Saturday, to go to the market and buy the groceries for the week. She takes with her the same amount of money she usually does, but to her surprise she can't even buy half of the things she needs.
At home, Aleja has five small children waiting for her to bring them something to eat. She is a single parent, mother of two sponsored children from Betel Student Center in the city of Oruro. She was abandoned by her husband and left with her children.
The family lives in a very small and dark room where they have three beds, a small table, some chairs and a small, wrecked shelf. Outside of the room, they use a small space covered with old pieces of calamines as their kitchen.
Aleja works washing clothes. She earns around $21 per week, and that is how she supports her family. She uses the money to pay the rent, the water, the electricity, the gas and buy the food and some things her children need for school.
Bolivia is experiencing a food crisis as a consequence of many things. Besides the inflation, there are other variables that are affecting the country.
When we have the "typical" unrests, immediately some food is "hidden," so people speculate, and as a consequence the prices rise. This general rise of prices in basic food has affected everybody, especially those who need it the most.
"It affects my family because I can't feed my children properly, I can't provide them everything they need," says Aleja.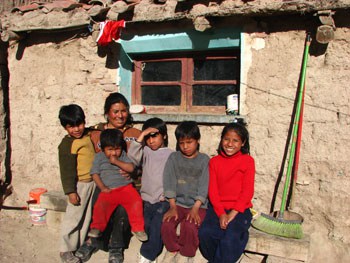 Families have had to reduce the number of meals they have every day, because what they earn and what they have is simply not enough.
When people go to buy what they need for the week, they go back home with half, or less, of the things they were supposed to buy. It seems like money doesn't have the same value anymore. It seems like money flies out of their hands. It seems like money falls out from holes in their pockets.
Sonia, the Betel Student Center director says,
"Many rather not eat bread anymore. They eat quinua (grain) or other things they bring from their crops. They eat chuño (dried potato) soup. They bring food from the country, like potatoes, chuño, grains, and that way they don't have to buy things here.

For example, they don't eat oat, lentils or milk. Things that are good for them, they can't have because they are too expensive."
The development centers have also been affected by this situation. Suddenly, the budget they had wasn't enough, so they had to take some measures that also affected the children. They had to reduce the daily provision they gave the children in order to make the money last for the whole month. Sonia explains,
"We were very sad, because we started to give the children only one plate of food. One day they received soup; the other a dry plate. We also suspended special activities for the children, like field trips. Also in the material for the classes, we stopped buying some things."
However, not everything is discouraging. Thanks to special funding through the Complementary Intervention Program (CIV), many children who have malnutrition will be helped by receiving extra nourishment at the student center.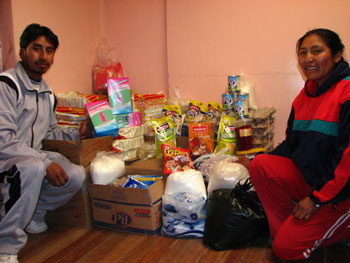 This intervention will benefit 80 child development centers in Bolivia. They will work with all of the undernourished registered children, up to 18 years old.
Sonia says that parents are very thankful for this extra support they receive. They were already thankful for the meals, but this extra food can be considered an extra blessing for them.
They are very thankful; they come here and say that here they can have meals and a soft drink. Those are the only three days they can eat. At their home they don't.

Children don't miss a day at the center, even though many of them live far away and have to walk around one hour or more to get here."
The children are very thankful, too. They might not express it with words, but their faces of happiness, when they receive their meals, say it all.