Have you ever heard of Atrial Septal Defect (ASD)? Apparently, it's a congenital heart defect.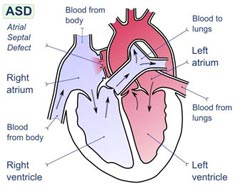 If you have a defect in your interatrial septum, the tissue that divides the right side of your heart from the left side, your blood can get confused. And if that happens, you end up with blood that goes where it shouldn't. That's bad.
In a normal heart, the left ventricle has to produce enough pressure to pump blood throughout the entire body, but the right ventricle has to produce only enough pressure to pump blood to the lungs.
In the case of a large defect, this pressure difference means that blood from the left atrium can flood and enlarge the right side of the heart and, if left untreated, can result in heart failure.
That's ASD in a nutshell. And this is why I tell you.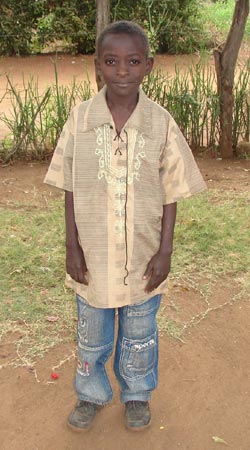 Alexander is an 8-year-old Kenyan boy who has ASD. He is in the third grade and is the youngest child in a family of five. Because his heart has been pumping deoxygenated blood to his growing body for his entire life, Alexander is smaller than most children his age.
In August 2008, during an evaluation at the child development center, a pediatrician noticed that Alexander has a heart murmur. Follow-up tests in Nairobi identified the birth defect and recommended a cardiac catheterization procedure and open heart surgery.
But Alexander's parents are peasant farmers, and his mother sells fruit at the market to earn extra income. They survive on $13.70 per month.
$13.70 a month is barely adequate to meet the family's basic needs, let alone pay for open heart surgery.
At this point, heart failure is a real possibility for Alexander. However, studies have shown that patients with a surgically repaired ASD have an excellent prognosis, particularly when the operation is done before the age of 25.
But Alexander's family can't afford the operation. It costs $8,303.
Alexander has been waiting to receive the surgery for several months now, since early December, but he can't wait any longer. His condition has recently worsened – which made me think of something Amanda suggested back in February.
"I am just kicking around a few ideas here. What if Compassion had a "Spotlight of the Week" – or "Spotlight of the Month?" It could be either a child (medical need?), family, or small community need. It could even be in the area of the global financial crisis, disaster relief, Child Survival Program, or some other facet of Compassion. For example, one week you could highlight the (global food crisis) need of a community in Uganda to have goats or seeds for crops (or both). After the donations have been given, you could easily follow up with a story in the blog to share the results of the giving."
So, Alexander has a need. And our objective is to give him a normal heart. Can we do this for him?
Make a donation to help pay for Alexander's surgery. (Update: May 21, 2009 – You did it! And more. You contributed around $10,000. I expect to have the exact amount tomorrow.)
Thank you for loving this child.
---
As I receive updates on how Alexander is doing, I will share them with you. I can't promise you updates with any degree of regularity though. I can just promise that there will be a follow-up.