A carbon tax. Floods in Queensland; fires in Victoria. Oil spills off Western Australia and Mexico. Mining in the Kimberly; irrigation in the Murray Basin; logging in the Daintree. No matter where you stand along the great climate-change divide, the debate about our environment — and what should be done about it — is hard to avoid.
In Australia, the environmental considerations we face are often long-term and somewhat academic in their repercussions. How would a dam affect local animal populations? Is the disposal of solar power batteries just as bad as the emissions from coal power? What would be the economic impact of restricting uranium mining?
Despite being the world's worst polluters per capita, Australians live in one of the world's most pristinely clean environments — even in our cities. Our skies are rarely congested with smog; our national parks are rich and sprawling; our streets are largely litter-free; our sewage is treated and piped away.
By comparison, tension between people and the planet in the developing world is much more stark. The struggle for economic growth has left scars in streets and slums awash with untreated effluent when it rains, waterways choked with garbage, landscapes stripped of vegetation, and urban airways blanketed with thick haze.
With lower levels of resource use and a much shorter history of using them, the developing world's impact on the environment is much less than its developed counterparts; yet it bears a much higher price for damage done.
The World Bank's 2009 World Development Report estimates that carbon pollution will cost Africa about 4 percent of its GDP and India* about 5 percent — while the cost to world GDP is just around 1 percent.
Inadequate sanitation and housing infrastructure, higher levels of malnutrition and poor health, increased propensity to flooding, greater reliance on the land, and extremely limited resources to prepare or respond make poor nations and their people more vulnerable to environmental crises such as natural disasters.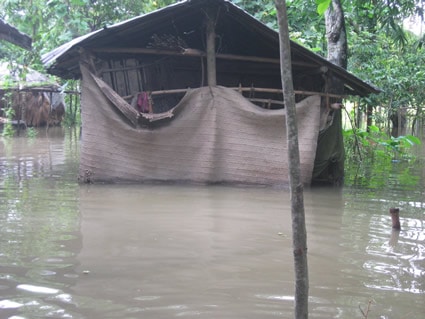 For instance, both the Netherlands and Bangladesh are highly susceptible to floods, but while the Netherlands spends more than $100 per person per year on flood defences, $100 is a quarter of the average person's annual income in Bangladesh and far out of reach for the public purse.
The implications for development for nations grappling with poverty — and for their children — are clear.
Securing a safe, healthy environment is essential for ensuring the well-being of an individual. Without it, efforts to improve health, housing, economic security, agriculture and other contributors that raise a person's, or a community's, standard of living are undermined.
Protecting the environment is just as important as these other seemingly competing priorities — and as with so many development activities, children are key to the process.
This is one of the reasons our holistic child development programs, which work to impact nations and generations by releasing children from poverty, have included a focus on environmental responsibility, or creation care, since the very beginning.
The other reason creation care is integral to our programs is reflected in our mission: to release children from poverty in Jesus' name.
We believe that God created the earth, including men and women. We are made in the image of God, given a privileged place within His creation and commanded to exercise stewardship over it (Genesis 1:26—28).
Care for God's creation — the environment and everything in it — is a biblical obligation, and we are morally accountable for how we carry out the task (Genesis 2:15).
We believe that creation care is essential to truly working in Jesus' name and an important biblical teaching to pass on to the children to whom we minister. Therefore, creation care is incorporated into each of our four core programs, reaching children from the womb to the workforce.
The training that mothers receive as part of our Child Survival Program is practical and relevant, designed to improve the well-being not only of the household but also of the community — making caring for the environment an underlying theme.
Lessons on composting and the safe disposal of rubbish help clean up neighbourhoods and provide a useful source of fertiliser.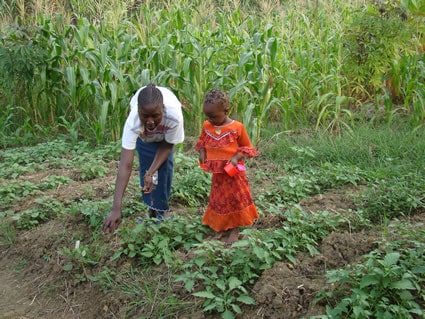 Training on growing vegetables gives families a cost-effective — and environmentally friendly — supply of food.
Education on the importance of safe water for drinking and bathing not only reduces sickness, but also raises awareness of the consequences of polluting community water sources.
In several development centres, mothers have learned how to make purses to sell using recycled plastic, thus reducing waste while adding to the family's income.
In Kenya, our staff encourage mothers to beat the drought by recycling water from their washing to water vegetable gardens.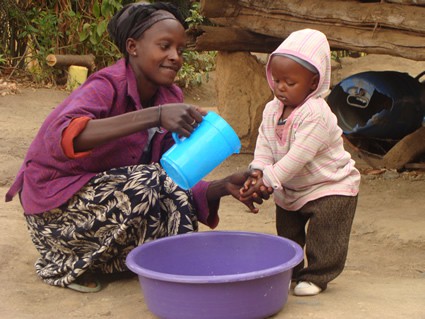 In the same way that children in our Child Sponsorship Program are taught how to wash their hands to avoid sickness, they are also taught to clear rubbish, keep waterways clean, and understand the value of trees to protect and improve their surroundings and their standard of living.
Uganda's Rakai district is one that has felt the impact of poor environmental management. Uganda lost half of its forests in the civil and political strife of the 1970s and 1980s and another quarter of its remaining forests between 1990 and 2005.
Today, Uganda's forests are being cleared at a rate of 92,000 hectares every year — a pace that will leave it completely deforested by the year 2052.
The rapidly growing population's demand for land to grow crops and build houses, and for trees for fuel like charcoal and firewood, is driving Uganda's deforestation. This demand is exacerbated by the fact that 70 percent of the country's forests are on private land.
The Rakai district, part of the grazing corridor which hosts 60 percent of Uganda's cattle population, has been hit particularly hard by water depletion and increased frequency of droughts that have been linked to the deforestation.
Compassion's Kakuuto Child Development Centre in the region responded by giving each child at the centre four trees — distributing a total of 900 mango, orange, avocado, tangerine and hard-wood trees throughout the community.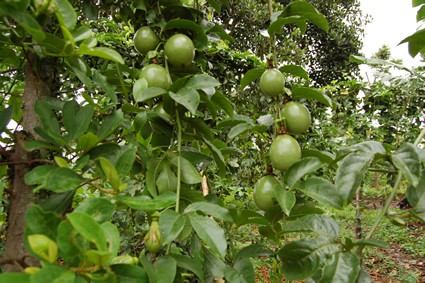 The children were taught how to plant and look after the trees, as well as how to use energy-saving stoves that reduced the amount of timber needed for fuel.
In addition to providing shade and helping to reduce flooding and soil erosion, the trees will provide a valuable source of food and income for the families.
As our Leadership Development Program works to develop Christian leaders and empower young people to bring change to their communities and nations, it is also one of the key ways we encourage creation care — simply by empowering the community's own young people to make their voices heard.
Wanda Medina is one of our Leadership Development Program students and a passionate advocate for the forests and wildlife of her home in the Bahoruco Mountains of the Dominican Republic.
As well as studying education at university, Wanda volunteers at the Unit of Environment Management of the Municipality, working to convince local farmers to preserve the forests. It's a battle with life-and-death consequences, seen clearly in neighbouring Haiti — where more than 98 percent of forests have been cut down at a rate of 10 million to 20 million trees each year with devastating consequences for the hurricane- and flood-prone country.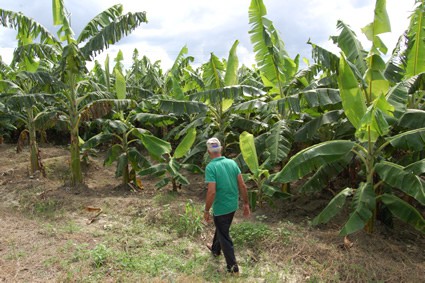 By comparison, the Dominican Republic's 28 percent forest cover looks verdant. But not for long, if the slash-and-burn land clearing techniques that the Environment Ministry says have claimed nearly 310,000 hectares of forest in the last 50 years continue.
"In our meetings, farmers say that they have families to support and the only thing they know how to do is agriculture. They take what they have at hand, which is the land. So we teach them methods of how to reforest and cultivate their land at the same time, like planting tall trees like mahogany and avocado. We also run courses on tree grafting, beekeeping and honey production, and raising pigs, so the farmers have other employment opportunities and skills.

"I want my community to make progress and be developed, that it will go back to be what it was regarding its forest and vegetation. I hope that people will go back to feel for and take care of their environment, all that is around them and their natural resources."
Compassion's Complementary Interventions help tackle the barriers that stand between children and healthy development that can't be overcome through our core programs alone. Environmental factors such as natural disasters, poor sanitation and health epidemics are often among those barriers. As a result, many Complementary Interventions involve improving the way home and community environments are managed.
For instance, thanks to a Complementary Intervention designed to help parents generate income, a group of 15 parents of children attending the Ebenezer Child Development Centre in southern India* have been taught how to make paper bags to sell to local shops.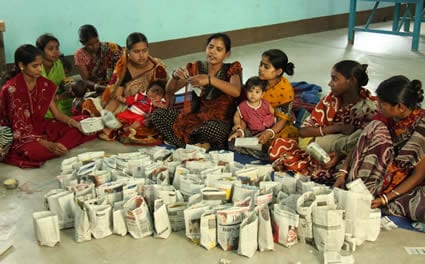 While improving the parents' work skills, the training also supports a government effort to reduce the use of plastic bags that have caused wide-scale pollution of waterways and streets.
A Complementary Intervention in six child development centres in Kenya's Machakos district is also supporting government environmental initiatives by establishing fruit-tree nurseries in each centre to propagate seedlings to distribute to children's families. The nurseries will provide a food source as well as help combat desertification and soil erosion in the region.
Installing solar-powered stoves is another effective Complementary Intervention that has been implemented in several centres. The stoves use a clean and endlessly supplied fuel that doesn't force people to choose between cutting down a tree for firewood today and keeping it for the fruit it will bear tomorrow.
Because of the toxic smoke they produce, traditional wood, coal and animal-dung stoves are blamed for killing 1.6 million people every year, more than 85 percent of them women and children under 5. Thus, solar-powered stoves help save lives.
Similarly, at least one Complementary Intervention to provide adequate water and sanitation (such as a well or toilets) is put into action in every country we work in every year, for both health and environmental gains.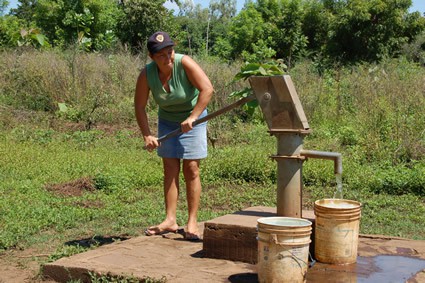 In the developing world, roughly 90 percent of sewage is discharged untreated into rivers, polluting the water and killing plants and fish.
In Southeast Asia alone, 13 million tons of faeces are released into inland water sources each year along with 122 million cubic metres of urine. This poses a major health threat to people who depend on open streams and wells for their drinking water as well as an economic blow to people whose livelihoods depend upon fisheries.
Water pollution from poor sanitation costs Southeast Asia more than $2 billion a year, primarily from the loss of productive land. In India, it is estimated that water pollution causes 80 percent of diseases. Providing safe water and hygienic toilets is essential to our development efforts.
This post originally appeared on compassion.com.au as The Great Debate.
---
*NOTE FROM EDITOR: This content honors Compassion's historical work in India. While we no longer have an India sponsorship program, we are grateful for the lives changed and meaningful work achieved through our sponsors and donors in our nearly 50 years there. For a detailed explanation of the end of our sponsorship program in India, please visit: compassion.com/india-update.