It's not natural. It's not even remotely right. No mother should have to bury her child.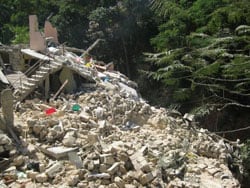 But Melicia is begging for the chance to do just that.
Her family was at home when the earthquake hit Port-au-Prince. In a panic, she gathered her children and rushed them toward the door. But her six-year old son Simon Peter got scared and ran the other direction, back into the house.
That's when the cinder block construction gave way to the twisting and jolting. It collapsed.
Simon did not make it out. And now Melicia has to live with the horrifying reality that the body of her six-year old son is still trapped in the rubble of her home. Crews have not made it to her neighborhood to start digging bodies out of the debris. The recovery work is too dangerous at this time.
Melicia and her other children are living in a squatter's tent camp at the Church of God headquarters just a few blocks away from her home. Just blocks away from her son's body. But seemingly miles away from being able to give him what she wants so desperately: a proper burial.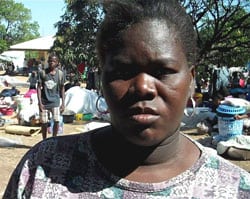 And she can't even afford to feed her surviving children. "We have nothing," she says, her voice cracking with desperation, "I have nobody to rescue me."
But amazingly, the one possession Melicia does have is her faith. And it's an astounding faith at that.
She says, "The same Lord who provided for me before will do the same for me again."
She's right. God will provide. And he's doing it with your help, generous donors who are stepping up in this time of need.
As the result of your donations, this weekend we are mobilizing 500,000 pounds of relief supplies to families like Melicia's. A medical team will be on the ground in Port-au-Prince to help with injuries—both physical and emotional.
We'll help Melicia feed her children…and counsel her through this difficult time. We'll even provide counseling for her surviving children.
We can't completely restore Melicia's family. But we can provide rescue for those who have survived this terrible tragedy. Pray. Give. Tell someone else to do the same.