"First, I ask God to forgive me for my sins."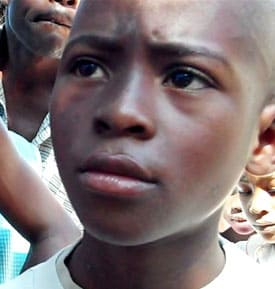 That's the answer 12-year old Robinson gave me when I asked him what he's praying for this week.
It might sound like a sweet prayer from a 12-year old, until you realize that Robinson is living with his family in a tent city in Port-au-Prince, Haiti. And the reason for his prayer is that Robinson, like many others here in this quake-damaged country, believes the terrible disaster is the result of sin.
And he feels ashamed.
He thinks God shook the earth to destroy his poverty-stricken city, killing thousands of people—all because he did something bad; he pushed another boy on the playground. It's heartbreaking.
This is a great example of why the help we bring to Haiti has to go beyond food, water and medicine. Yes, those things are vital. And they need them now. But if we are going to look past the short-term, to the future of Haiti, our relief efforts must include a spiritual component.
Long after the relief trucks are emptied and the search crews have gone home, Haitians will need someone who cares about more than their immediate physical needs. The number of relief organizations that will be here a year from now will seriously diminish. But we're not going anywhere.
Compassion has been in Haiti for more than 40 years—teaching, feeding, educating, loving, mentoring, caring and perhaps most importantly, sharing the Good News of Jesus Christ.
No one knows why this deadly earthquake hit Haiti. But it certainly wasn't because Robinson pushed another boy on the playground. And we can help children like Robinson become leaders in this country, transforming it from devastated ruins into the country God wants it to be.
So while we're ministering to Robinson's physical and emotional needs in the years to come, we're also going to be teaching him more about a merciful God who loves him. That's the Compassion difference.
That's what holistic child development is all about. Caring for the whole child.